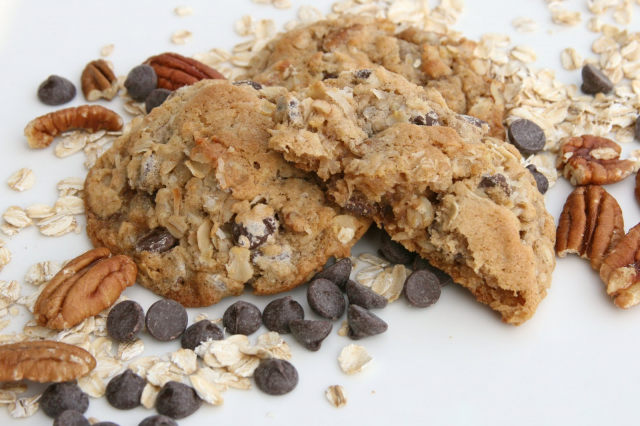 These cookies have just about every yummy thing possible in them, chocolate chips, oats, coconut, and pecans.  They may not win any beauty contests, but they are a delicious, homey treat.
Cowboy Cookies
2 cups flour
2 teaspoons baking powder
2 teaspoons baking soda
2 teaspoons cinnamon
1/2 teaspoon salt
1 cup (2 sticks) butter
1/2 cup granulated sugar
1/2 cup light brown sugar (packed)
2 eggs
2 teaspoons vanilla
2 cups chocolate chips
2 cups old fashioned rolled oats
1 1/4 cups sweetened flake coconut
1 1/4 cups chopped pecans
Directions~
1.  Preheat oven to 350*F
2.  Mix flour, baking powder, baking soda, cinnamon and salt in a bowl and set aside.
3.  In a mixing bowl, beat butter until smooth and creamy (about 1 minute)
4.  Gradually beat in the sugars until fully combined.
5.  Add the eggs, one at a time.  Add vanilla.
6.  Stir in flour mixture until just combined.
7.  Combine chocolate chips, oats, coconut and pecans in a large bowl, then add that mixture to your dough.
8.  Using a large cookie scoop, place large balls of dough on an ungreased cookie sheet.
9.  Bake 9-11 minutes.
10.  Transfer cookies to a rack to cool.
Recipe Source-  Final recipe by Glorious Treats, adapted from Laura Bush (as pubished in Presidential Cookies)