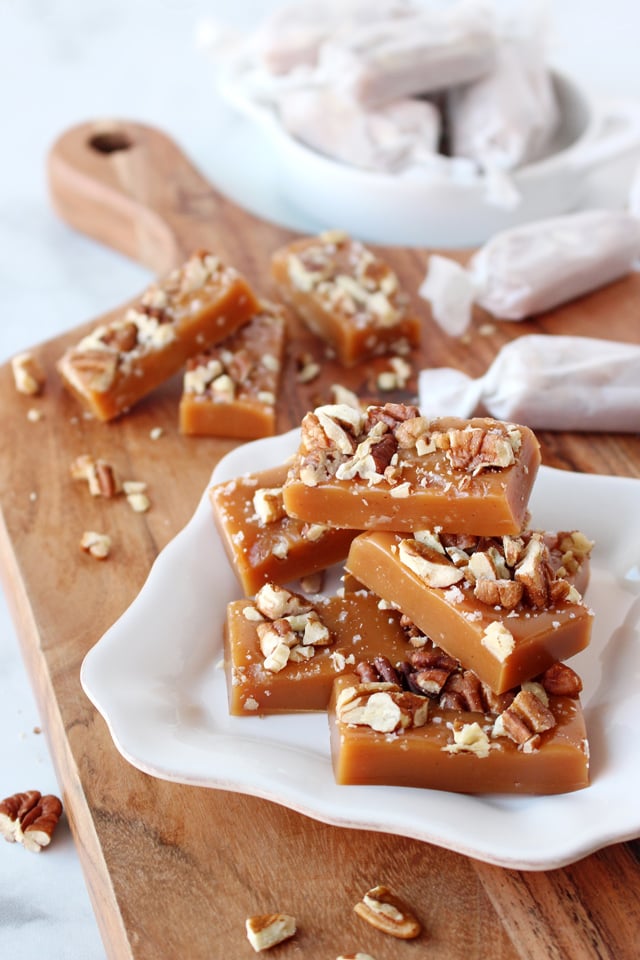 These gorgeous Salted Vanilla Caramels with Pecans are an impressive and delicious homemade treat!
Perfectly chewy and smooth vanilla caramel is topped with sea salt and toasted pecans for a simply incredible treat!
If you've never made homemade caramels (or any homemade candy) before, don't be afraid to give this recipe a try. I'll walk you though each of the steps, and although this recipe does take some time to make… the results are well worth it!
In addition to simply being delicious, one of my favorite things about these homemade caramels is that they remain perfectly fresh up to 2 weeks… making them perfect to give as gifts, send to family and friends, and enjoy all through the holiday season!
This recipe was created in partnership with Sprouts Farmers Market.
PIN IT NOW to save for later!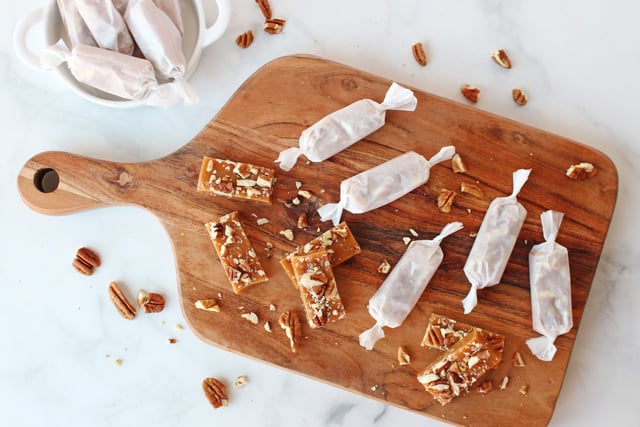 This recipe has a pretty short list of ingredients… so each one plays and important role.
I picked up everything I need for this recipe from Sprouts Farmers Market.
I started in my favorite section, the bulk bins… where I loaded up on lots of fresh pecans.
Buying from the bulk bins is one of the many ways to save money at Sprouts. And because the bulk bins are replenished often, I know the ingredients are always fresh.
After stocking up on pecans, I headed to the baking aisle for sugar, vanilla and sea salt. These are ingredients I like to keep stocked in my kitchen all the time!
Then, be sure to grab the corn syrup, butter and heavy cream, and you'll be all set!
Once you've gathered your ingredients, you're ready to get cooking!
Be sure to read the recipe carefully, and you'll be rewarded with a big batch of perfect caramels… better than any candy shop!