White Chocolate Macadamia Nut Cookies

Last month, when I share my favorite Chewy Chocolate Chip Cookie Recipe I knew I wanted to "play" with the recipe and see how it would work as a base for lots of other yummy cookies. I'm happy to report that by simply swapping out the chocolate chips I was able to make delicious White Chocolate Macadamia Nut Cookies! The dough is rich and flavorful and has just the right balance of textures (slightly crisp edges, chewy center). It worked perfectly with the classic combo of white chocolate and macadamia nuts! I was tempted to add some dried cranberries as well, and I think I will another time.
If you love White Chocolate Macadamia Nut Cookies, then you'll need to make these soon! I sent them off to work with hubby and he said it took about 5.3 seconds for his co-workers to empty the plate! =)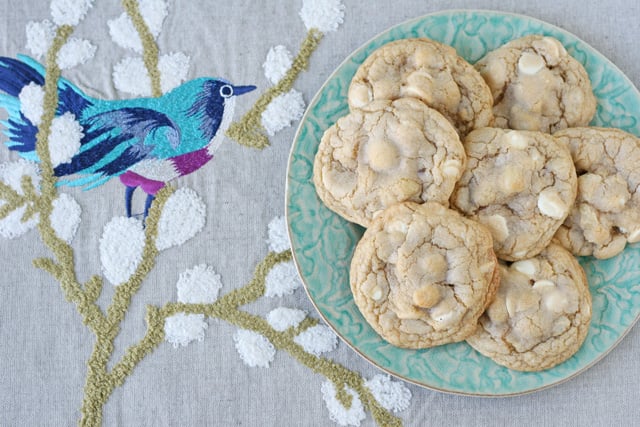 Usually, if I'm photographing treats with a placemat I wouldn't include the full placemat in the photo… but this one is so pretty I had to include it! I love collecting props from all over, but I especially love using props that hold a special memory (such as purchased on a trip), or things that are special gifts from friends. This placemat (part of a set of four) was a recent gift from a friend I've know since I was 11 =)
Do you love cookies?
Here are a few more of my favorites…
Happy baking!
How to Make White Chocolate Macadamia Nut Cookies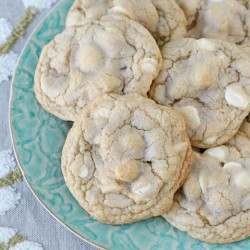 White Chocolate Macadamia Nut Cookies
This recipe produces delicious, chewy cookies with a classic flavor combo!
Ingredients
1 3/4

cups

all purpose flour

1/2

teaspoon

baking soda

1

teaspoon

salt

12

tablespoons

unsalted butter

1 1/2 sticks, melted

3/4

cup

packed dark brown sugar

1/2

cup

sugar

1

egg

1

egg yolk

2

teaspoons

vanilla extract

3/4

cup

chopped macadamia nuts

unsalted

1 1/2

cups

white chocolate chips
Instructions
In one large bowl add flour, baking soda and salt and set aside.

Melt the butter, then add to another large bowl, or the bowl of an electric mixer.

Blend melted butter with both sugars, and beat (or stir vigorously by hand) until the butter and sugars are well combined and the mixture is smooth and shiny.

Add the egg, then the egg yolk, and continue to beat until fully incorporated.

Add vanilla and blend well.

Pour flour mixture slowly into the mixer, then add the nuts and white chocolate chips and blend just until all the flour is incorporated.

Preheat oven to 350*F and move the bowl of cookie dough to the fridge for 10 minutes (while the oven heats up).

Line 2 baking sheets with parchment paper.

Scoop the batter (using a 2 tablespoon cookie scoop) onto the parchment paper lined baking sheets.

Bake cookies, one baking sheet at a time for 10-12 minutes (I usually bake mine for 10 minutes).

Remove the cookies from the oven when the edges of the cookies are just BEGINING to get golden brown, and the centers of the cookies appear slightly under-baked.

Allow the cookies to cool about 5 minutes on the baking sheets, and they will continue to cook, and firm up. Once partially cooled, carefully transfer cookies to a cooling rack.

Keep the remainder of the dough in the fridge while you are baking the others. Keeping the dough cool will help the cookies keep their shape while baking.
Notes
I used unsalted macadamia nuts (as listed), but feel free to use salted nuts and then reduce the additional salt in the dough to 1/4 teaspoon.
I really like to bake these cookies on parchment paper, as noted. Feel free to use Silpat lined baking sheets, or lightly greased baking sheets, but your results may not be identical to mine.
Be careful not to over bake the cookies, or they will not have the soft, chewy texture I've described. Be sure to remove the cookies from the oven while they still appear to be slightly under-baked.
Nutrition
Calories:
296
kcal
Carbohydrates:
34
g
Protein:
3
g
Fat:
17
g
Saturated Fat:
9
g
Cholesterol:
43
mg
Sodium:
181
mg
Potassium:
94
mg
Fiber:
1
g
Sugar:
24
g
Vitamin A:
265
IU
Vitamin C:
1
mg
Calcium:
49
mg
Iron:
1
mg