This homemade Vanilla Extract is your secret weapon to fabulous baked goods! Use this simple 2 ingredient recipe to make your own vanilla extract right at home. Enjoy your own homemade vanilla extract in these favorites: Raspberry Vanilla Cupcakes, Salted Caramels and Perfect Vanilla Cheesecake.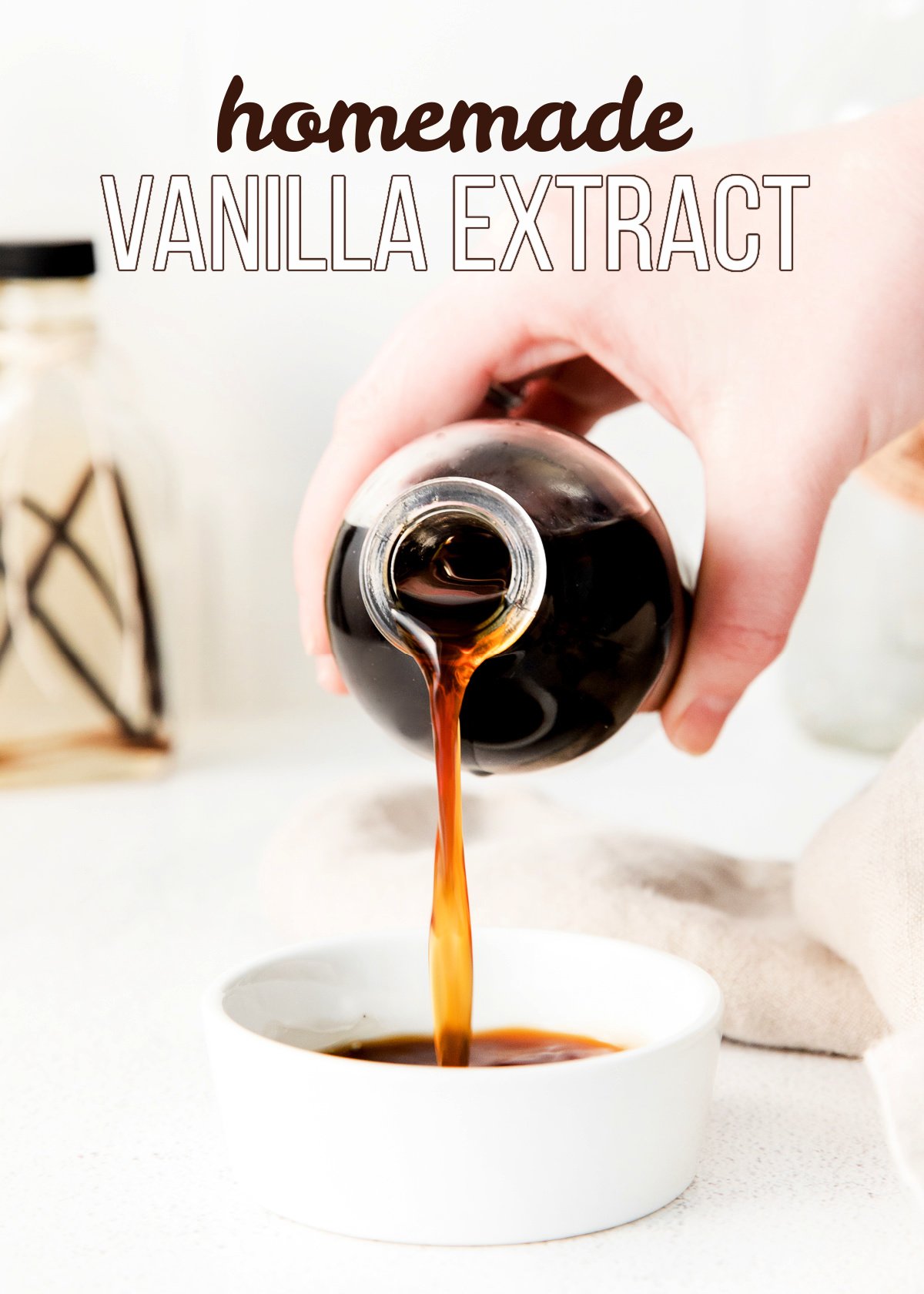 Pure vanilla extract is that ONE ingredient you add to baked goods and other sweet recipes that take them from good to fantastic! It's a simple addition but it imparts a rich and complex flavor to single-handedly add that "wow" factor to your recipes.
Imitation vanilla just isn't the same (or worth using) because its flavor and ingredients list are both inferior. Pure vanilla extract is where it's at!
Unfortunately buying it can be expensive but the good news is it's unbelievably easy to make high-quality, aromatic vanilla extract right in your own home.
Homemade Vanilla Extract Recipe
This two-ingredient recipe creates a very wallet-friendly vanilla extract with superior quality to give you a final product so good you'll impress everyone who eats your baked goods. Just remember, a little goes a long way!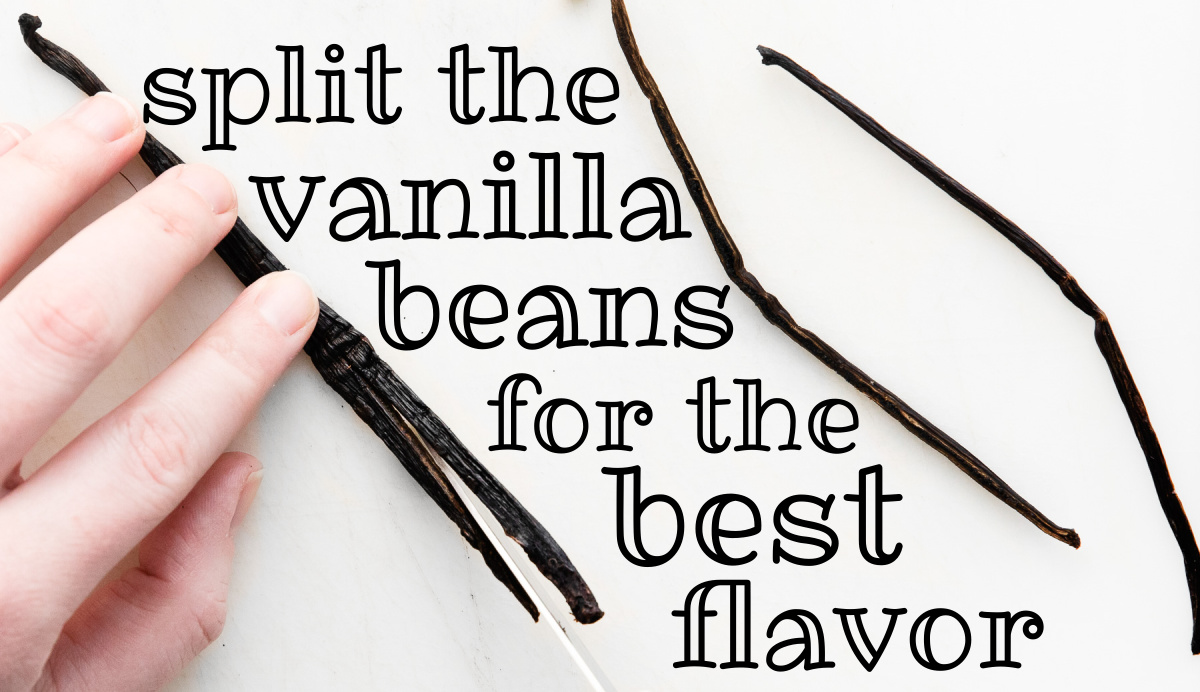 Another thing I love about making homemade vanilla extract is that you have control over the ingredients and can easily create different versions with a simple change in the vanilla bean or alcohol that you use! What's more…it makes a GREAT DIY gift idea!
And as if those reasons weren't enough to make you try creating your own homemade vanilla extract, here's one more. Once you make it, there is a trick you can do so that you never have to make it again – it's the recipe that keeps giving!
Ingredients Needed
I always advocate using high-quality ingredients in your recipes because that's how you'll get the best results. With this in mind, let's briefly chat about the two simple ingredients for this recipe.
Whole vanilla beans – Cut them in half lengthwise so you can extract as much flavor as possible. While you can find whole vanilla beans in many grocery stores, you'll find better quality beans in spice shops or online. You want a great quality vanilla bean to make your vanilla extra amazing. Two easy options are Grade B Tahitian Vanilla Beans or Grade A Madagascar Vanilla Beans.
Vodka or bourbon – Vodka is the most common alcohol used to make vanilla extract, but you could definitely use bourbon or another alcohol if you prefer. I recommend avoiding flavored vodkas.
How to Make Vanilla Extract
How is vanilla extract made? Here's the process (it's super simple)! Make sure to check out the handy printer-friendly recipe at the end of this post!
Add the vanilla beans to a jar or bottle with an airtight seal.
Add your alcohol of choice and attach the lid.
Place the vanilla in a cool, dark place for at least 2 months before using. Flavor is exceptional after 6 months.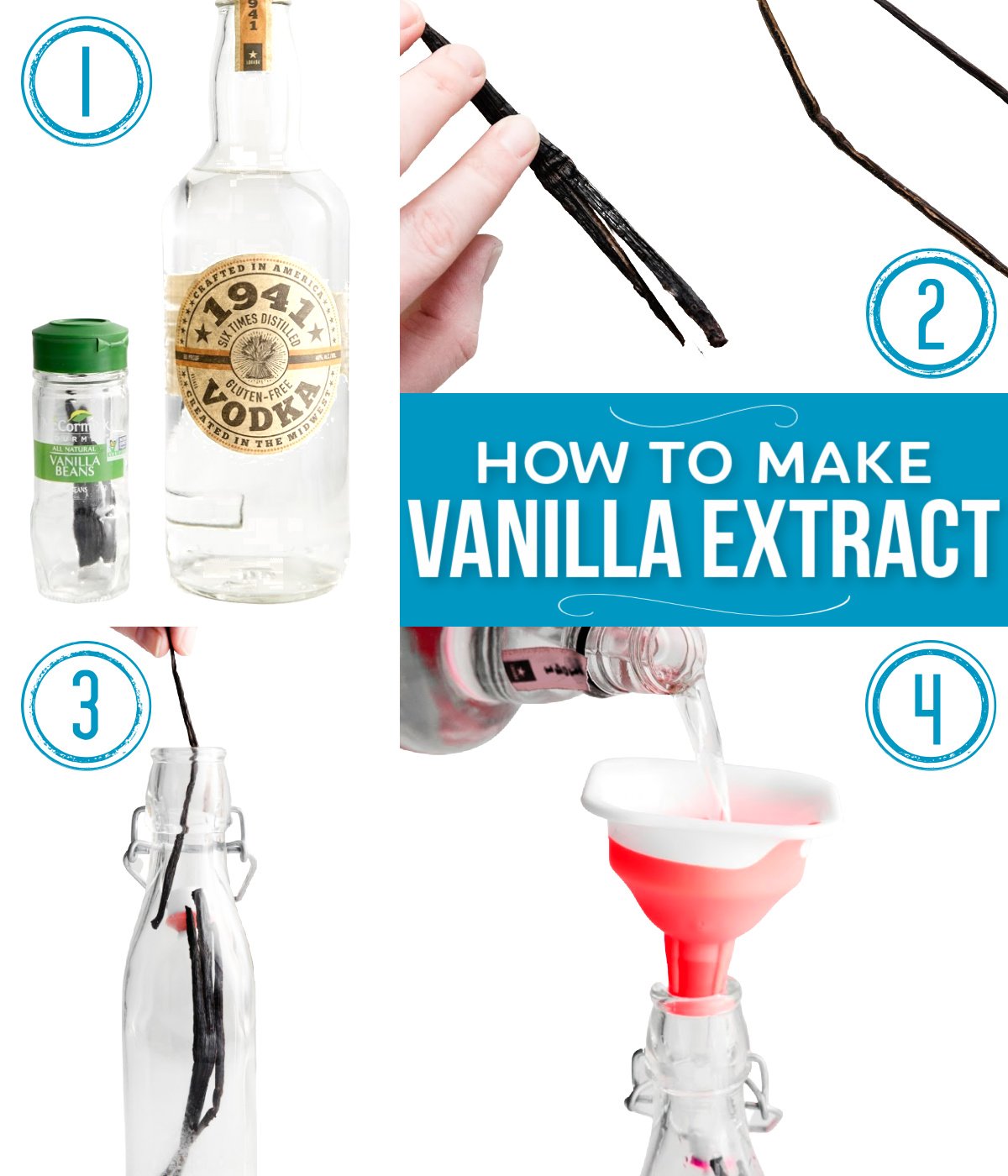 Vanilla Extract Recipe Notes and Tips
Here are some helpful tips and notes to help ensure your vanilla extract turns out perfectly every time!
Buying vanilla beans online or at spice shops can help save some money. You'll find that you get about 2 vanilla beans for the price of 10 or more when buying them online. Check it out and then you decide. These vanilla beans are very reasonably priced as are these vanilla beans.
Give your bottle of vanilla extract a little shake once a month. This helps the flavor develop faster.
The vanilla extract will turn a beautiful, deep amber color when it's matured. This means it's ready to use or to give as a gift! 
As you use up the vanilla extract, refill it with the same alcohol you used to make it and you'll never run out of homemade vanilla extract!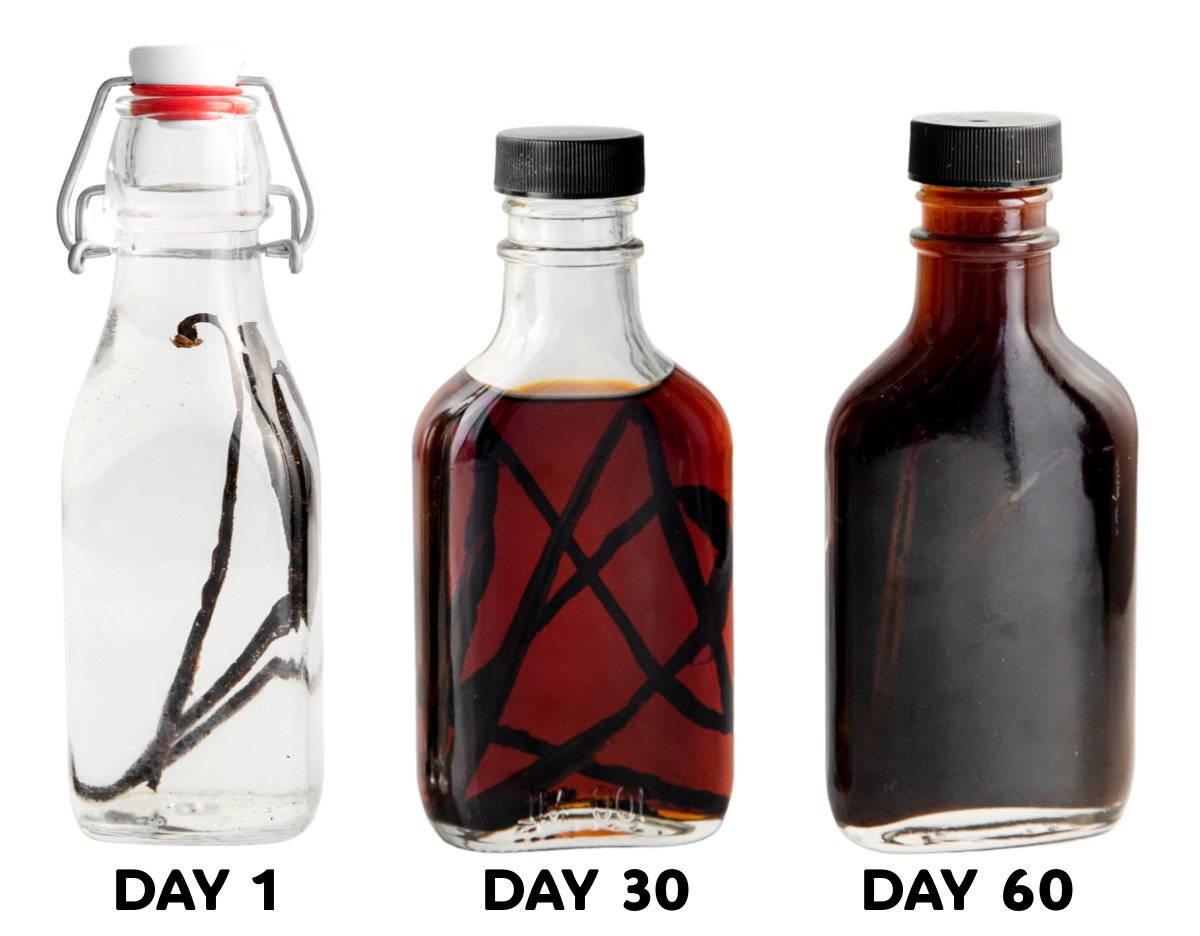 Variations to Try
You can use different types of vanilla beans to give your homemade extract different flavors. Madagascar vanilla beans are the most common and loved for their traditional creamy flavor. Go bold and smokey with Ugandan vanilla beans or opt for a floral, cherry-chocolate flavor by using Tahitian vanilla beans.
Use different alcohol – if you want something different from the traditional, everyday version, you can make delicious varieties of vanilla extract with bourbon, brandy, or rum. Tahitian vanilla beans with bourbon make a terrific combination!
Helpful Supplies
Here are a few helpful supplies that will make this recipe even easier to make.
Vanilla Extract FAQs
Here are a few answers to common questions I get about this recipe.
What is the best alcohol to make homemade vanilla extract?
For a classic vanilla taste, you can't go wrong with vodka. Bourbon is another great option which provides a richer, well-rounded vanilla flavor and is great for desserts like bananas foster, brownies, ice cream and cookies.
How should the vanilla extract be stored?
Keep your bottle of homemade vanilla extract in a cool, dark place, like a kitchen cabinet (away from the stove or oven). Light and heat can cause the vanilla extract to turn cloudy. Do not refrigerate it. Do not use a bottle with a cork stopper. Use a screw top container or another container with an airtight lid.
How long will it stay good for?
When you store vanilla extract properly, it will last indefinitely.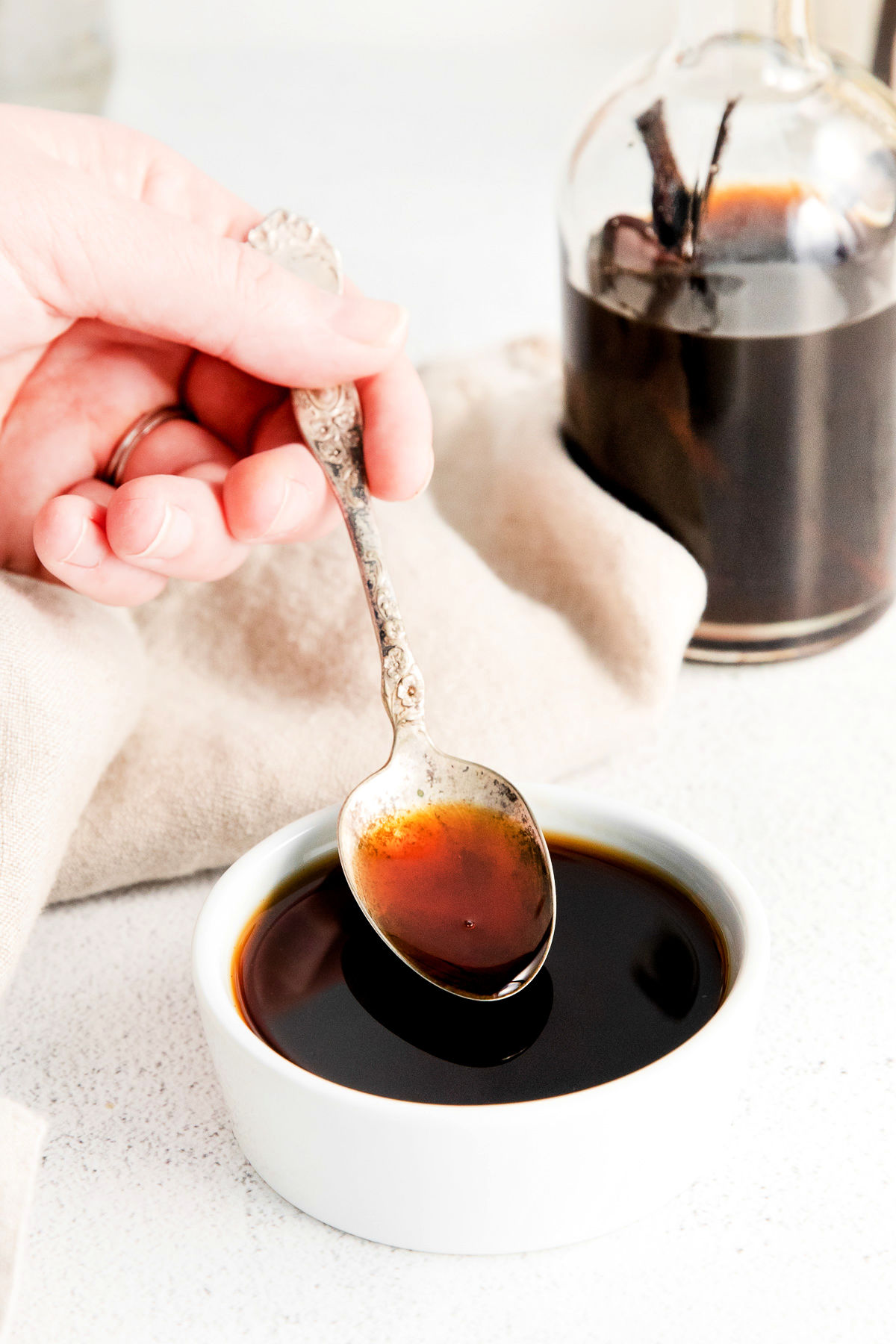 Use Your Homemade Vanilla Extract In These Recipes: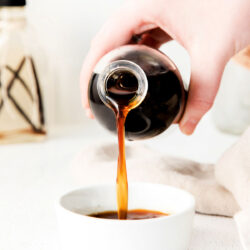 Homemade Vanilla Extract
This homemade Vanilla Extract is your secret weapon to fabulous baked goods! Use this simple 2 ingredient recipe to make your own vanilla extract right at home. Use in your favorite baking recipes like cookies, cake, brownies, cupcakes, frosting and more!
Ingredients
2 to 3

vanilla beans

cut in half lengthwise

1

cup

vodka

or bourbon
Instructions
Add the split vanilla beans to a small bottle or jar with an airtight seal.

Use a funnel to add in the vodka (or bourbon). Seal the container tightly. If your container cannot hold a cup of vodka, divide it between containers or just use 2 vanilla beans.

Place the vanilla extract in a cool, dark cabinet. Shake the bottles once a month to obtain richer vanilla flavor faster.

Vanilla extract will be ready after two months but will obtain best flavor in 4 to 6 months. Makes a great holiday gift!
Nutrition
Calories:
24
kcal
Carbohydrates:
1
g
Fat:
1
g
Sodium:
1
mg
Potassium:
1
mg
Iron:
1
mg