Chewy Chocolate Chip Cookies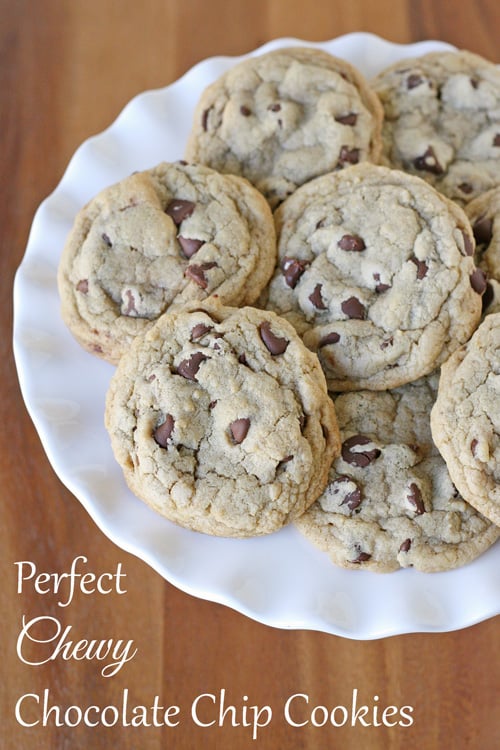 I spent a bit of time wondering what to title this blog post… maybe "The Best Chocolate Chip Cookies", or "Perfect Chocolate Chip Cookies"… because after experimenting with LOTS of chocolate chip cookie recipes (tough job I have, right?), this recipe is my absolute favorite.
In the end, I settled on the title "Chewy Chocolate Chip Cookies", because that's what they are. And although these are in fact "perfect" to me… I know there is a wide range of thoughts on what makes a perfect chocolate chip cookie.
For me, a perfect chocolate chip cookie has a lightly browned edge, soft and chewy center, and rich flavor… they should not be puffy or cakey, but also not be totally flat, or crisp. Wow, lots of words to describe a pretty simple cookie!
So, if you like chewy, flavorful, easy to make Chocolate Chip Cookies, then this recipe needs to come to life in your kitchen very soon!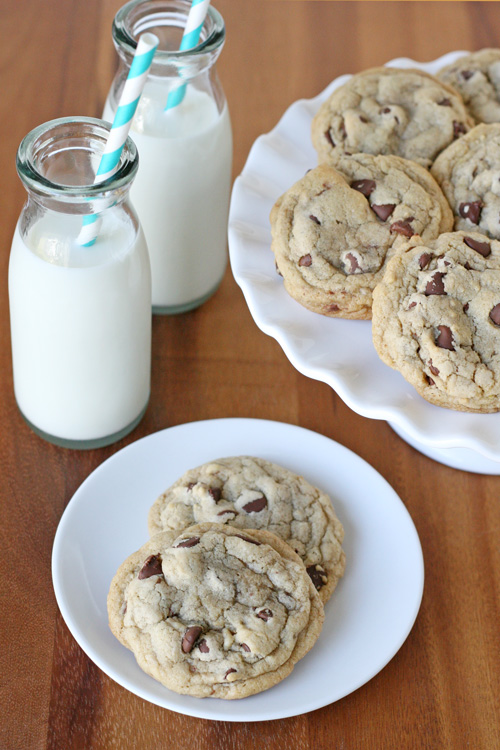 These Chewy Chocolate Chip Cookies now have a permanent place on my list of favorite recipes! I love that they can be mixed up and enjoyed all in less than an hour, perfect for an after dinner treat. My girls love helping me mix these up… and eat them up!
Happy baking!
How to Make Chewy Chocolate Chip Cookies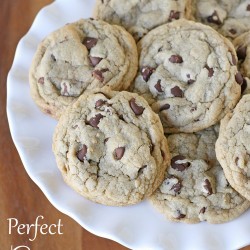 Chewy Chocolate Chip Cookies
A perfect balance of textures and flavor, these chewy chocolate chip cookies are a favorite in our house!
Ingredients
1 3/4

cups

all purpose flour

1/2

teaspoon

baking soda

1

teaspoon

salt

12

tablespoons

unsalted butter

1 1/2 sticks, melted

3/4

cup

dark brown sugar

packed

1/2

cup

sugar

1

egg

1

egg yolk

2

teaspoons

vanilla extract

1 1/2

cups

semi sweet chocolate chips

3/4

cup

chopped walnuts or pecans

optional
Instructions
In one large bowl add flour, baking soda and salt and set aside.

Melt the butter, then add to another large bowl, or the bowl of an electric mixer.

Blend melted butter with both sugars, and beat (or stir vigorously by hand) until the butter and sugars are well combined and the mixture is smooth and shiny.

Add the egg, then the egg yolk, and continue to beat until fully incorporated.

Add vanilla and blend well.

Pour flour mixture slowly into the mixer, then the chocolate chips (and nuts if desired), and blend just until all the flour is incorporated.

Preheat oven to 350*F and move the bowl of cookie dough to the fridge for 10-15 minutes (while the oven heats up).

Line 2 baking sheets with parchment paper.

Scoop the batter (using a 2 tablespoon cookie scoop) onto the parchment paper lined baking sheets.  If the dough is too soft, move the entire baking sheet (with the cookie dough on it) to the fridge for an additional 10-15 minutes.  The cookie dough should be somewhat firm before baking, or the cookies will turn out very flat.

Bake cookies, one baking sheet at a time for 10-12 minutes (I usually bake mine for 10 minutes).

Remove the cookies from the oven when the edges of the cookies are just BEGINNING to get golden brown, and the centers of the cookies appear slightly under-baked.

Allow the cookies to cool about 5 minutes on the baking sheets, and they will continue to cook, and firm up. Once partially cooled, carefully transfer cookies to a cooling rack.

Keep the remainder of the dough in the fridge while you are baking the others. Keeping the dough cool will help the cookies keep their shape while baking.
Notes
I really like to bake these cookies on parchment paper, as noted. Feel free to use Silpat lined baking sheets, or lightly greased baking sheets, but your results may not be identical to mine.
Be careful not to over bake the cookies, or they will not have the soft, chewy texture I've described. Be sure to remove the cookies from the oven while they still appear to be slightly under-baked.
Nutrition
Calories:
294
kcal
Carbohydrates:
32
g
Protein:
3
g
Fat:
17
g
Saturated Fat:
9
g
Cholesterol:
41
mg
Sodium:
169
mg
Potassium:
137
mg
Fiber:
2
g
Sugar:
20
g
Vitamin A:
268
IU
Vitamin C:
1
mg
Calcium:
28
mg
Iron:
2
mg