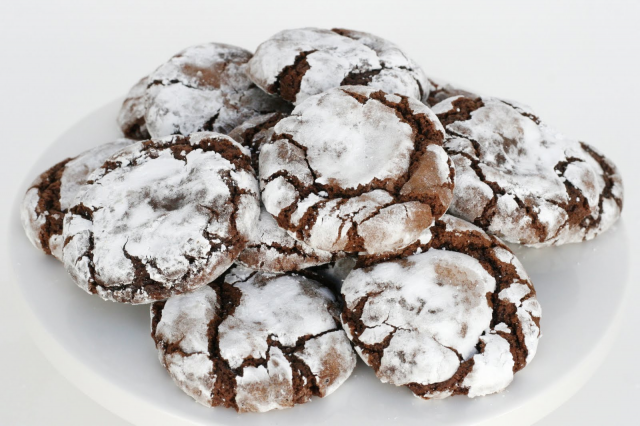 I'm back today with another yummy cookie recipe.  Each of the recipes I used this week are tried and true recipes that have been around for quite some time.  I know that similar and identical recipes are widely available from a variety of sources.  But on the small chance that these recipes are not already a part of your "go-to" recipe collection, I would surely recommend you add them!
Yesterday I shared the recipe for Cowboy Cookies, a delicious, hearty cookie that will please a crowd.  Today's cookie is equally delicious, and is especially popular among chocolate lovers.  Needless to say, it is one of my favorites!
Chocolate Crinkles                           
1/2 cup vegetable oil
4 oz.  (4 squares) unsweetened chocolate
2 cups sugar
4 eggs
2 teaspoons vanilla
2 cups flour
1/2 teaspoon salt
2 teaspoons baking powder
1/2 powdered sugar (for rolling the dough in )
1.  Melt chocolate in a small bowl.
2.  In a large mixing bowl blend the oil and melted chocolate.
3.  Beat in the sugar and eggs (one at a time) and continue mixing until fully combined.
4.  Add vanilla.
5.  Stir in the flour, salt and baking powder.
6.  Cover dough (in bowl) and chill several hours or overnight.
7.  When the dough has fully chilled, make small balls of dough (about 1 tablespoon) and roll in a bowl of powdered sugar.  Place on lightly greased baking sheets (or line baking sheets with Silpat liners).
8.  Bake at 350* (in pre-heated oven) for 8-10 minutes.
Recipe source-  I got this recipe from my mother, but I believe the original source is Betty Crocker.