Flourless Chocolate Cookies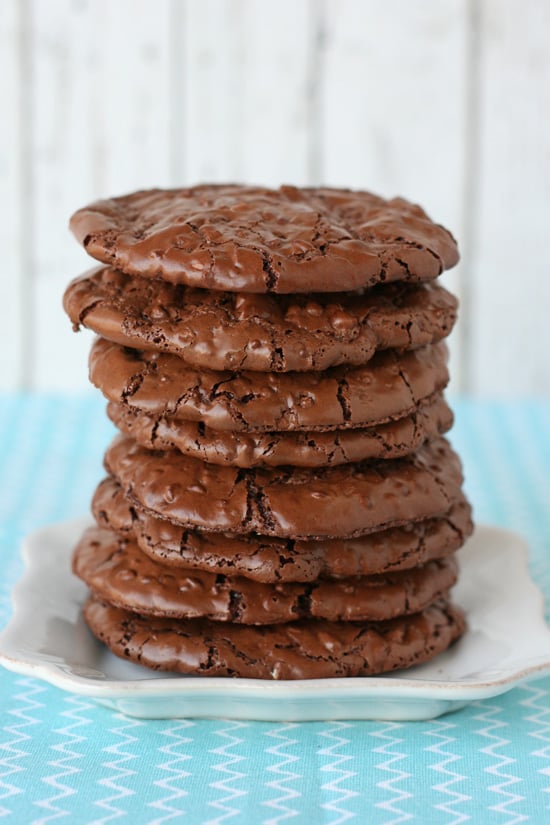 These Flourless Chocolate Cookies are so rich, fudgy and delicious you'd never know they're gluten free and dairy free!
I was recently looking at the website of a very nice, local bakery and noticed they listed their "Flourless Chocolate Walnut Cookies" as their best selling treat.  Although the bakery's site doesn't list the exact recipe, it does say that the cookies contain "sugar, cocoa, egg whites and walnuts".  I've seen similar recipes before and thought that if this was the bakery's top seller, they must be really good!  I easily found a recipe (linked in the recipe below) that looked just the same and I thought it was worth a try.   Now I understand why these would be such a hit at the bakery… they're delicious!!
These cookies are a great option for those on a gluten free or dairy free diet… but they're so good, anyone would love them!  The cookies have a very delicate texture, and are wonderfully crisp and chewy.  They are so chocolaty that just 1 or 2 cookies are quite satisfying.
You'll want to make a batch of these delicious cookies soon!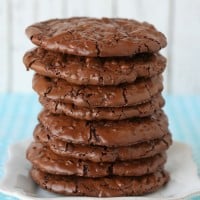 Flourless Chocolate Cookies
These cookies have a delicate crispy and chewy texture and are packed with chocolate flavor!
Ingredients:
1 1/2 cups finely chopped walnuts
4 egg whites
3 cups powdered sugar
1/2 cup plus 3 tablespoons unsweetened cocoa powder
1/4 teaspoon salt
2 teaspoons vanilla extract
1 cup mini chocolate chips
Directions:
1. Chop walnuts, then lay on a baking sheet and bake in a (preheated) 350*F oven for 6 minutes. Allow to cool.
2. Prepare two baking sheets by lining with parchment paper or a Silpat type liner, and set aside.
3. In the bowl of an electric mixer (or use an electric hand mixer) beat egg whites until they are well combined, white and foamy, but are not stiff (about 2 minutes on medium-low speed). Add vanilla.
4. In a medium bowl combine the powdered sugar, cocoa, salt, walnuts and chocolate chips. Stir to combine.
5. Add the bowl of dry ingredients to the bowl of beaten egg whites and stir with a spatula just until well combined. The batter will look similar to a brownie batter.
6. Use a 2 tablespoon sized cookie scoop to scoop mounds of batter onto the prepared baking sheet. Space the batter several inches apart (6 cookies per baking sheet).
7. Bake cookies in a (preheated) 350* oven for 11-13 minutes, until the cookies are puffed, shiny and cracked. Remove baking sheet from oven and allow cookies to cool on the baking sheet at least 3-5 minutes. When the cookies have cooled, pull up one end of the parchment paper or Silpat and gently peel the liner off of each cookie. Move the cookies to a cooling rack.
Notes- If you are baking these cookies for someone on a strict gluten free diet, please check the packaging of the chocolate chips to make sure there are no gluten ingredients.
If you are baking these for someone on a dairy free diet you can omit the chocolate chips, or use a dairy free option.
If you do not care for nuts, I'm sure they can be omitted, but the texture of these cookies is so delicate I think the walnuts add a really nice element of texture.
Recipe Source - Adjusted from Epicurious (originally by Francois Payard)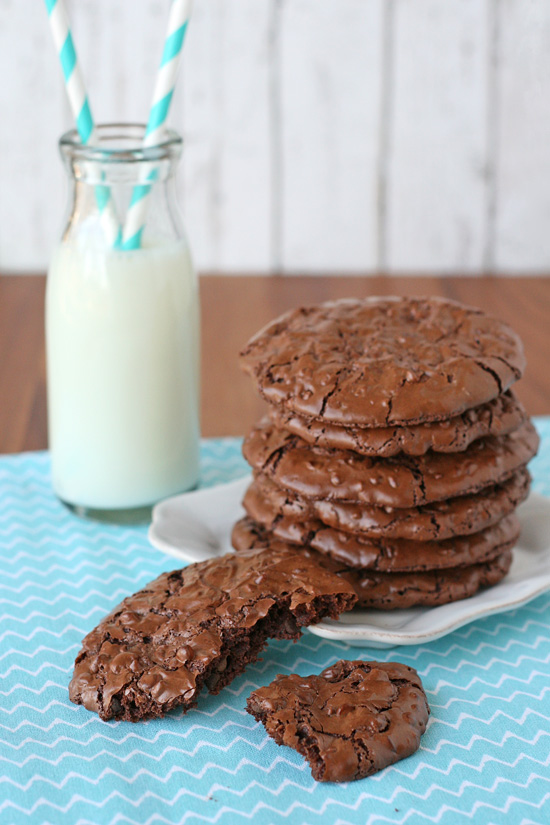 I have lots of fun plans for blog posts in 2014 and I'm looking forward to doing some traveling with my book, Glorious Layered Desserts.
If you have any special requests for things you'd like to see more of this year, feel free to leave your thoughts in the comment section below.
Happy New Year and Happy Baking!!