Pumpkin Salted Caramel Cake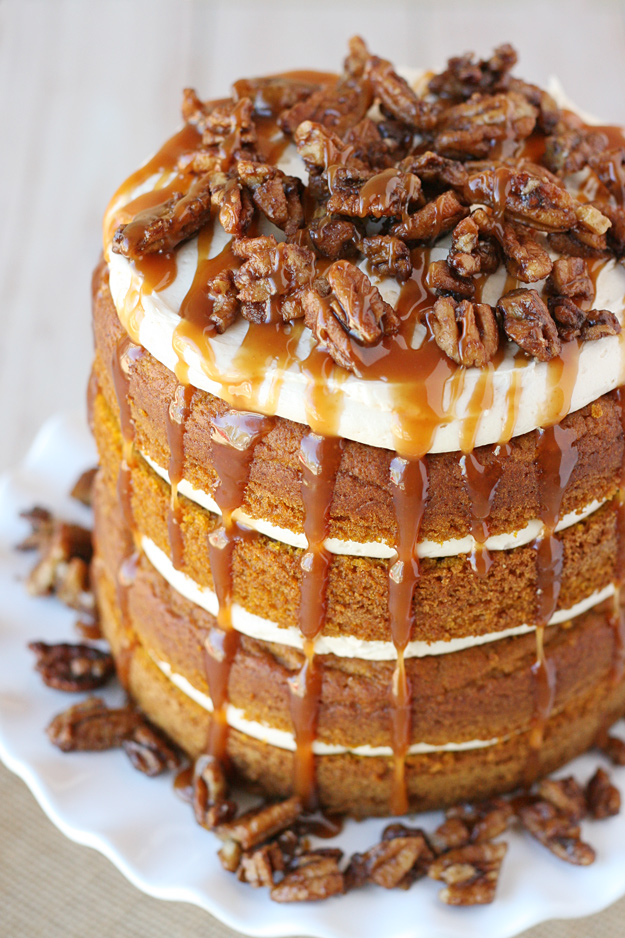 This Pumpkin Salted Caramel Cake is the ultimate fall dessert!
This beauty starts with moist, flavorful, pumpkin cake, then gets dressed with layers of incredible salted caramel frosting, a generous garnish of candied pecans, and even more gorgeous caramel!
Each component is delicious on it's own… and combined they create a truly impressive treat!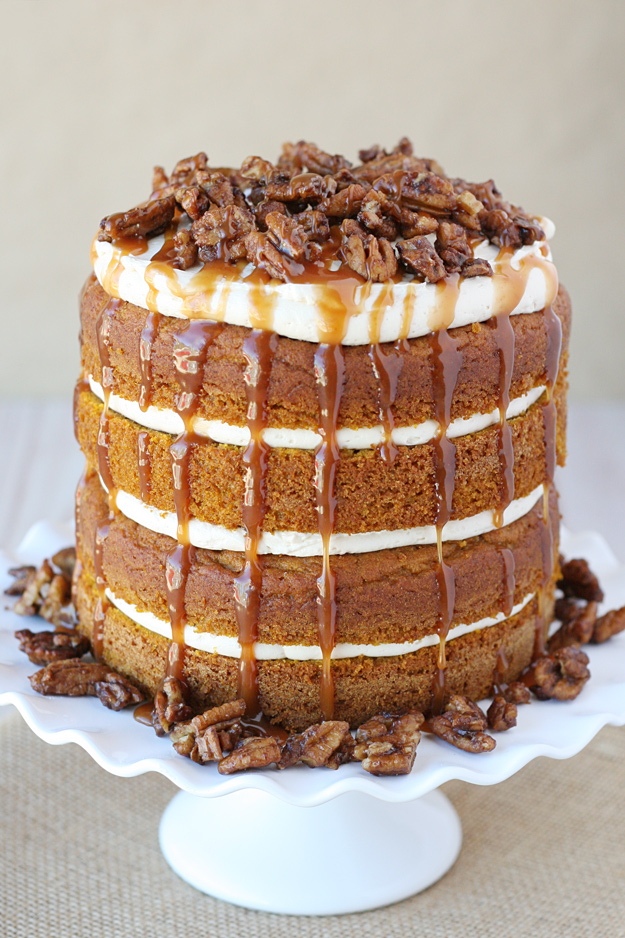 It always amazes me that with some time and care, simple ingredients can become incredible things!
Flour, sugar, butter, pumpkin… each quite humble on their own, yet they can sure do amazing things together!
When I take the time to make desserts from scratch, it's important to me to use high quality ingredients.
My fridge is always stocked with Challenge butter and cream cheese, key ingredients in so many amazing desserts!
I love knowing Challenge dairy products are made using fresh, local milk and cream with no hormones, additives or fillers! Just fresh, pure ingredients!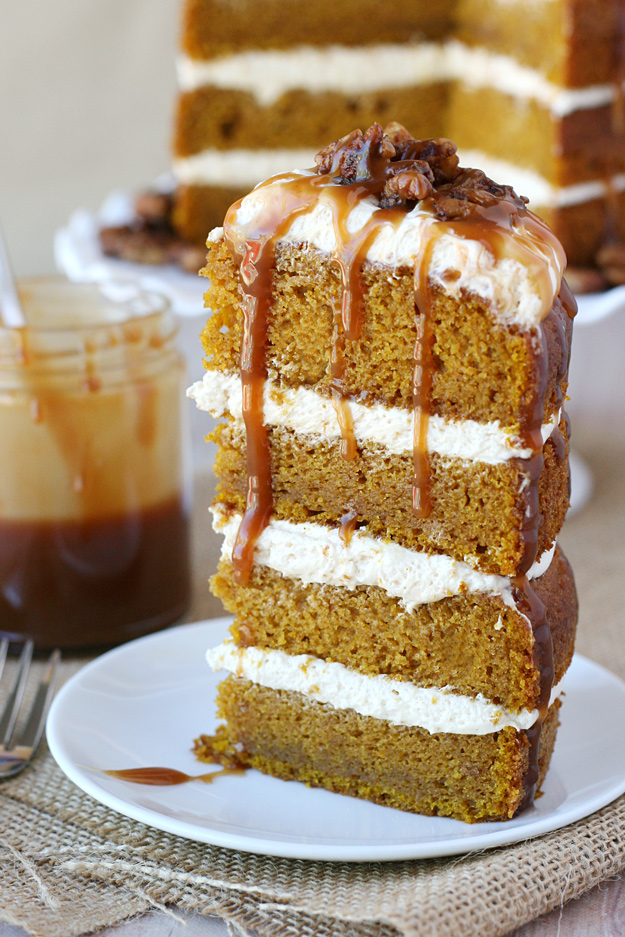 This cake has several components and although none of the steps are terribly difficult, the cake does take some time to complete.
Feel free to break up the work by making the cake and the caramel sauce a day ahead, as described in the "notes" portion of the recipe below.
Using the recipe below you will have extra salted caramel sauce left over… believe me, this is a good thing! Store the caramel in a jar in the fridge for up to 1 month. Warm in the microwave as needed… or eat it right from the fridge, I wont tell!
As a time-saving alternative, feel free to use a good quality store-bought salted caramel sauce. My personal favorite is Trader Joe's Fleur de sel Caramel Sauce.
Here's a video to show the assembly of this gorgeous cake! Enjoy!
Pumpkin Salted Caramel Cake Recipe & Video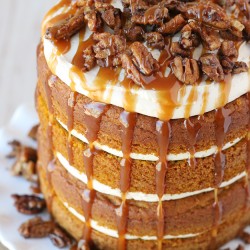 Pumpkin Cake with Salted Caramel Frosting
Moist and flavorful Pumpkin Cake is paired with Salted Caramel Frosting, candied pecans and even more amazing caramel!
Ingredients
Instructions
Prepare the cake
Preheat oven to 350*F., grease and lightly flour the sides of your baking pans, and line the bottoms with parchment paper (see notes for pan sizes).

In a large bowl whisk together the flour, baking powder, baking soda, salt and spices, then set aside.

In another large bowl, whisk the pumpkin, sugar, oil, eggs and vanilla and stir (stir vigorously by hand or on medium speed with an electric mixer for 30 seconds or so).

Add the flour mixture to the pumpkin mixture and stir until completely combined.

Divide batter into prepared pans and bake cakes until the tops are slightly rounded and a toothpick inserted into the center of each cake comes out clean (no wet batter).  I used 2, 6" pans and baked them for about 40 minutes.  If you are using 8" pans the time will be a bit less (check after 25 minutes).  Cupcakes will bake in 22-24 minutes. (See notes below on cake sizes)

Cool the cakes in the pans about 10 minutes, then (carefully) remove from pans and cool fully on a cooling rack.
Make the Caramel Sauce
Warm the heavy cream in a bowl in the microwave and then set aside.

In a large saucepan, add the sugar, corn syrup, and water.  Stir gently to incorporate the ingredients.

Cook over medium to medium-high heat, stirring gently, until the sugar dissolves and the mixture is bubbling.

Stop stirring and allow the mixture to boil undisturbed until it begins to darken in color.  You want the mixture to reach a honey color, but no darker.  The syrup will change from light in color to dark very quickly, so it's important to watch closely and remove the pan from the heat as soon as it's light-medium honey color.

Once removed from heat, carefully and slowly pour in the warm heavy cream (the mixture will hiss and bubble).  Stir to full incorporate the cream.

Add butter and salt and stir to combine.  Add vanilla.

Allow sauce to cool a bit, then pour into a jar. Cool at room temperature, then cover jar and store in the refrigerator.
Prepare Candied Nuts
Add pecans, brown sugar, butter and water to a heavy bottom saucepan and cook over medium heat.  Stir to combine ingredients.

Allow the mixture to come to a boil and boil, while stirring occasionally, until most all of the water has evaporated (so there is not much sauce in the pan, it's move of just a coating on the pecans), about 5- 10 minutes.

Remove pan from heat and add salt and cinnamon.  Stir well.

Spread the nuts onto a parchment paper covered baking sheet and break up any clusters. Allow to cool.
Make the Salted Caramel Frosting
Cut cold butter into a few large pieces and then, in the bowl of an electric mixer, beat butter until smooth.

Add cream cheese and blend until fully combined and smooth.

Add about half of the powdered sugar, then while the mixer is running, pour in the caramel sauce.  The caramel sauce should be no warmer than room temperature.  Stop the mixer and scrape down the sides of the bowl as needed.  Continue blending and add the remaining powdered sugar, vanilla and salt.

The frosting should be thick, creamy and fluffy. If by chance you kitchen is very warm, or the caramel sauce was too warm when you added it, place the bowl of frosting in the fridge to firm up, then beat once more before use.
Assemble the cake
Level and split cake layers as desired.

For easy assembly, add the frosting to a large piping bag fitted with a large round tip.  This is optional.

Begin with a layer of cake on the plate or cake stand of your choice.  Add a layer of frosting by piping a large spiral, then spread as needed with an offset spatula.  Alternatively, scoop a large dollop of frosting onto the cake layer, and spread as needed with an offset spatula.  Add a drizzle of caramel sauce on top of the frosting.

Repeat layers of cake, then frosting, then a caramel drizzle.

On top of the cake add a generous topping of candied nuts.

Enjoy!
Notes
Prepare ahead - This cake has several components, but the work can be broken up over 2 days. Feel free to bake the cake and make the caramel sauce a day in advance. Keep the cake covered in plastic wrap, and at room temperature. Keep the caramel sauce covered in the fridge. If the caramel sauce is made ahead you will need to warm it just a bit in the microwave so it's pour-able. Cake sizes - The cake pictured is a 6" cake. I baked two 6" pans of cake (which were later split in half), plus had a little batter left over to make 3-4 cupcakes. If you want to make an 8" cake you can divide the batter into two or three pans. If using 8" pans the cake will be not nearly as tall as the cake pictured. Caramel Sauce - The caramel sauce listed is not terribly hard to make, and truly delicious, but you can save a bit of time by skipping the homemade sauce and using a good quality salted caramel sauce of your choice. My favorite store-bought sauce is Trader Joe's Fleur de sel Caramel Sauce. Ingredient note - I used Challenge brand butter and cream cheese, but feel free to use any high quality brand of your choice. Using unsalted butter is the standard for most baking, but if you only have salted butter you will need to reduce or eliminate the added salt.
Nutrition
Calories:
864
kcal
Carbohydrates:
103
g
Protein:
7
g
Fat:
50
g
Saturated Fat:
27
g
Cholesterol:
121
mg
Sodium:
571
mg
Potassium:
218
mg
Fiber:
3
g
Sugar:
78
g
Vitamin A:
6377
IU
Vitamin C:
2
mg
Calcium:
92
mg
Iron:
2
mg
Happy baking!
Disclosure – I created this recipe as part of an ongoing partnership with Challenge Dairy. Partnering with brands I love allows me to provide you high quality content at no cost to you. I only work with brands I use and love. All images, text and opinions are my own.