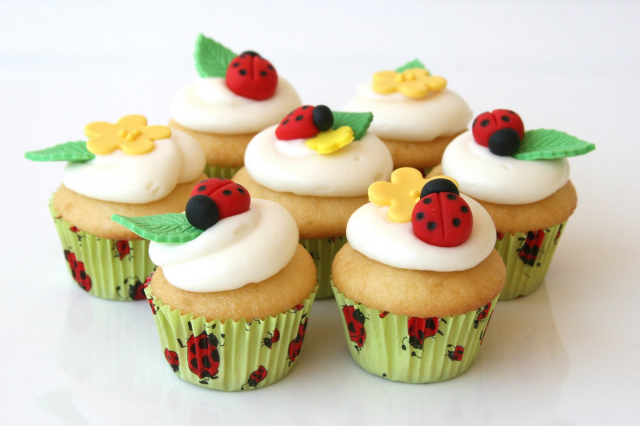 I like ladybugs… in fact they're about the only bug I would ever call "cute."  And they are extra cute stylized and used in decor.  I like using simple fondant ladybugs as decorations on cupcakes in the spring and summer.  Although I do usually try to add a ladybug on just a portion of the cupcakes on a platter, so it doesn't look like a whole swarm  =)
These simple fondant ladybugs are a perfect project for "fondant beginners" because it is quite simple, but adds such an adorable touch.
Earlier this year I prepared a whole party for my youngest daughter, Joy around a ladybug theme (posted HERE– it was a pretty cute party if I can say so!).
Give these cute fondant ladybugs a try and use them to dress up cupcakes for a garden party, red hat society meeting, or any spring or summer get together.


How to make a fondant ladybug ~
1.  Prepare fondant in red and black (see my Fondant 101 post for handling and coloring fondant).  Now I will add that although you can color the fondant yourself, I usually use pre-colored fondant specifically for red and black.  Those two colors are extra difficult to get nice and vibrant if you are coloring it yourself.
2. Roll a small red piece of fondant into a ball, then flatten slightly into an oval.  Use a toothpick or "boo-boo stick" (as shown) to create a line down the center of the red body.  Roll a tiny ball of black fondant and stick it onto the red body.  I can usually just stick the fresh fondant directly to the red and it will adhere and once dry will be stuck together nicely.  If you are having trouble sticking the fondant head to the body, you can use a teeny, tiny bit of water or corn syrup to act as glue.
3.  Once your ladybug is dry (after several hours or overnight), use a black edible marker to draw some black spots on the lady's back.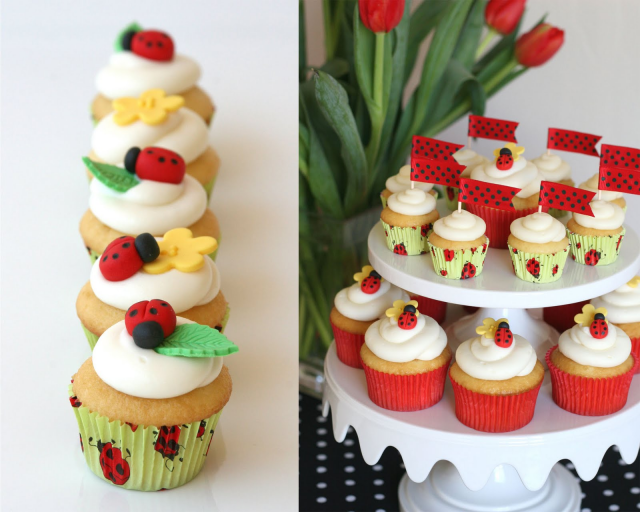 Use your cute ladybugs to dress up cupcakes, cakes and even as a 3-D feature on cookies.
Happy Decorating!
 *Shopping note- I bought the ladybug print mini cupcake liners in a specialty store about 5 years ago, and have since called the store, then contacted the company, and as far as I know they are no longer available, sorry!