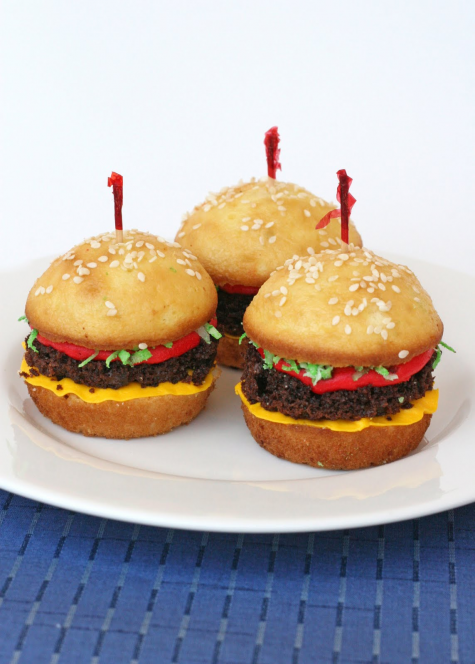 Just in case you didn't read the title of this post, these are not hamburgers, they're cupcakes!
I hesitated posting these treats due to the fact that I know they have "been done before".  I first gave this idea a try last spring (HERE), and have made them a couple times since.  So, I'm certainly not suggesting I came up with this idea… but it's just so cute, if you haven't given it a try, it's really fun to do and will surely bring lots of smiles to anyone you share it with.
This is a perfect project for kids (to help), and with Father's Day this weekend, this could be a fun treat to show some love to daddy.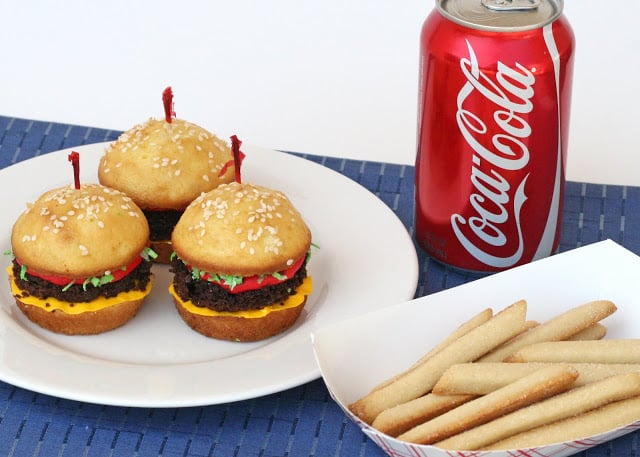 Cupcake "Hamburger"
Directions:
Bake one batch of vanilla cupcakes and one batch of chocolate cupcakes
 I sometimes just use box mixes for this project, since it's more of a novelty than a gourmet dessert.  I bake the cupcakes without any paper liners (just use some non-stick spray on the pan).  Baking the cupcakes without the liners allows the outside edges of the (vanilla) cupcakes to brown a bit.  To me, this looks the most like hamburger buns.  You can use paper liners if you prefer, but then the sides of your cupcakes will have little ridges (from the creases in the paper liners).
When the cupcakes are baked and cooled, slice the vanilla cupcakes in half (horizontally) and slice the chocolate cupcakes in half or thirds (horizontally), depending on how big you want your "hamburgers".
Set these "buns" and "meat" aside.
Prepare the "lettuce" (coconut)-
Put about 3/4 cup of (sweetened) shredded coconut in a plastic baggie and add 1 or two drops of green liquid or gel food coloring.  Close the plastic bag and shake the bag until the coloring is well distributed.
Prepare the "ketchup" and "mustard" (frosting)-
You can use a tub of store-bought frosting, or make your own vanilla frosting  (you can use my recipe for cream cheese frosting as is or omit the cream cheese for a super simple American buttercream).
Color half of the frosting red and half yellow (you may want to add a touch of orange to get a nice mustard color).
Place each color of frosting in a piping bag fitted with a (medium sized) round tip, or simply put the frosting in a strong ziplock type bag (the freezer bags are usually a stronger bag) and cut off one of the corners of the bag (start small, you can always make the hole larger).
Now you're ready to assemble:
Start with the bottom half of a vanilla cupcake.
Pipe a line of "mustard" frosting around the edge.
Add a slice of chocolate cupcake  (the "meat").
Pipe a line of "ketchup" around the edge.
Add some coconut "lettuce".
Top with a vanilla cupcake top.
For a final touch, you can brush the tops of the "hamburgers" with a bit of juice or simple syrup (I usually use orange juice) and add some sesame seeds.
You can also add a frilly toothpick.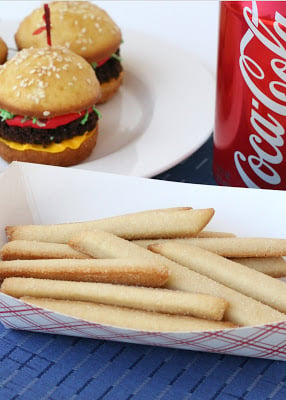 To complete your "meal", make some sugar cookie "fries".
Sugar Cookie "Fries"
Directions:
Make a batch of sugar cookie dough (my recipe HERE).
Chill, and then roll out the dough as directed.
Cut the dough into strips using a pizza cutter or knife.
The strips can be as fat or thin as you want depending on how you want your "fries" to look.
Lay the "fries" onto a cookie sheet and set the whole sheet in the freezer for a few minutes (about 5) to chill the dough (this helps the cookies keep their shape when baked).
Bake as directed.
Once baked, cool just enough to remove from the baking sheet.
While still a bit warm, place cookie "fries" in a shallow baking dish and sprinkle with white sugar (to represent salt).
These cookie "fries" can be made several days in advance (up to a week) and kept in an airtight container.
Serve the cookie "fries" along side a cupcake "hamburger" and you're sure to make your family and friends smile!