Let's start from the beginning… The title of this post "Fondant 101" implies that this will be a post that will teach you the basics of fondant, and that is true.  But the title may also imply that I am an expert on the topic of fondant, and I'm not so sure that's true.
When I first threw myself into decorative baking (about 4 years ago) I had a fear of fondant… all I knew about it was that some people don't care for the taste, and that (some) bakers can do amazing things with it.  I had never tasted fondant or attempted to work with it.  I enrolled in a one night course through our local parks and recreation department on "Gourmet Cookie Decorating" and that night, I learned how to cover cookies with fondant.  I also discovered that night, that fondant is not so scary after all.  I'm hoping that after you spend some time reading this post you may feel the same way.
Fondant 101 ~
Fondant (also known as rolled fondant) could be described as a sugary play-dough.  Pre-made fondant is made mostly from sugar, gelatin, and glycerin.  Fondant can also be made at home using powdered sugar and melted marshmallows (this is called Marshmallow Fondant- recipe link at the end of this post).  Pre-made fondant is sold at craft stores, cake supply stores and on-line.  The brand of fondant I prefer to use is called Satin Ice.  This is also the brand most often used by cake professionals.  The brand most commonly available at craft stores, Wilton, has a reputation for having a pretty poor taste, and I would avoid using it if possible (sorry Wilton, just my opinion!)
Fondant can be used for decorative baking in a number of different way.  Cakes, cupcakes and even cookies can be covered with layer of fondant.  Fondant can also be used to add decorative accents onto frosted cakes, cupcakes and cookies.  Fondant can be shaped using special fondant molds and cutters, or hand molded into any shape or design imaginable.
Here are a few examples of the ways I've used fondant…
~Fondant covered cupcakes ~
~ Fondant covered cookies ~
~ Fondant covered cakes ~
Over the next few months (and beyond) I will come back and add links to this post as I go into more detail on specific fondant projects.
Fondant Graduation Caps (as cupcake toppers)
How to make Fondant Ribbon Roses
How to make Fondant Butterflies
For today, in keeping with the "Fondant 101" theme of this post, I'll show you the very basics for handling and preparing fondant for any project.
As with any craft project, preparing an organized work station with the proper supplies will help you work efficiently and allow you to enjoy your project with limited interruptions (children not included!).
Above is a photo of the way I set up my work station (a.k.a. my dinning table).  You don't have to set up your work area exactly like mine, but I think this will give you an idea of the basic supplies needed.
1.  A paper plate to set fondant pieces on to dry.
2.  Fondant cutters (these could be small cookie cutters, or cutters designed for fondant- see my source list at the end of this post)
3.  A small bowl of vegetable shortening (Crisco).  This will be worked into your fondant (in a small amount) to help keep it pliable, and applied to your hands (or gloves) to prevent sticking.
4.  A small pouch of corn starch (I made mine with a paper towel and poked a few holes in the bottom of the pouch with a pin).  This can be used to prevent sticking- it may be used on your work surface, cutters or added to the fondant if it gets too sticky.
5.  Food coloring (I use Americolor gels).
6.  Plastic bag for fondant (keep your fondant in a sealed bag at all times or it will dry out and become unusable).
7.  Plastic gloves (this will prevent your hands from becoming stained from the coloring, and helps keep your fondant as clean as possible).
8.  A non-stick rolling pin (available in small and large sizes from most craft supply stores).
9.  A clean, smooth work mat.
10.  A lint-free dish towel (just handy to have around).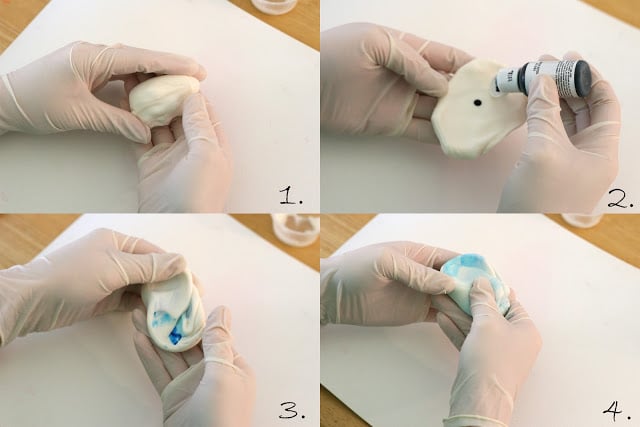 Directions ~
1.  Remove a small ball of fondant from the plastic bag (only take out of the bag the fondant your are working on right then- fondant will dry out quickly in the air and become stiff and unworkable).  Knead the ball of fondant until pliable.   Rub a bit of Crisco onto your hands (or gloves), to prevent the fondant from sticking to your hands.
2.  Add a drop of food coloring (this could be gel or paste- not liquid).  I use Americolor brand most often.
3.  Knead the coloring into the fondant.  If the fondant is sticking to your gloves (or hands), add a tiny bit more Crisco onto your gloves (or hands).
4.  Continue to knead until the color is fully incorporated.  You may add additional color to reach the desired shade.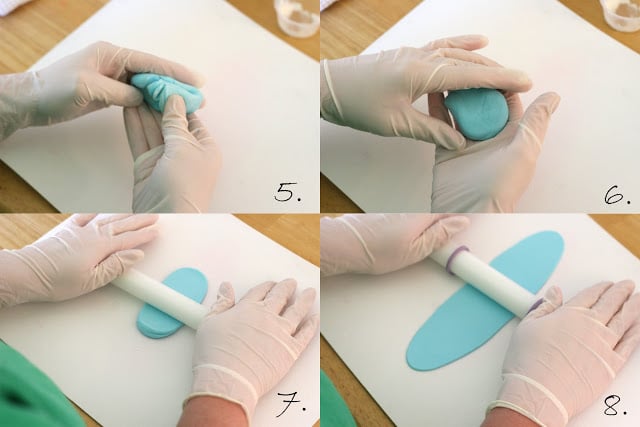 5.- 6.  Continue to knead as necessary to incorporate all of the color.
7.  Roll out the fondant using a non-stick rolling pin.
8.  Roll to desired thickness.
(Note- If you plan to hand mold the fondant into a 3-D shape there is no need to roll it out.)
That's it… your fondant is now ready to cut into shapes and be used as decorations on cakes, cupcakes and cookies.  If you are planning to cover a cake with fondant, the coloring and rolling process is the same, only you'll need a larger ball of fondant and a larger rolling pin.
Now you have plenty of information to get you started, if you have little or no experience with fondant.   Don't be intimidated to give it a try.  Fondant can be a fun medium to work with and with a bit of practice can yield impressive results.
Helpful links and resources ~
You-Tube is a great source for videos on working with fondant.  Here are links to several that I have found helpful…
How to make Marshmallow Fondant (includes recipe)
How to cover a cake with fondant
How to cover a square cake with fondant
Sources for fondant supplies ~
Michael's
Hobby Lobby
JoAnn's
Country Kitchen SweetArt (a great selection of fondant and baking supplies)
Jester's Discount Cake Supply (a great source for fondant, and many fondant and baking supplies)
The Little Fox Factory (a great source for mini sized cookie cutters, perfect for simple fondant accents)