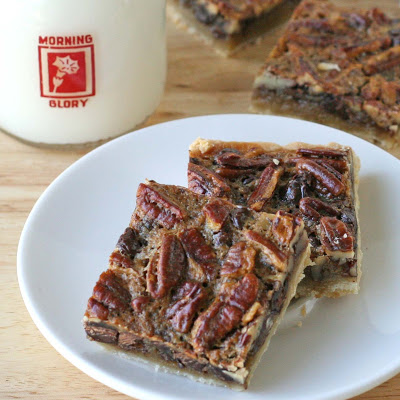 I love pie, in fact it may be my favorite sub-category of desserts!  But, as you might already know, I have never posted a single pie recipe on this site.  The reason being… I really love desserts that work well as gifts, or can be used on dessert tables, and pie isn't really either.  Also, a pie should arrive at a friends home, or at a pot-luck whole… but then how would a take a photo of the inside, or sample it?  See my problem  =)  I love desserts I can make, cut and enjoy some at home (for research purposes of course!), and then share some with neighbors and friends without them fully realizing they're not getting the whole batch.
When I recently came across a recipe for Chocolate Pecan Pie Bars, I thought it cold be a perfect solution to my pie problem… all the flavor of a delicious pie, in an easy to serve, easy to share bar.  In fact, in the case of this recipe, I think I actually prefer the bars to the traditional pie version!  These bars are rich and delicious and keep well for 2-3 days, so they're perfect for a busy holiday season.
Chocolate Pecan Pie Bars
Crust ~
1 3/4 cups flour
1/4 cup packed brown sugar (light or dark)
3/4 teaspoon salt
3/4 cup cold butter, cut into pieces
1-2 Tablespoons cold water
Filling ~
3 eggs
3/4 cup packed dark brown sugar
1/2 cup light corn syrup
2 teaspoons vanilla
2 Tablespoons butter, melted
1-2 Tablespoon bourbon, if desired
1/2 teaspoon salt
2 cups pecan halves, coarsely chopped
3/4 cup semisweet chocolate chips
Directions ~
1.  Heat oven to 375*F
2.  Line the bottom and sides of a 9″x13″ baking pan with aluminum foil.
3.  (For the crust)  In the bowl of an electric mixer, beat 3/4 cup butter, brown sugar and salt until smooth and creamy.  Add flour, and beat until coarse crumbs form.  While the mixer is running, add 1-2 tablespoons of cold water, as needed to help form dough.
4.  Press dough into the bottom and 1/2 inch up the sides of the prepared pan.  Prick the dough with a fork several times, randomly around the pan.  Bake 10-12 minutes or until light golden brown.
5.  (For the filling)  In a large bowl, mix eggs, brown sugar, corn syrup, vanilla, melted butter, bourbon and salt with a whisk until well blended.  Stir in pecans and chocolate chips.  Pour filling into baked crust.
6.  Bake 20-30 minutes or until golden brown and filling is set.
7.  Cool 1 hour, then set in the refrigerator to further cool.  Cut into squares using a serrated knife, with a slight sawing motion, and clean the knife between cuts as needed, if you want nicely cut bars.  Store covered, in the refrigerator.  Serve cool, or at room temperature.  Can be stored up to 3 days.
Recipe source ~ Several adjustments made to a recipe by Betty Crocker.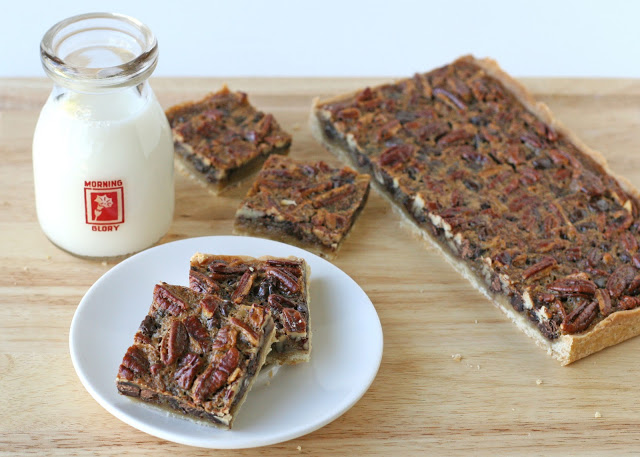 A fun little note… if you notice the little milk bottle says "Morning Glory".  With a name like Glory, I rarely find things with my name on them… but my friend Callye spotted this while we were shopping together last month in an antique store in Checotah, Oklahoma (on the drive home from Cookie Camp).  I'm sure you'll be seeing it pop up from time to time as I post recipes that go best with a bit of milk!