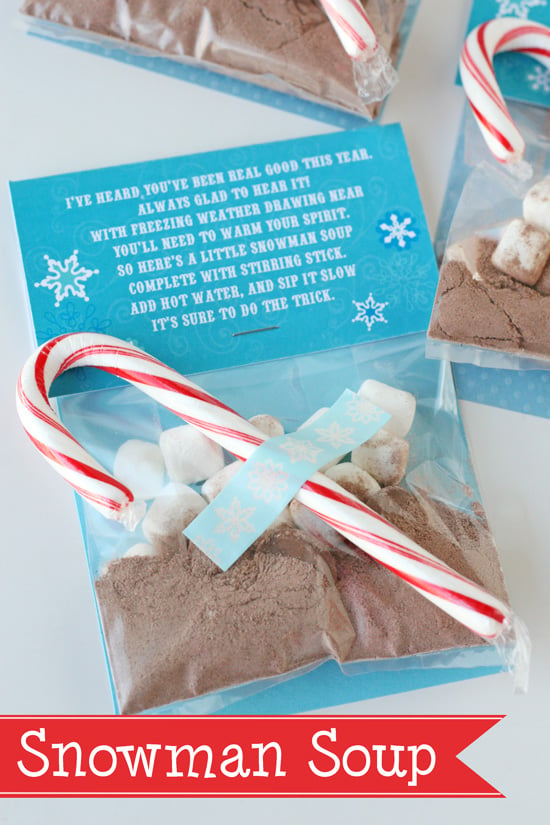 This cute little "recipe" for Snowman Soup is an idea I've been wanting to share for a couple years!  I finally got my act together and enlisted the help of my sweet friend and printables expert, Lindi from Love the Day!  Lindi whipped up the cute (FREE) printable you'll need to assemble this fun little craft (link to printable at the end of this post), and I put them together (with the help of my hand model, my 9 year old daughter).
Snowman Soup is just a cute way to package hot chocolate.  These make adorable little party favors, or gifts.   Include a few packages of Snowman Soup with a couple of cute mugs to make an extra sweet gift.
This year my youngest daughter will be giving these to her classmates on the last day of school (before Christmas break).
Let's make some Snowman Soup…

How to Make Snowman Soup
Supplies-
Hot Chocolate Packets
Mini Marshmallows
Chocolate Kisses
Candy Canes
Cellophane Bags (I used Wilton treat bags that are 4″ wide and 9.25″ tall)
Card stock paper (cut into 4″x 6″ rectangles)
Printable Snowman Soup Poem  <– click for free printable
Stapler
Tape
Assembly-
1.  Print and cut out Snowman Soup poem, and fold in half (as shown) using a bone folder for best results.  Cut out card stock rectangles (as listed in supplies).
Add 1 packet of hot cocoa, two chocolate kisses and a small handful of marshmallows to a cellophane bag.
2.-4.  Set the bag on top of the card stock rectangle and fold down the top of the bag several times.  Enclose card stock rectangle and the folded bag with the folded Snowman Soup poem.  Staple together toward the bottom of the poem (as shown).  If desired, you could use a small sticker to cover the staple.
5.  Add a candy cane to the top of the bag with tape (I used washi tape, available from some craft stores and also cutetape.com).
Share with family and friends!
Thanks again to Lindi of Love the Day for creating this fun printable!