Sprinkle Sugar Cookies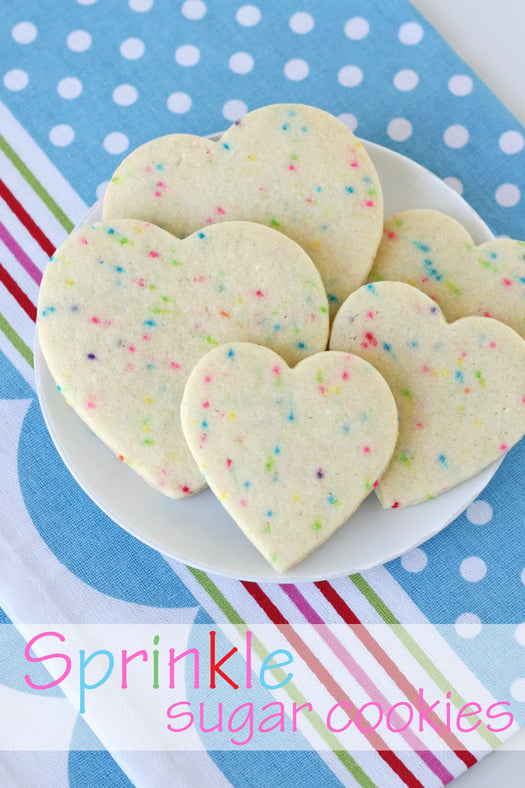 How can you improve on the perfect roll-out sugar cookie recipe? Add sprinkles!
This recipe for Sprinkle Sugar Cookies adds a bit of whimsy to any cookie decorating project!
I've made a LOT of cut-out sugar cookies over the years… but after making this batch I feel like I've been doing it wrong all this time! =) The additional of some colorful sprinkles to my trusty sugar cookie recipe makes a great cookie even better! I think you can taste the cuteness! =)
Wouldn't these Sprinkle Sugar Cookies be the perfect base for birthday cookies? And of course you know I'm already planning all the fun holiday cookies I could make with different colors of sprinkles!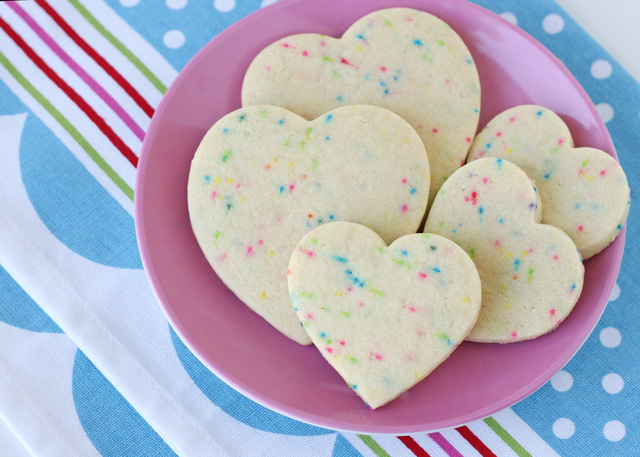 This recipe is just a fun variation of the same Rolled Sugar Cookie Recipe I use all the time. If you have not (successfully) made cut out cookies before, there are lots of tips and tricks, as well as more step by step photos in that original sugar cookie recipe post.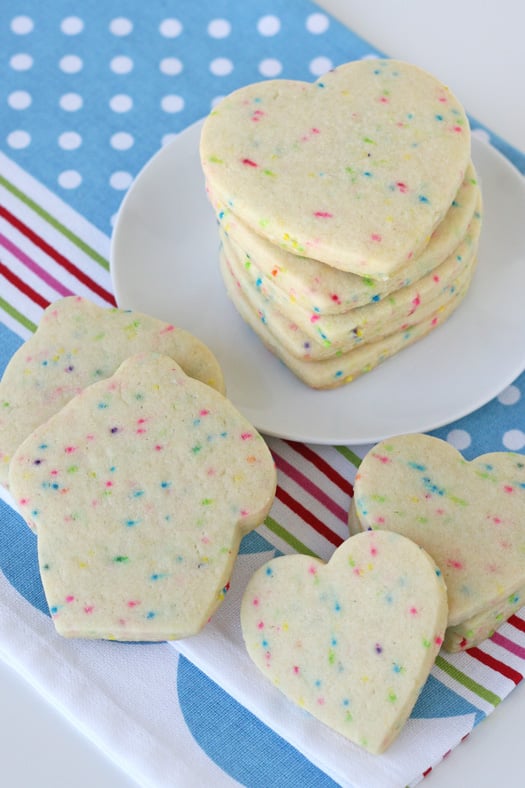 Sprinkles make everything better, don't you agree? =)
Happy baking!
How to Make Sprinkle Sugar Cookies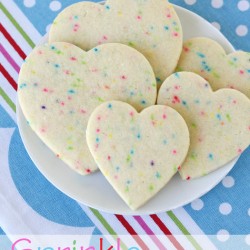 Sprinkle Sugar Cookies
This is my tried and true sugar cookie recipe with the simple addition of sprinkles!
Ingredients
3

cups

all purpose flour

1

teaspoon

baking powder

2

tablespoons

non-pareils sprinkles

1

cup

unsalted butter

1

cup

sugar

1

egg

1 1/2

teaspoons

vanilla extract
Instructions
In a large bowl add flour, baking powder and sprinkles. Whisk together and set aside.

In the bowl of an electric mixer add butter and beat until smooth.

Add sugar and blend until fully combined and fluffy.

Add egg and vanilla and blend.

While mixing, slowly pour in the bowl of flour.

Mix until dough forms and starts pulling away from the sides of the bowl.

Scoop dough out onto a work surface and form into two large balls. Place balls of dough into a large ziplock bag and press the balls down into thick, flat disk (about an inch thick). Chill the dough in the fridge for at least 30 minutes.

Roll out dough on a lightly floured work surface. I place a piece of parchment paper on top of the dough to avoid adding excess flour, and to prevent the dough from sticking to the rolling pin. Roll out the dough to about 1/3" thickness. Cut out cookies and bake similar sized cookies together on a baking sheet lined with parchment paper or a silpat type liner.

Bake 8-10 minutes in a preheated 350*F oven.

Cool on the baking sheet for 1-2 minutes, then move to a cooling rack.

Once fully cool, store cookies in a sealed container until ready to decorate.

Cookies remain fresh (when stored well) for at least a week.
Notes
I found that after re-rolling the dough about 3 times the heat from my hands, and the moisture from the dough started causing the sprinkles to "bleed", and create streaks of color. As you roll out the dough, try to use a variety of cookie cutter shapes so that you are creating as many cookies (and as little dough scraps) as possible.
Once the cookies are arranged on a baking sheet, I place the entire baking sheet of unbaked cookies in the freezer (or fridge) for 10 minutes. This extra chill time really helps the cookies keep their shape as they bake.
Nutrition
Calories:
164
kcal
Carbohydrates:
21
g
Protein:
2
g
Fat:
8
g
Saturated Fat:
5
g
Cholesterol:
27
mg
Sodium:
22
mg
Potassium:
22
mg
Fiber:
1
g
Sugar:
9
g
Vitamin A:
246
IU
Calcium:
15
mg
Iron:
1
mg