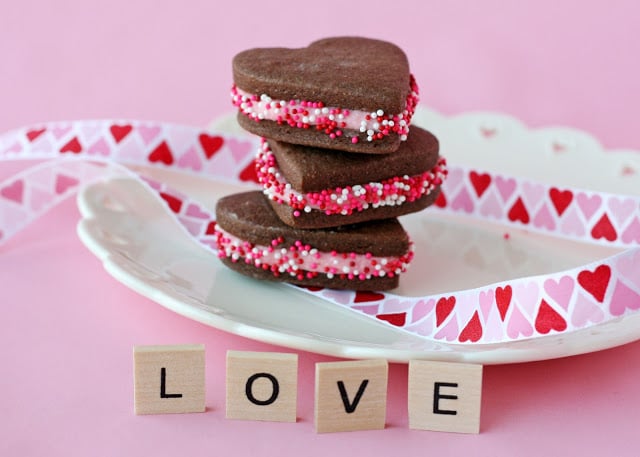 After I made the Heart Cutout Cupcakes last week I had some delicious cherry frosting left in the fridge.  I've had Valentine's treats on my mind and was already planning to make a batch of chocolate roll out cookies, so I thought the cherry frosting might be a good match.  The resulting combo was both pretty, and delicious!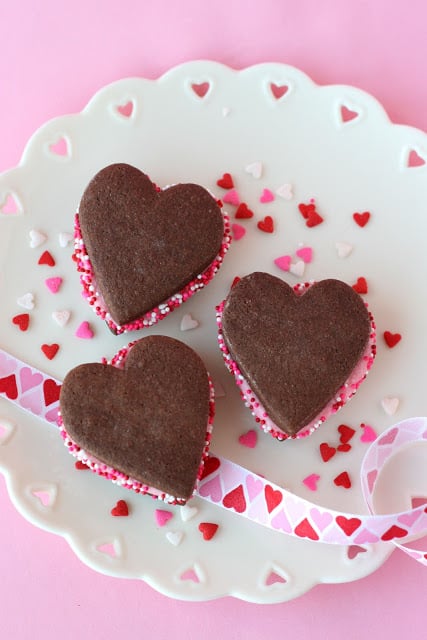 Chocolate Heart Sandwich Cookies
First, prepare a batch of Chocolate Rollout Cookies.  Roll out dough and cut with a small heart cutter.  Bake as directed.  Cool completely.
When the cookies have baked and cooled, prepare a batch of frosting.  I used the delicious Cherry Frosting Recipe I posted here.  You could also use my simple American Buttercream, tinted pink.  Flavoring of strawberry or cherry could be added, or just vanilla would be delicious as well.
For easy application, fill a large piping bag fitted with a round tip (with a 1/4- 1/2 inch wide opening).  Or simply use a large plastic ziplock type bag and snip off the tip.  Squeeze frosting onto what was the bottom side of a cookie.  Top with another cookie.  If desired, immediately sprinkle edges of frosting with sprinkles.
*A few notes-  The frosting needs to be on the thick side, or it will just squeeze out and make a mess.  Be sure to add only a limited amount of liquid to whichever frosting you use, or add an additional cup of powdered sugar.  Additionally keeping the frosting very cool will help.  If the frosting is too soft, put it in the fridge to set up.  Also, as you make the sandwich cookies, you can pop them in the freezer for just a couple minutes to set up.
These sandwich cookies are best the day their made, or can be stored at room temperature for 1-2 days.  (The chocolate cookie itself could be made a few days in advance, and stored in an airtight container until ready to assemble).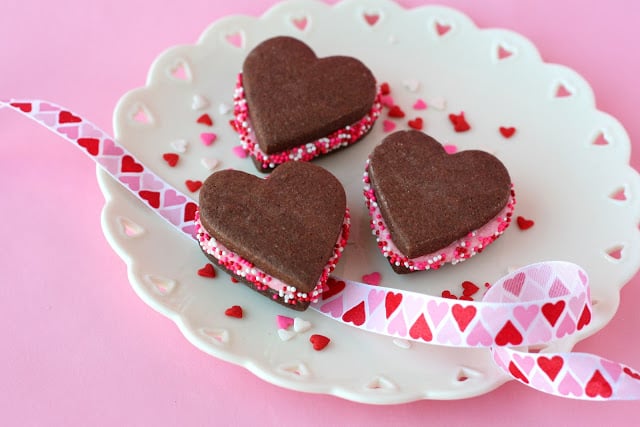 Happy Baking!