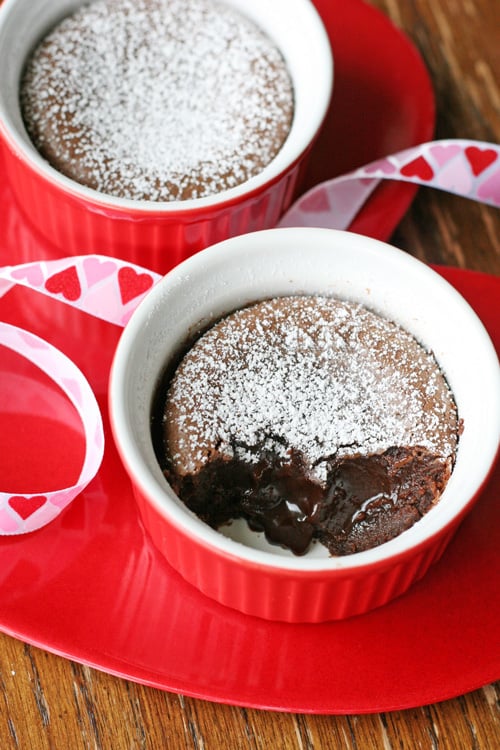 Chocolate and Valentine's Day just seem to go hand in hand….
Although, if you love chocolate like I do, you may find lots of reasons to make these amazingly delicious Chocolate Molten Lava Cakes!
I've enjoyed Chocolate Lava Cakes at restaurants in the past, but never realized how easy they are to make! In fact, since first making this recipe a couple weeks ago I've made 2 or 3 more times (just to make sure it was good enough to share… of course!)
If you've never enjoyed a Chocolate Lava Cake before, they are rich chocolate cakes with a high ratio of chocolate and butter to flour. The cakes are baked just long enough to hold their shape, but are purposely under-baked, in order to retain a delicious, "molten" hot fudge center.
This rich and delicious dessert is elegant enough to serve for a dinner party, but easy enough to make anytime you want a chocolate treat.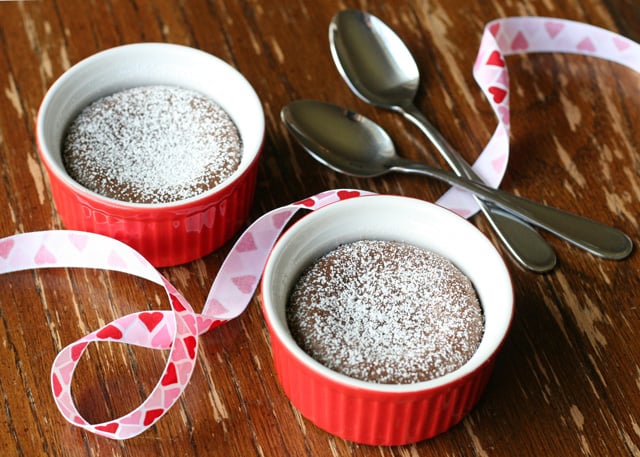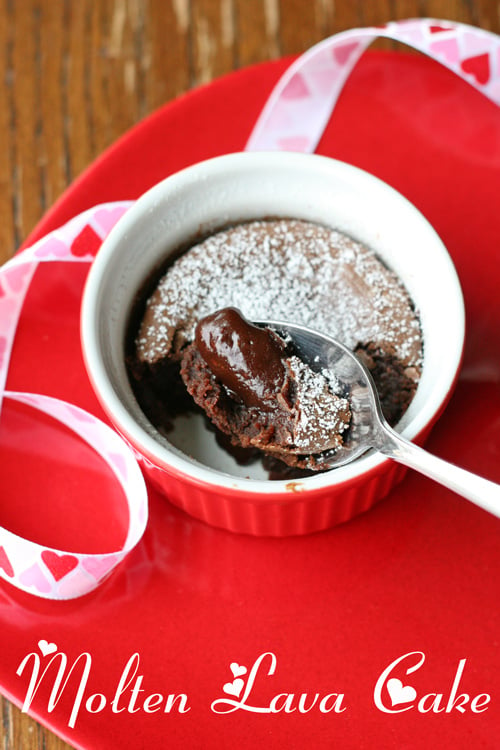 Share some chocolate with someone you love this week!
Happy baking!
How to Make Chocolate Molten Lava Cakes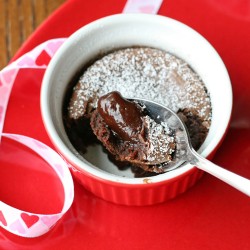 Chocolate Molten Lava Cakes
These cakes are so rich and delicious, and you'll be amazed how easy they are to make!
Ingredients
Instructions
Preheat oven to 425*F.

Grease 6-8 (6oz) ramekins (oven safe dustard cups) with butter, or non-stick cooking spray. You can fill 6 dishes full, or 8 dishes 3/4 full.

Melt the chocolate and butter in the microwave, or in a double boiler.

Stir the melted chocolate and butter until smooth, then add the flour and sugar and stir just a couple times.

Add in the eggs, yolks and vanilla, and stir until incorporated and smooth.

Divide the batter as evenly as possible among the ramekins.

Bake 14 minutes if using 6 dishes, or 12 minutes if batter is divided into 8 dishes. The edges should be firm, but the center will be loose.

Allow to cool 1-2 minutes. Enjoy directly from the dish, or run a knife around the edges of the dish, and invert onto a dessert plate.

Dust with powdered sugar, or serve with whipped cream, or vanilla ice cream.
Nutrition
Calories:
451
kcal
Carbohydrates:
59
g
Protein:
8
g
Fat:
20
g
Saturated Fat:
10
g
Cholesterol:
185
mg
Sodium:
66
mg
Potassium:
299
mg
Fiber:
3
g
Sugar:
45
g
Vitamin A:
304
IU
Calcium:
76
mg
Iron:
4
mg