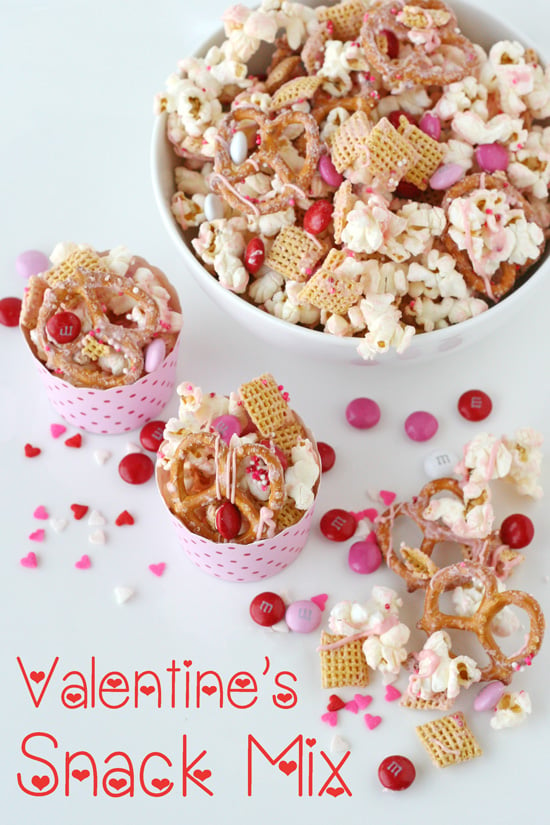 Here's a fun and easy recipe you can adjust for most any holiday, and add ingredients to your tastes. This Valentine's Snack Mix is easy to make, cute and quite delicious!
This would be perfect to bag up, add a cute tag, and have kids pass out on Valentine's day. Or, it's simply fun to add to lunches, or enjoy as an anytime snack!
Fill cute little treat cups (as pictured) and it makes an easy party treat. The party cups/cupcake cups pictured I found at Home Goods, similar cups available from Shop Sweet Lulu or The TomKat Studio.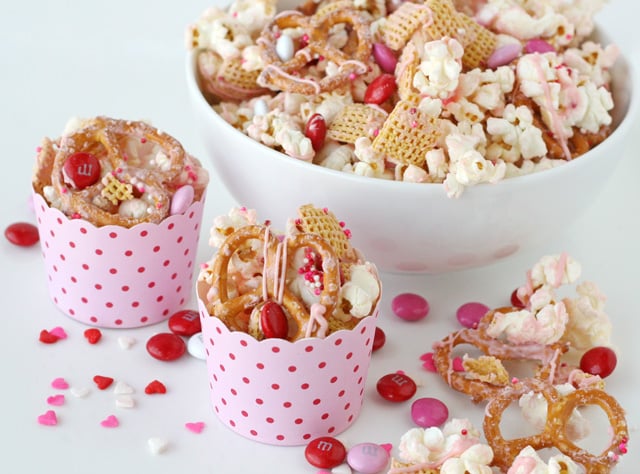 Happy snacking!
How to Make Easy Valentine's Snack Mix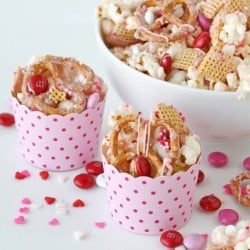 Easy Valentine's Snack Mix
Mix and match your favorite sweet and crunchy snacks to create a delicious mix!
Ingredients
Mix Options
mini pretzels

popcorn

air-popped

cereal

chex, cherrios, or your choice

peanuts

or a nut of your choice

M&Ms or other candies

sprinkles

white chocolate

or white candy melts

pink candy melts
Instructions
In your largest bowl, or a large roasting pan, mix all ingredients except the M&M's, sprinkles, and candy melts. Do not over fill your dish, you will need room to toss the ingredients together.

Melt white candy melts (or white chocolate) in a microwave safe dish (at 50% power) in 30 second intervals until almost melted. Stir until completely melted and smooth. Pour the melted chocolate over the dish of snacks and then stir, stir, stir! It's up to you if you want the mix to be totally coated, or lightly coated (depending on the amount of melted chocolate you use).

When the snacks are evenly coated, pour entire mixture out onto a baking sheet (or two if needed).

Immediately (while the coating is still warm and melty) add sprinkles and M&M's.  They will stick to some of the clusters as the white chocolate cools (this is a good thing).

If desired, melt another color of candy melts (in this case, I used pink), and drizzle the colored candy melts over the snack mix as it cools.  This will add a bit more color.

Allow snack mix to cool and chocolate (and candy melts) to set up (about 30 minutes).  Once cool, break apart as needed and store in an airtight bag or container.

Party mix with popcorn in it will remain fresh tasting about 2-3 days, and a bit longer without popcorn.
Notes
For the mixture pictured, I used mini pretzels, corn chex, popcorn, pink candy melts, sprinkles and M&M's
I have not listed quantities because it's really up to you how much you want to make, or what ingredients you have on hand.