Orange Zest Sugar Cookies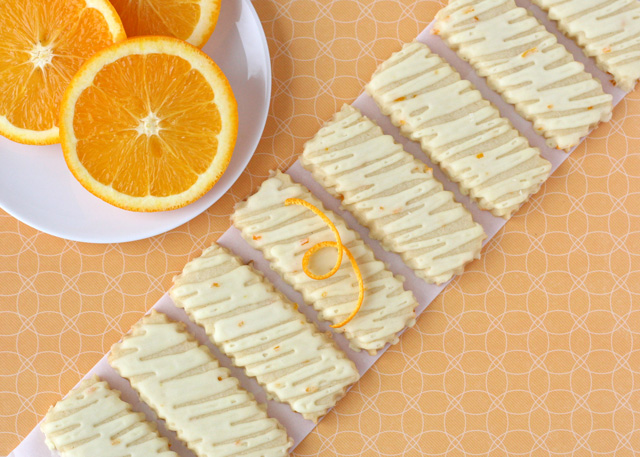 Our next door neighbors have a big orange tree just out of reach from our property. Luckily, at least once each (winter) season a big bag of fresh oranges arrives on our porch, courtesy of our neighbors.
In addition to eating the oranges fresh, and making juice, I usually try to bake something with the delicious fruit. One year, I made yummy Orange Cranberry Muffins with the bounty. This year, I thought some Orange Zest Sugar Cookies would be a great way to use the fresh oranges.
The recipe is just a slight variation of my regular Sugar Cookie Recipe. Instead of decorating the cookies with royal icing, I made a simple (and delicious) orange glaze. I think these simple, yet pretty cookies would be a perfect addition to a tea party, or ladies brunch. I cut the cookies with a shortbread cookie cutter, but any shape would produce equally delicious results.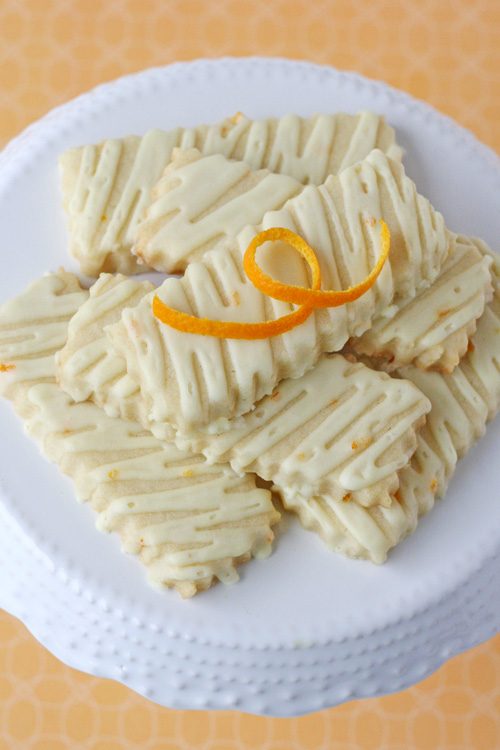 Happy Baking!
How to Make Orange Zest Sugar Cookies with Fresh Orange Glaze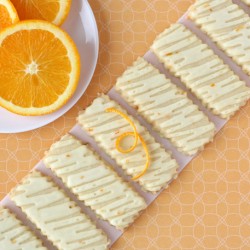 Orange Zest Sugar Cookies with Fresh Orange Glaze
Fresh orange zest adds a delicioust twist to traditional rolled sugar cookies.
Ingredients
For the cookies
3

cups

flour

1

teaspoon

baking powder

1

cup

unsalted butter

2 sticks, room temperature

1

cup

sugar

1

egg

1/2

teaspoon

vanilla extract

1/2

teaspoon

pure almond extract

1

tablespoon

fresh orange zest

finely chopped
For the glaze
1

cup

powdered sugar

2

tablespoons

orange juice

1

tablespoon

melted butter

1/2

teaspoon

vanilla

1/2

teaspoon

fresh orange zest
Instructions
Make the cookies
In a medium bowl, stir together the flour and baking powder and set aside.

In the bowl of an electric mixer, using the paddle attachment, cream together the butter and sugar until light and fluffy. This should take about 3 minutes.

Add the egg, vanilla, almond extract and orange zest and beat another minute or so.

Add the flour mixture slowly. (Be careful not to add too much at a time or you will have a snowstorm of flour.)

Blend until all of the flour is incorporated and the dough begins to pull away from the sides of the bowl.

Take the dough out of the bowl and place it on a piece of parchment paper.

Using your hands, knead the dough a few times.

Place the dough in a large plastic (ziplock type) bag and refrigerate for about 2 hours. If you want to speed up the chilling process, place the bag of dough in the freezer for about 20-30 minutes. Just don't forget it in the freezer, or it will become too firm to work with (and then you'll have to wait for it to thaw).

When it's almost time to remove the dough from the refrigerator (or freezer), preheat oven to 350 degrees (F).

Roll out dough onto a lightly floured work surface. Cut out desired shapes, and place on a baking sheet. Place the entire baking sheet of cookies in the freezer for about 5 minutes (this helps prevent the cookies from losing their shape when baking).

Once chilled, bake cookies at 350* for 8-10 minutes, depending on the size of the cookies.

Allow cookies to cool, and prepare orange glaze.
Make the glaze
In a medium sized bowl, melt butter in microwave (less than 30 seconds). Add all other glaze ingredients, and stir well with a whisk. If the glaze is too thick, add a tiny bit more orange juice, if the glaze is too thin, add a bit more powdered sugar.

Drizzle glaze over cookies, as deisred. You can put the glaze into a small ziplock-type baggie, snip off the end, and use that to drizzle on the glaze.
Nutrition
Calories:
148
kcal
Carbohydrates:
20
g
Protein:
2
g
Fat:
7
g
Saturated Fat:
4
g
Cholesterol:
23
mg
Sodium:
18
mg
Potassium:
19
mg
Fiber:
1
g
Sugar:
11
g
Vitamin A:
211
IU
Vitamin C:
1
mg
Calcium:
12
mg
Iron:
1
mg