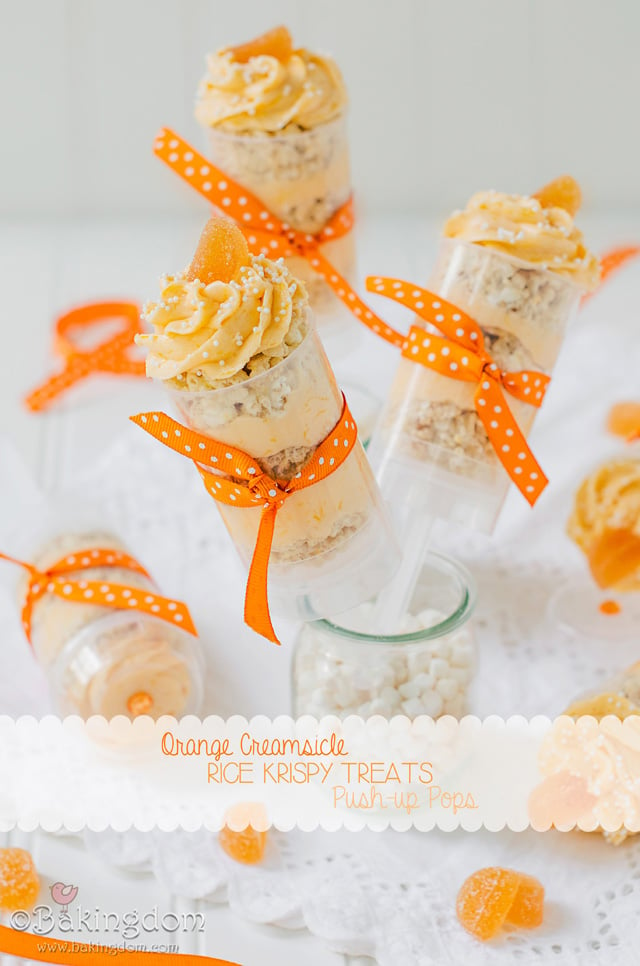 Happy spring lovely readers! Here in California we're enjoying beautiful spring weather and I'm busy finishing up a book I hope to have in your hands by next spring! (Here's the post where I recently shared the fun book news!)
So today I have another lovely friend stopping by with some amazingly delicious Orange Creamsicle Rice Krispy Treats!
You know when you invite a friend over and they arrive with a sweet hostess gift, and you chat all day and feel so wonderful about your time together? I think today's post is going to feel just like that!
My friend Darla, from the beautiful site Bakingdom makes the most incredible things! Darla's site is full of beautiful and creative desserts, photographed with incredible style… it's no wonder why I like her so much!
Here's Darla, with all the details on these special treats…
****************************************************************************************************
Hi everyone! I'm Darla from Bakingdom. I'm so excited to be hanging out over here on Glorious Treats today! I just love Glory and everything she does. Someday, when I'm wildly rich, I'm going to fly Glory to my house and pay her to teach me how to make incredible cookies like she does.
Because seriously.
And also, she's going o have to throw me a party so that I get an amazing Glorious Treats dessert table.
She doesn't have a choice. She can't create amazingness like that and then expect people not to want it, amirite?
When Glory asked me if I'd like to come by for a little visit, um…yeah! Of course I would, but then…what to make?! I knew it had to be something sweet and unique, and I'm pretty much dying for warm weather, so why not bring that into the mix, too?
What's more warm weathery than orange creamsicles?! Except…
…it's still too chilly 'round these parts for popsicles. Alright, then, well skip the frozen part. Instead, I stirred some orange goodness into rice krispy treats and threw them into some push-up pop containers with fluffy orange buttercream.
And then I turned around to clean up, and they all vanished into the bellies of my men-folk.
I guess I did good. 🙂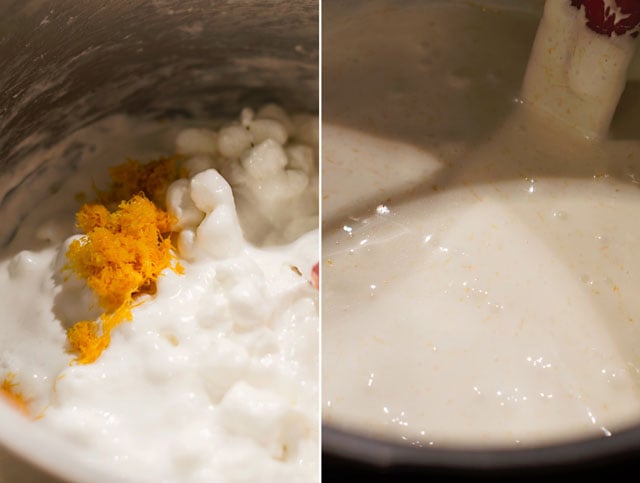 To make these treats full of orange yumminess, I stirred freshly grated orange zest right into the melting marshmallows. You'd be surprised at how little you need to make a big impact. I only used two teaspoons, and I think it was the perfect amount. You can add more or less, depending on what you want, though.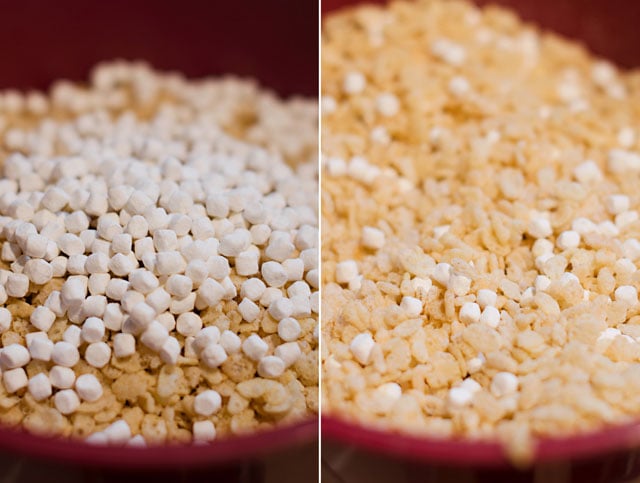 I decided to add some tiny marshmallow bits to my treats, as well, but they're optional. Who doesn't want even more marshmallowy goodness, though? 😉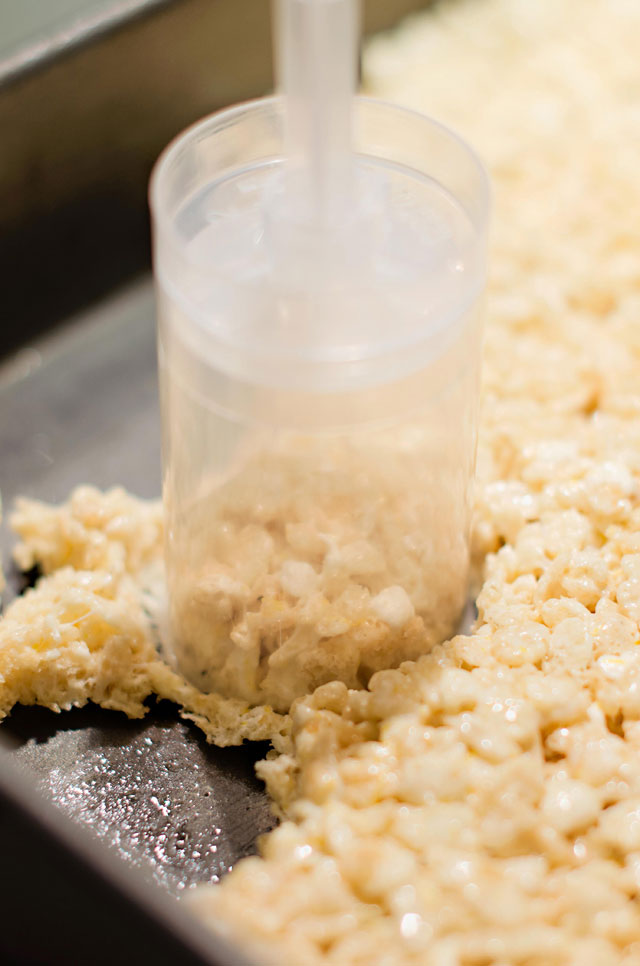 To cut the treats to size, I used one of the empty push-up pop containers. I cut the treats before they had hardened entirely (i waited about 10 minutes after I pressed them into the pan), so the plastic easily went through them. If you wait longer than I did, you'll likely need to use a round cookie cutter.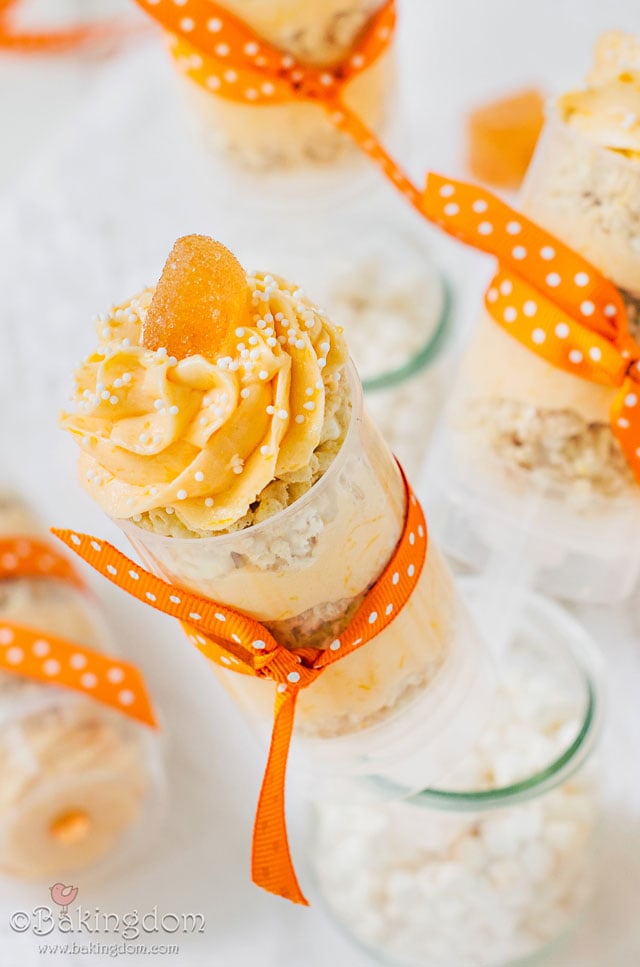 Once all the pieces are cut, all you have to do is layer them into the containers with some tasty frosting. 🙂 I did three layers of treats, to fill the containers completely full. I topped each pop with an extra swirl of orange frosting, white nonpareils, and sweet little candy orange wedge.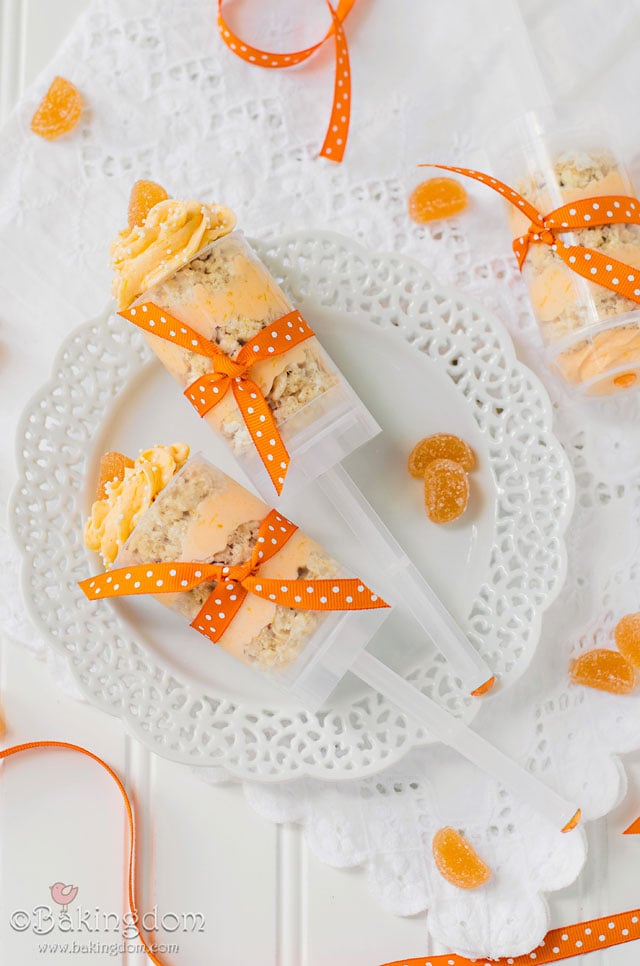 You can also dress up the containers with pretty ribbons and other fun finds. I stuck some shiny rhinestone stickers on the end of each push-up stick, as well as pressing one into the center of the lids.
These are a fantastic marriage of two classics and they disappeared before I could blink. If you want to try a new twist on an old favorite, these are fast and easy…and everyone loves them! Plus, if you don't have push-up pop containers, you can also spread the frosting onto the treats and cut them into bars. Easy peasy. 🙂
Enjoy!
Thanks for letting me come over and play, Glory! I had too much fun!!
*************************************************************************************************
Thanks for this sweet and delicious post Darla!! As soon as I have time I know I'm going to make a batch of these!
You can keep up with Darla and all the beautiful things she creates, on her site Bakingdom.
And be sure to follow her on Facebook, Twitter, and Pinterest.
You can find the Push up pop containers by Wilton at Michael's or JoAnn's.
How to Make Orange Creamsicle Rice Krispy Treats with Orange Buttercream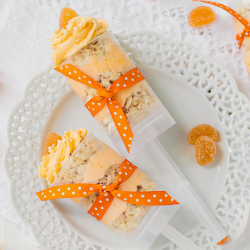 Orange Creamsicle Rice Krispy Treats with Orange Buttercream
A delicious twist on a classic treat!
Ingredients
For the treats
For the frosting
1/2

cup

unsalted butter

1 stick, at room temperature

2

cups

confectioners' sugar

250 grams

2

tablespoons

heavy cream

1

tablespoon

finely grated orange zest

2 to 3

teaspoons

orange juice

Food coloring

optional
Instructions
To make the treats: Lightly coat a 9x13-inch pan with butter, oil, or cooking spray; set aside.

In a large bowl, combine the cereal and marshmallow bits (if using); set aside.

In a large pan, melt the butter over medium-low heat. Add the marshmallows and stir constantly to melt them. When they are almost completely melted, stir in the orange zest. As soon as the marshmallows are completely melted, remove from heat and stir in the cereal. Make sure to get it completely coated with the marshmallow mixture.

Press the mixture into the prepared pan, making sure it is spread evenly. Don't press it too firmly, or the treats may set up very hard.

Allow the treats to set up for at least 10 minutes, then use an empty push-up pop container, or a small round cookie cutter, to cut out enough round treats to fill each push-up pop container with three. For example, for 6 push-up pops, you'll need 18 round treats (three for each container). Allow the circles to continue setting up while you make the frosting.

To make the frosting: In a large bowl, or the bowl of a standing mixer, beat the butter for 3 minutes. Beat in the sugar until combined. Add 2 tablespoons heavy cream and whisk on high for 4 minutes, until light and fluffy. Stir in the zest, juice, and food coloring.

Assemble: In each push-up pop container, press a round treat into the bottom of the container. Pipe a small amount of frosting on top of it, then, press another treat over the frosting. Add more frosting on top of this treat, and press one more treat on top. Pipe a rosette of frosting on top, and garnish with sprinkles or candies.
Nutrition
Calories:
132
kcal
Carbohydrates:
34
g
Protein:
1
g
Fat:
6
g
Saturated Fat:
4
g
Cholesterol:
16
mg
Sodium:
18
mg
Potassium:
11
mg
Fiber:
1
g
Sugar:
10
g
Vitamin A:
186
IU
Vitamin C:
1
mg
Calcium:
6
mg
Iron:
1
mg