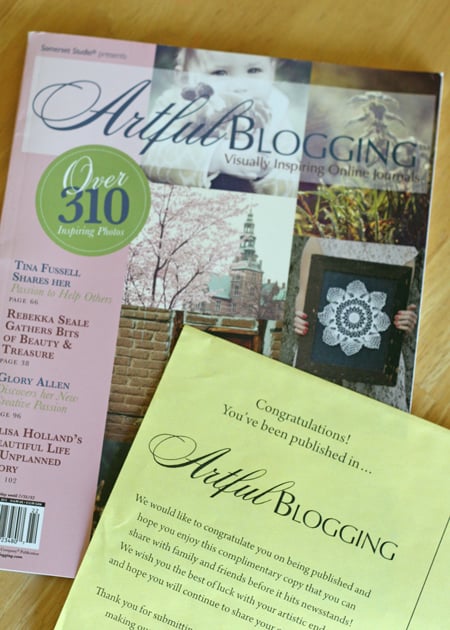 I've been meaning to share this for over a month… but time just keeps clipping by!  Earlier this summer I received some extra fun mail… a beautiful issue of Artful Blogging Magazine, including a 6 page spread featuring Glorious Treats (me!).  As the title suggests, the magazine features blogs that are visually appealing, inspiring, and "artful".  Artful Blogging has been on my "blog bucket list" for quite some time.   Needless to say, I was quite thrilled when I received an e-mail many months ago asking if I'd like to be featured!
Artful Blogging features blogs in many categories… from food, to home decor, fashion, to crafting and fine art.  Each feature is written by the Blogger, and focuses on how their site reflects their connection to and love of art.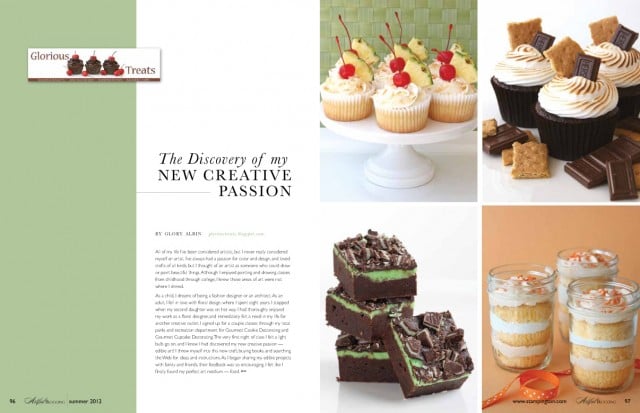 Here is my article, as featured in Artful Blogging (Summer 2012)…
All of my life I've been considered artistic, but I never really considered myself an artist.  I have always had a passion for color and design, and loved crafts of all kinds,but I thought of an artist as someone who could draw or paint beautiful things.  Although I enjoyed  painting and drawing classes from childhood through college, I knew those areas of art were not where I shined.  As a child I dreamed of being a fashion designer or architect, then as an adult I fell in love with floral design.  I spent  8 years working as a floral designer, quitting my job when my second daughter was on her way.  I had thoroughly enjoyed my work as a floral designer, and immediately felt a need in my life for another creative outlet.  I signed up for a couple classes through my local parks and recreation department for "Gourmet cookie decorating"and "Gourmet cupcake decorating".  The very first night of class I felt a light bulb go on over my head andI knew I had discovered my new creative passion,  edible art!  I threw myself into this new craft, buying books and searching the web for ideas and instructions.  As I began sharing my edible projects with family and friends their feedback was so encouraging.  I felt like I finally found my perfect art medium, food.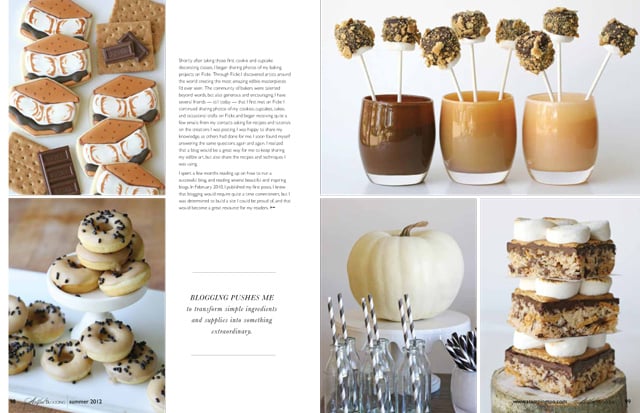 Shortly after taking those first cookie and cupcake decorating classes I began sharing photos of my baking projects on-line on Flickr.  Through Flickr I discovered artists around the world creating the most amazing edible masterpieces I'd ever seen.   This community of bakers were talented beyond words, but also generous and encouraging.  I have several friends still today that I first "met" on Flickr.  Overtime, as I continued sharing photos of my cookies, cupcakes, cakes and occasional crafts on Flickr I began receiving quite a few e-mails from Flickr contacts asking for recipes and tutorials on the creations I was posting.  I was happy to share my knowledge, as others had done for me.   After I while I found I was answering the same questions again and again.  I realized that a blog would be a great way for me to keep sharing my edible art, but also share the recipes and techniques I was using.   I spent a few months reading up on how to run a successful blog, and reading several beautiful and inspiring blogs.  In February of 2010 I published my first posts.  I knew that blogging would require quite a time commitment, but I was determined to build a site I could be proud of and a site that would become a great resource for my readers.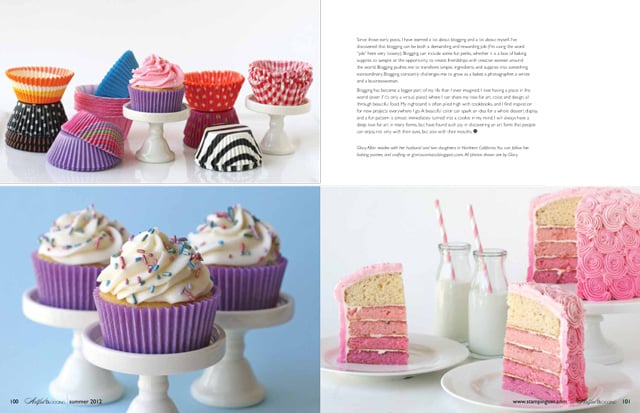 Since those early posts I have learned a lot about blogging, and a lot about myself.  I've discovered that blogging can be both a demanding and rewarding job (I'm using the word job here very loosely).  Blogging can include some fun perks, whether it is a box of baking supplies to "sample" or the opportunity to create friendships with creative women around the world.  Blogging pushes me to transform simple ingredients and supplies into something extraordinary.   And blogging constantly challenges me to grow as a baker, a photographer, a writer and a business woman.
Blogging has become a bigger part of my life than I ever imagined.  I love having a place in the world (even if it's only a "virtual"place) where I can share my love for art, color and design,  all through beautiful food!  My nightstand is often piled high with cookbooks, and I find inspiration for new projects everywhere I go.  A beautiful color can spark an idea for a whole dessert display, and a fun pattern is almost immediately turned into acookie in my mind.  I will always have a deep love for art in many forms but have found such joy in discovering an artform that people can enjoy not only with their eyes, but also with their mouths.
~By Glory Albin, as featured in Artful Blogging (summer 2012)
Each of the images included in the article are from previous blog posts.  If you've missed any of them, here's a quick reference list…
First layout-  Pina Colada Cupcakes, S'mores Cupcakes, Fudge Mint Brownies, Orange Dreamsicle Cupcakes in a Jar.
Second layout-  S'mores Decorated Cookies, Maple Mini Doughnuts, S'mores Pops, Black and White Halloween Table, S'mores Rice Krispies Treats.
Third layout-  Cupcake Liners, Perfect Vanilla Cupcakes, Pink Ombre Swirl Cake.
Artful Blogging can be purchased on-line, and is also sold at major craft stores.