Pink Ombre Swirl Cake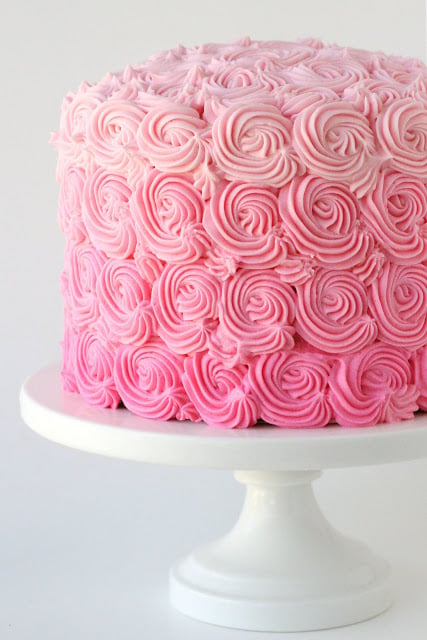 I've recently been fixated on the beauty of graduated layers of color, also called ombre.  From ribbon, to curtains, fashion, and of course cakes I've been seeing gorgeous ombre colors all over the place!  Several months ago I saw a beautiful cake from Call Me Cupcake, and shortly after saw a gorgeous ruffled cake by Fondant Flinger.  I wanted to merge the ideas a bit, and wanted a way to include some great texture on the outside of the cake, without creating time consuming fondant ruffles.  I remembered I am baker's gorgeous rose cake, and thought a smaller version of the rose-like swirls could be the perfect finishing touch!
Here is my pretty pink, swirly cake!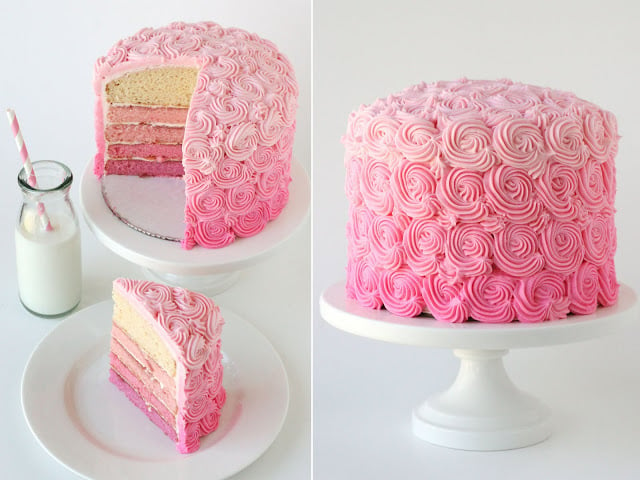 How to create this Pink Ombre Swirl Cake ~
For the cake, I doubled my Perfect Vanilla Cupcake recipe.
The cake above is a 6″ cake,  and I reserved a little batter for a few vanilla cupcakes.  You could certainly do this cake as an 8″ cake.  For an 8″ cake I would suggest multiplying the recipe by 3 (if using my recipe linked above) if you want a nice tall cake.  Of course you are welcome to use any other vanilla cake recipe, or a box mix.
I divided the batter as evenly as possible between 5 bowls, coloring the darkest layer first, and working from that color as a guide.  I used Americolor gels in soft pink, electric pink, and a bit of electric purple (in just the darkest layer).  Add the batter to prepared cake pans (greased and floured, and lined on the bottom with parchment paper).  Also, you probably don't have 5 matching cake pans (nor do I), so you'll have to bake the layers separately (hopefully you have at least 2 matching pans).  Bake and fully cool the cakes.
Prepare a batch of American Buttercream Frosting.  Again, I made a 6″ cake, so for an 8″ cake, I would suggest multiplying the recipe by 1.5.  I divided the frosting between four bowls, one bowl with a bit more than the others (the one that will be the lightest color, because it's used for the top as well as one row of swirls).  I colored the frosting with Americolor soft pink and a little electric pink (for just the darkest color). Also, reserve a small amount of frosting (maybe 1 cup) in the mixing bowl, to use between the layers, and to very thinly frost the outside (crumb coat).
Assembly ~
Layer the cakes, darkest on the bottom, frost with a very thin layer of icing between each layer.  Because I didn't want too much frosting between the layers (to detract from the colors of the cake), I brushed each layer of cake with warmed cherry jam (most any flavor you like could be used).  You could also use a simple syrup, orange juice, or omit this step.  Frost the outside of the cake with a thin layer of frosting.  Smooth as well as you can (I use an offset spatula), but it doesn't need to be perfect.  Place the entire cake in the freezer about 10 minutes for the icing to set, and the whole cake will firm up (making it much easier to decorate).
Prepare a piping bag with a #21 Wilton tip (a moderate sized open star).  This is the tip I used, but other open star tips could also work.  Fill piping bag with the darkest color icing.  Remove cake from freezer, and start along the bottom of the cake, creating rows of swirls.  For each swirl, start in the center of the "rose" shape and pipe in a spiral around the center, about 1 1/2 rotations.  Continue along the bottom of the cake, creating rose-like swirls.  Repeat with remaining colors of icing.  You may find that there will be some areas in each row that don't get fully covered, to fill in the little empty spaces just squeeze in some icing, in a curved shape (like a "C") to mimic the rest of the swirls a bit.  For the top of the cake (shown below) I used a combination of swirls and some "C" curves for a looser, wavy effect.
Once fully frosted, store the in the refrigerator until ready to serve.  Serve with milk, or coffee to accompany the pure sweetness of this cake.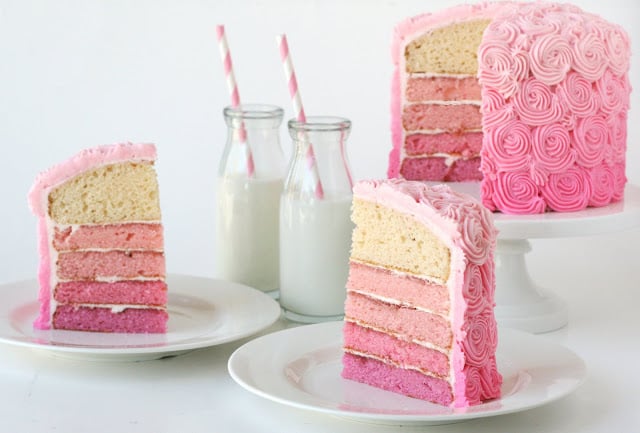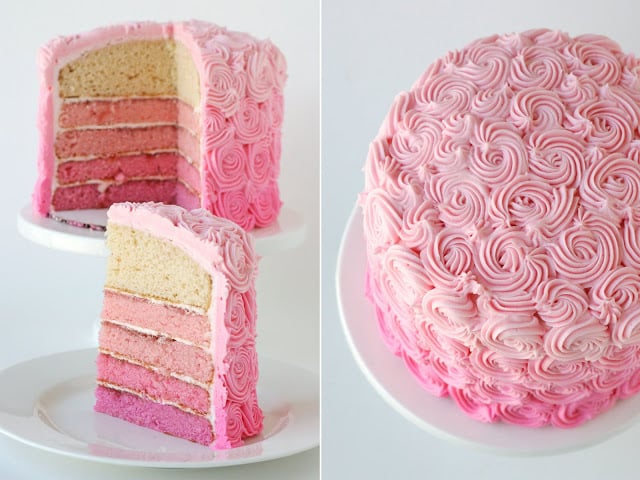 I would love to see some of you try this in other colors… yellows to orange, shades of lavender, or light turquoise to teal… oh I made need to make another one soon!  What colors will you try?
Happy baking!