Taste the Rainbow… Jello!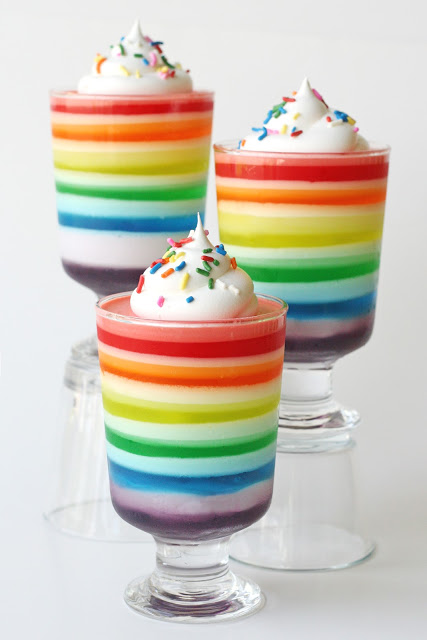 For quite some time I've had THE rainbow cake on my "to bake" list, but so far I haven't found the time or right excuse to make it.  But after the ridiculously weird and rainy weather recently, I just needed to make something fun and colorful.  So I headed to the store, and bought six boxes of jello and some cool whip, and made rainbow jello!  This is a bit of an all day project, but in general is quite easy and produces an eye catching dessert!  Obviously, the same general concept could be use with other color combinations… red, white and blue, school colors, team colors, you name it!  If you want to do red "white" and blue, since there is no white jello, use lemon jello mixed with cool whip as the "white" layer, as I did HERE)
~ How to make rainbow jello ~
You'll need one small box of jello for each color you want… so in this case, red, orange, yellow, green, blue, and purple. And one large tub of cool whip.
Prepare purple (or whatever color you want on the bottom) jello as directed, using the "quick chill" method, meaning add some ice.  Pour jello into glasses, (or a 9'x13′ baking dish sprayed lightly with cooking spray), reserving about 1/3 of the liquid jello.  Put glasses, or dish in the refrigerator and chill for 15-30 minutes, or until slightly set.  Mix about 1/3 cup of cool whip into the remaining purple jello.  Pour the jello/cool whip mixture on top of the slightly set purple jello already in the glasses (or dish).
Repeat process for each color.
I've seen recipes that use sour cream, or yogurt in place of the cool whip, so feel free to do that if it saves you a trip to the store  =)
Once set, top with some additional cool whip and sprinkles if desired.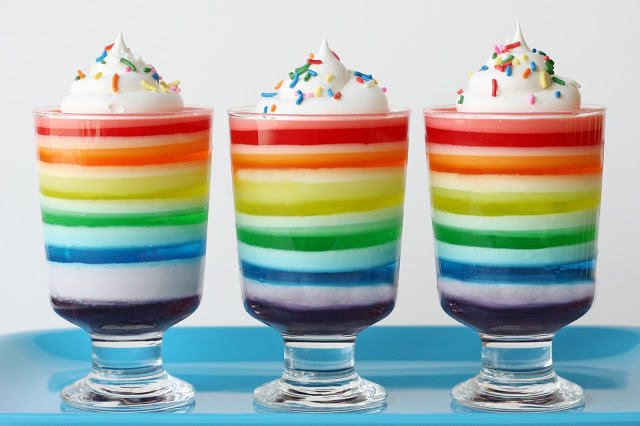 Have a delicious and colorful day!