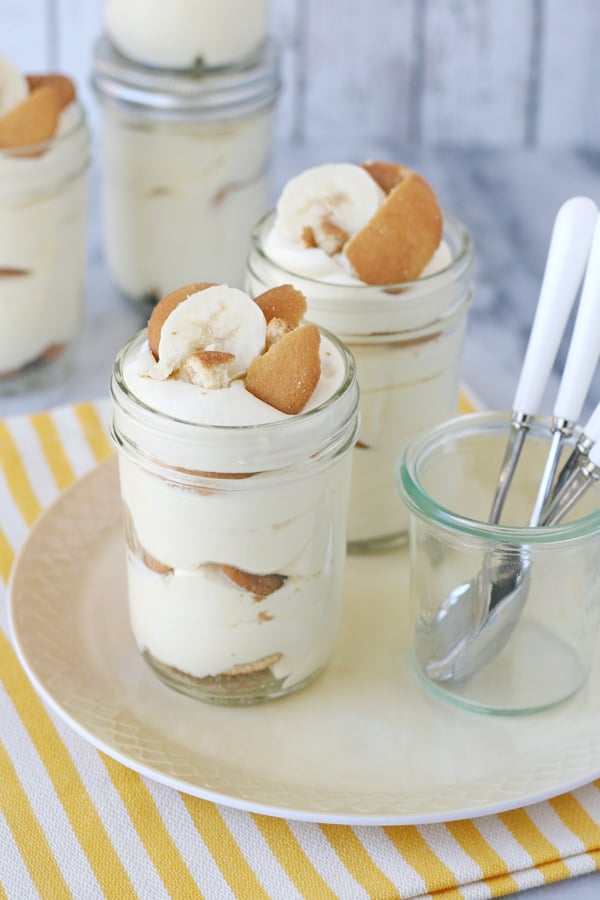 Magnolia Bakery in New York City might deserve credit as one of the bakeries that started the cupcake craze, but one of their most popular bakery items is not a cupcake… it's banana pudding!
Magnolia Bakery Banana Pudding is one of my favorite treats of all time! Creamy, fluffy pudding, fresh banana and simple vanilla cookies combine to create a dessert that is so much more than the sum of it's parts!
Last year I visited New York City for the first time in my life. Of course there were many iconic places I wanted to visit… Central Park, Time Square, and Magnolia Bakery! When you love sweets and baking as much as I do, it's easy to see why bakeries are always high on my list of "must see" stops whenever I travel!
As I stood in front of the bakery display at Magnolia Bakery, trying to decide which pretty treat to choose, a lady ran in and went right to the register to order 2 large banana puddings. I hadn't even noticed the banana pudding, but she seemed quite passionate about it, so I figured I'd better try one too. I ordered a couple different selections (to share with a friend) and included one small order of banana pudding. Each of the items I shared with my friend was delicious… but the banana pudding was by far our favorite! Magnolia Bakery Banana Pudding is sweet and fluffy (not as thick as regular pudding), with pieces of what I thought was vanilla cake, and then fresh banana. It's simply delicious!
After my trip I made sure to seek out the recipe, and luckily it's available for all to enjoy in The Complete Magnolia Bakery Cookbook, along with lots of other delicious recipes!
I made a batch of this delicious pudding and shared a couple jars with a friend. I'm pretty sure our friendship is sealed for life, thanks to this amazing pudding! =)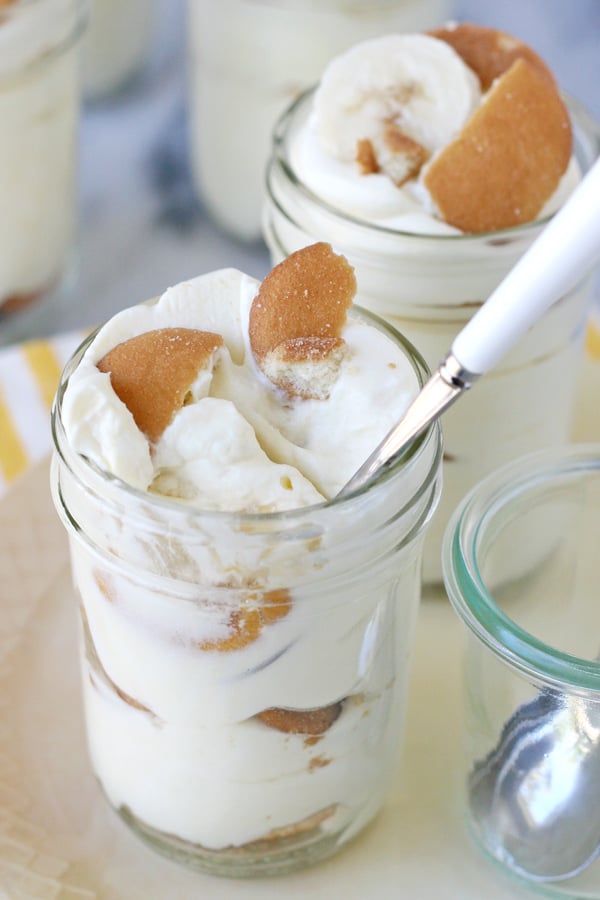 I'll have to say I was a bit surprised by this recipe… the ingredients seem so simple, boxed mix pudding, Nilla wafers, banana… but a few unique techniques transform these common ingredients into a truly special dessert! When I first tried this pudding at Magnolia Bakery I was sure that the recipe included vanilla cake… come to find out it's simply vanilla cookies that have become just soft enough to resemble cake, and yet they are not soggy (as I would have assumed if I'd never tried it for myself).
I can't urge you enough… just make this!
More No Bake Treats
How to Make Magnolia Bakery Banana Pudding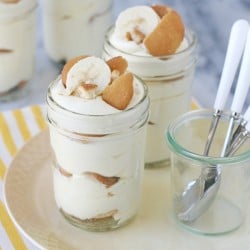 Magnolia Bakery Banana Pudding
This banana pudding dessert is creamy, fluffy and oh so delicious!
Ingredients
14

oz

sweetened condensed milk

1 can

1 1/2

cups

cold water

filtered is best

3.4

oz

instant vanilla pudding mix

1 small box

3

cups

heavy whipping cream

28

Nilla Wafers cookies

1 box

4

medium bananas
Instructions
In the bowl of an electric mixer, blend sweetened condensed milk and cold water until combined. Add pudding mix and blend on medium speed about 2 minutes. Transfer mixture to a small bowl, cover and refrigerate for at least 4 hours (or overnight).

After the pudding mixture has chilled and is very firm (at least 4 hours), beat cold whipping cream in the bowl of an electric mixer until the cream is fluffy and holds a stiff peak. Then, use a spatula to gently fold the pudding mixture into the whipped cream (add the pudding to the whipped cream in two batches). Fold/stir just until the pudding is combined. Fill (2/3 full) a large piping bag or a large ziplock bag with the whipped pudding (then snip off one corner of the bag).

Pour about 1/2 of the box of Nilla Wafers into a large bowl and break up each cookie in half or into a couple pieces.

Slice bananas, reserving a 1/2 of a banana (in the peel) to slice and add just before serving.

Begin assembly by adding a few broken cookies, a few slices of banana, and a layer of the pudding. Repeat with cookies, banana and pudding. Add a third layer if possible (depending on your dishes). Chill assembled desserts at least 30 minutes or up to 6 hours. Shortly before serving, add a garnish of a few broken cookies and a slice of banana.
Nutrition
Calories:
818
kcal
Carbohydrates:
83
g
Protein:
9
g
Fat:
53
g
Saturated Fat:
32
g
Cholesterol:
186
mg
Sodium:
291
mg
Potassium:
628
mg
Fiber:
2
g
Sugar:
63
g
Vitamin A:
1976
IU
Vitamin C:
9
mg
Calcium:
271
mg
Iron:
1
mg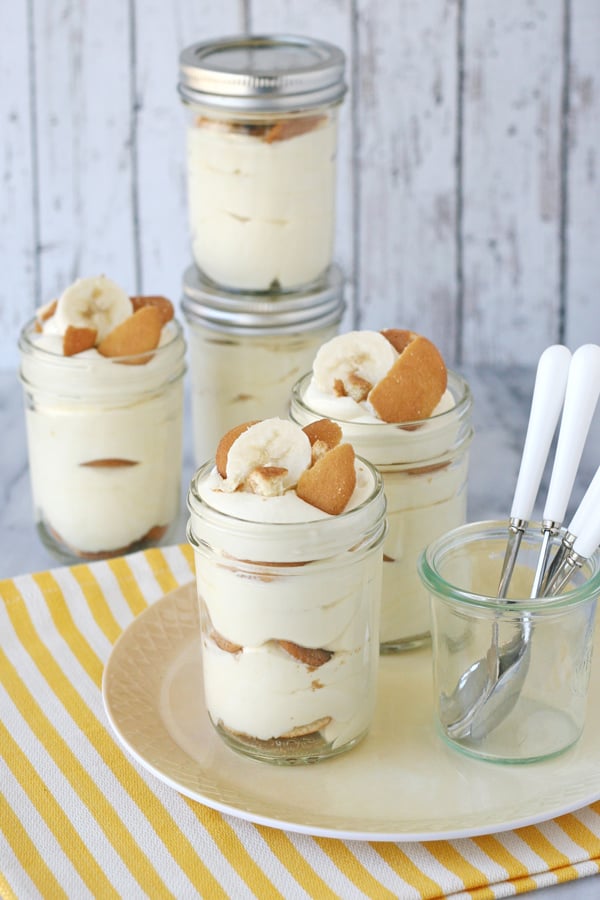 Have you ever visited Magnolia Bakery? What's your favorite treat from their gorgeous selections?
Looking for a banana pudding dessert that doesn't call for boxed mix pudding? Try one of my most popular recipes of all time, this delicious Banana Caramel Cream Dessert!