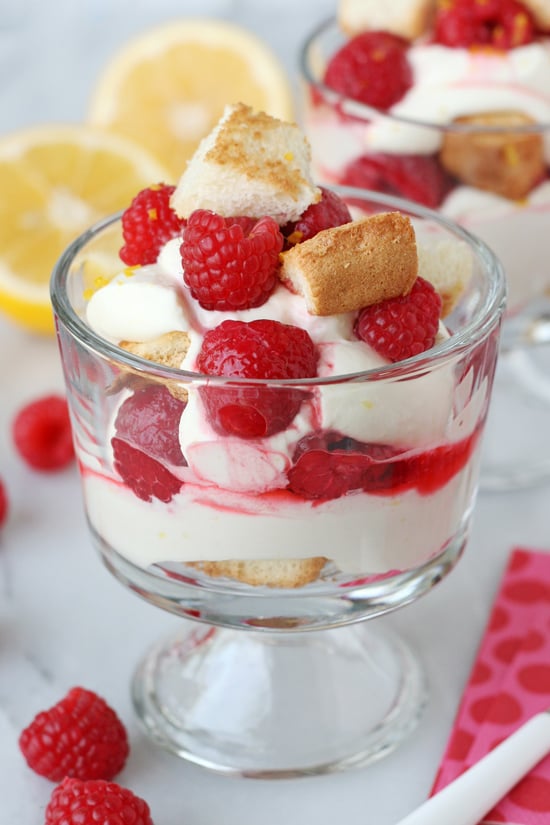 Sweet, tart, creamy and delicious…. this Lemon Raspberry Trifle has it all!
You might already know that I love trifles and layered desserts… after all I did write a whole book on them!
When a neighbor recently gifted me with a big bag of meyer lemons I knew they would be a perfect element in a pretty trifle.
I started by making lemon curd, then added that delicious element to some of my favorite Real California Milk products… heavy cream and cream cheese!
I layered the delicious lemon cream with raspberries… but strawberries, blueberries, or some combination of those would be equally delicious!
I wanted the finished dessert to have a big of texture to it, so before adding a layer of sponge cake I cut the cake into small squares and toasted them in the oven.
Everyone in my house LOVED the final results! This Lemon Raspberry Trifle has a great combination of flavors and textures!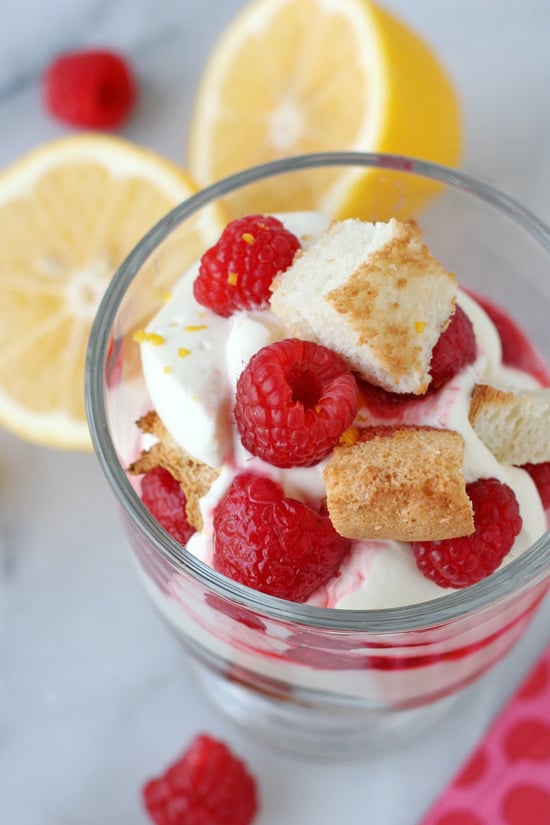 When choosing dairy products, make sure to look for the Real California Milk seal. It's the only way to ensure those products are make with 100% Real California Milk. I recently enjoyed a visit to a California dairy farm and enjoyed meeting some happy California cows during my Real California Milk Farm Tour.

Looking for more delicious recipes to use fresh winter lemons? Here are few of my favorites!
Yogurt Panna Cotta with Lemon Curd
This post is sponsored by the California Milk Advisory Board. All text, images and opinions are my own. I only work with brands I use and love.
Lemon Raspberry Trifle Recipe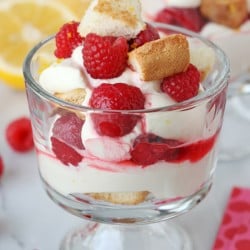 Lemon Raspberry Trifle
Sweet, tart, creamy and delicious... this amazing trifle has it all!
Ingredients
1

Sponge Cake, Angel Food Cake or Pound Cake

1 loaf size cake, or 1/2 of a large round cake
Lemon Curd
1/4

cup

fresh lemon juice

2

teaspoons

lemon zest

finely grated

1/3

cup

sugar

4

egg yolks

3

tablespoons

butter
Lemon Cream
4

oz

cream cheese

1/2 block

1

cup

heavy cream

1/2

cup

powdered sugar

1/2

teaspoon

vanilla extract

3

tablespoons

lemon curd

from recipe above

2

cups

raspberries

fresh or frozen
Instructions
Prepare Lemon Curd
Combine all ingredients in a double boiler (or a metal bowl over a pot of simmering water). Heat, while stirring (with a whisk), until mixture thickens. The lemon curd is done when it is thick enough to coat the back of a spoon. Remove from heat, cover and refrigerate until cool. If desired, pour lemon curd through a fine strainer before refrigerating. Lemon curd may be store in the fridge up to 2 weeks.
Prepare cake
You may use a Sponge Cake (I used the recipe in my book, Glorious Layered Desserts), Angel Food Cake, or Pound Cake.

Once baked and cooled (or feel free to use store bought) cut cake into small bites (about 1" squares) and spread onto a baking sheet. Bake in a pre-heated oven at 350* for 8-12 minutes. Check after 5 minutes, you may want to flip them over or move them around a bit so they bake evenly. You want the cake to be dry on the outside, but have some softness in the center. Baking the cake bites is totally optional, but I love the bit of extra texture it adds to the final dessert.
Prepare raspberries
While the cake bakes, prepare raspberries by placing in a bowl and sprinkling 1-2 tablespoons of sugar evenly on the fruit. Stir and put in the fridge for 15-20 minutes, until there is some juice in the bottom of the bowl. Stir raspberries as needed to make sure the sugar gets dissolved and mixed in well. Frozen raspberries will be much juicer, so you'll have to adjust accordingly (fresh may need to sit in the fridge a bit longer). If using fresh berries, you may reserve a few for garnish if desired.
Prepare lemon cream
In the bowl of an electric mixer, beat cream cheese until smooth. Add heavy cream slowly, while mixing. When the cream begins to thicken, slowly add powdered sugar, vanilla and then (fully cooled) lemon curd. Continue to beat until all ingredients are well incorporated and mixture is light and fluffy.
Assemble dessert
Scoop lemon cream into a large ziplock bag, close bag and snip off about 1/2 inch from one of the corners of the bag.

Begin assembly by adding a few pieces of cake to each dish, then adding a layer of lemon cream, some raspberries (with some of the juices), then repeat - cake, cream, raspberries.

Serve immediately or refrigerate up to 30 minutes before serving.

If preparing ahead, prepare each component, but assemble shortly before serving.
Nutrition
Calories:
395
kcal
Carbohydrates:
49
g
Protein:
6
g
Fat:
20
g
Saturated Fat:
11
g
Cholesterol:
193
mg
Sodium:
290
mg
Potassium:
150
mg
Fiber:
2
g
Sugar:
36
g
Vitamin A:
834
IU
Vitamin C:
12
mg
Calcium:
85
mg
Iron:
2
mg