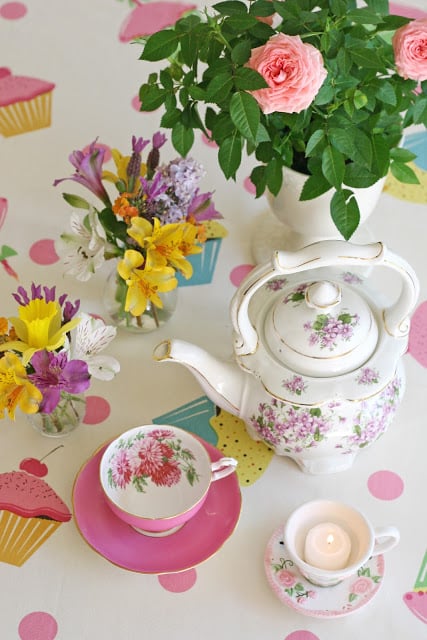 Over the past 15 years or so, I have enjoyed high tea at most every tea shop in northern California.  Most of those pretty meals were shared with two good friends, Esther and Cecilia.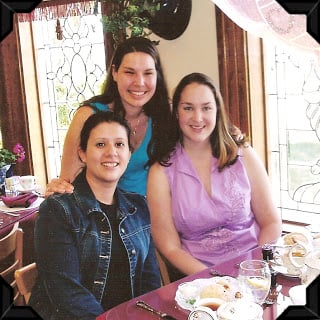 Esther (top), Cecilia (left), Glory (Me) (right) enjoying tea- 2005
Last week Cecilia was in town (she lives 8 hours away), and I took the opportunity to prepare a special tea party, just for us. (Unfortunately Esther- who also lives out of town, was unable to join us).
It was a busy week, so I wasn't able to make everything from scratch, but I made some delicious tea sandwiches, mini fruit salads and mixed in several store bought treats.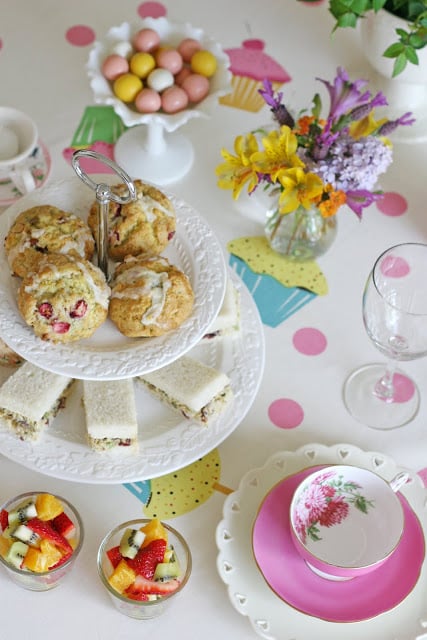 Did you notice, the table cloth has cupcakes and polka-dots on it!!  How cute is that?!  Mine was a gift from a friend, but I found them online here
.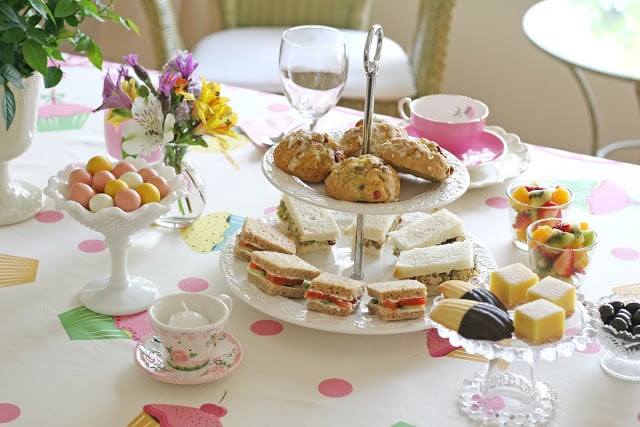 ~Menu ~
Peach-Apricot Tea
Cranberry Scones
Cucumber Tomato Tea Sandwiches (recipe below)
Tarragon Chicken Salad Sandwiches (recipe HERE)
Fresh Fruit Salad
Lemon Bars
Chocolate Dipped Madeleines
Giant Pastel Malt Balls
Chocolate Toffee Almonds
The scones, lemon bars and toffee almonds (all delicious) were from Trader Joe's.  The chocolate dipped Madeleines were from Starbucks.
~Cucumber Tomato Tea Sandwiches ~
These simple sandwiches are a delicious variation on the classic cucumber tea sandwich, and are always on the menu when I host a tea party.
English cucumber, thinly sliced
Tomato, thinly sliced
Garden vegetable cream cheese (or another savory variety of flavored cream cheese)
Nice quality, fresh wheat bread
Spread a thin layer of flavored cream cream on bread, add slices of cucumber and tomato and top with another slice of bread (also spread with cream cheese).  Trim crust off edges of sandwich and cut into four small squares.  Serve immediately, or if needed, cover with a very slightly moist dish towel and refrigerate up to one hour.
The next time I prepare a special brunch I may try this delicious looking Banana Bread Pudding recipe from Reader's Digest as an addition to the menu.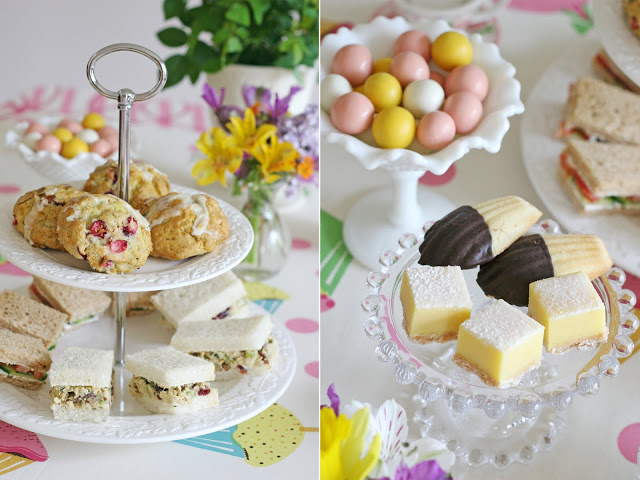 One of my favorite things about tea parties is eating beautiful food in smaller portions, so you can enjoy lots of different treats.  And sharing a meal with a good friend is always extra special.
I'd love to hear about the places you've enjoyed tea with friends.