Shamrock Cut-Out Cupcakes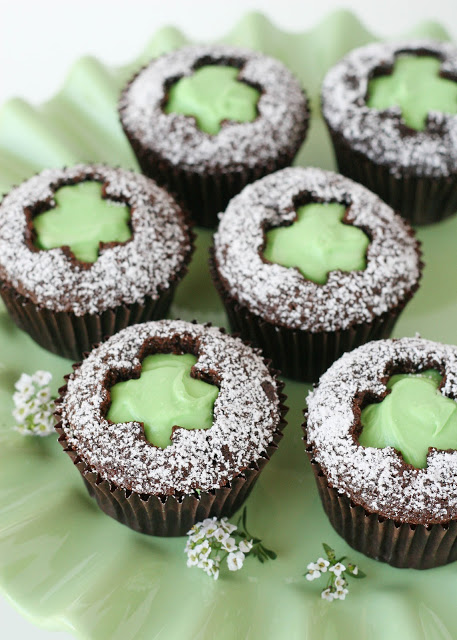 Earlier this year I made some cute Heart Cut-Out Cupcakes.  I've been waiting for another opportunity to try this simple, yet fun technique and I thought St. Patrick's Day would be perfect!  This concept could be used with any cupcake and frosting combo.  I used my favorite Chocolate Cupcake Recipe and American Buttercream Recipe.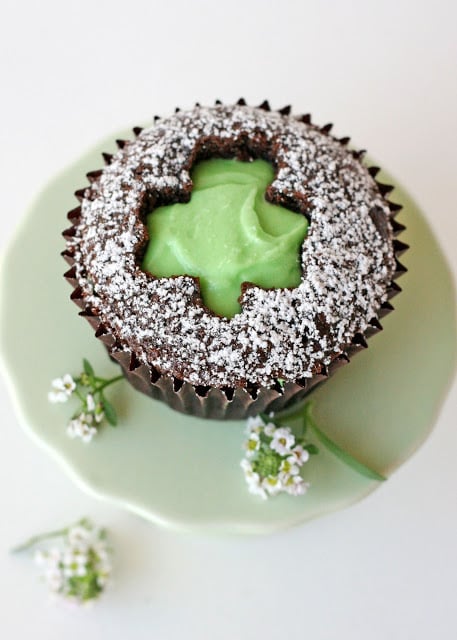 How to make Shamrock Cut-out Cupcakes
1.  Bake a batch of cupcakes.  I used my Chocolate Cupcake Recipe.
(Note- You'll want the cupcakes to have a bit of a dome above the top edge of the cupcakes liners, so fill the liners about 2/3 -3/4 full.  I've found that I can not plan to use the whole batch of cupcakes, because due slight inconsistencies, some may rise quite enough to use for this technique.  Plan accordingly.)
2.  Prepare a batch of frosting (canned will work for these).  I used my American Buttercream Recipe.  I think adding 1/2 teaspoon of mint extract would be appropriate for these as well.  Color the frosting light green.
3.  When the cupcakes have cooled, used a small serrated knife to cut off the tops of the cupcakes, using the cupcake liner as a guide.  Keep tops matched with their cupcakes.
4.  Use a small shamrock cookie cutter (available HERE and HERE) to cut out the shamrock shape from the cupcake tops.
5.  Mound a bit of green frosting onto the center of the (now topless) cupcakes.  You'll want the frosting domed a bit so that when you press on the cupcake top, the frosting will come up into the cutout shape a bit.
6.  Place the cutout cupcake top, and press down a bit.  *If desired, before adding cupcake top, sprinkle cutout top with powdered sugar.
Serve and enjoy!
Cupcakes will keep, covered loosely at room temperature 1-2 days.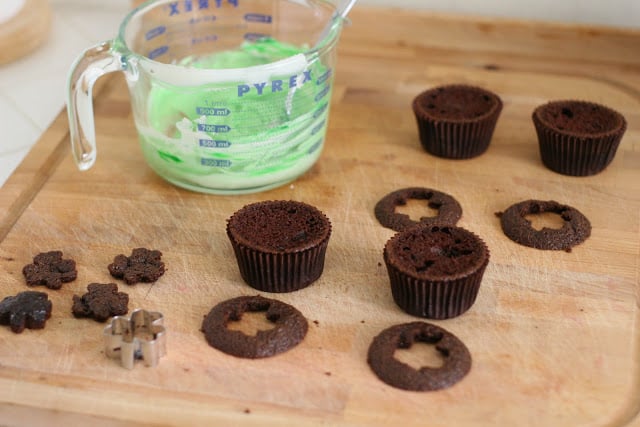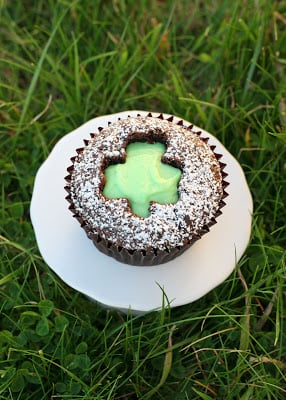 A little leprechaun told me… sharing these cupcakes with family and friends is sure to bring you good luck!