Chocolate Kahlua Cupcakes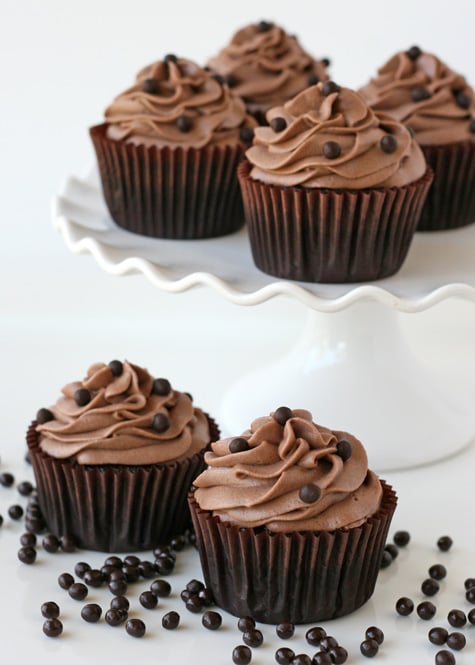 Chocolate is delicious, coffee is wonderful…. add some rum and you have a flavor combo that is bound to have adults clamoring for seconds!  These Chocolate Kahlua Cupcakes are rich, flavorful and delicious!  If you'd prefer not to include alcohol, feel free to adjust the recipe (as described below) into Chocolate Espresso Cupcakes.
To make these cupcakes, you'll first need a batch of my favorite Chocolate Cupcakes.
Prepare the cupcakes as directed (in the recipe linked above), bake and then transfer to a cooling rack.
While the cupcakes are cooling (but still warm), use a toothpick to poke 5-6 holes in each cupcake.  Use a pastry brush to brush Kahlua onto the tops of each cupcake.  Once you have brushed each cupcake with Kahlua, go back and do one more "coat" on each cupcake.  As an alternative, you could brush the cupcakes with espresso coffee.
Once cupcakes are fully cool, and the Kahlua (or espresso) has had time to soak in, frost the cupcakes using the recipe below.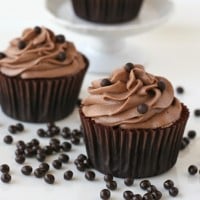 Chocolate Kahlua Frosting
Yield: Frosting to pipe a swirl on 20-24 cupcakes, or frost and fill a 8" cake.
Kahlua (coffee liqueur) adds a wonderful dimmension to delicious chocolate frosting
Ingredients:
12 tablespoons (1 1/2 sticks) Challenge butter
4 oz. (1/2 block) cream cheese
1/3 cup unsweetened cocoa powder
4 cups powdered sugar
1/2 teaspoon vanilla extract
2-3 tablespoons Kahlua/coffee liqueur (adjust to your tastes)
(in place of Kahlua, use 1-2 tablepsoons espresso coffee, cooled)
1 tablespoon heavy cream (or milk as a second choice)
Directions:
In the bowl of an electric mixer, beat butter until fully smooth.
Add cream cheese, and continue to beat until fully incorporated and smooth.
Add cocoa powder, and beat until well combined.
Add powdered sugar, one cup at a time, while the mixer is running.
Add vanilla, then 2 tablespoons of Kahlua (or espresso) and 1 tablespoon heavy cream. Add additional Kahlua if desired.
Beat until all liquid is fully incorporated and frosting is smooth and fluffy.
If you don't have cream cheese on hand, feel free to replace it with an additional 4 tablespoons (1/2 stick) of butter. The cream cheese adds a nice dimmension, but the frosting is still delicious without it.
It is important that your butter and cream cheese are cool or cold, or the frosting may be too soft. If the frosting is too soft, put the entire bowl of finished frosting in the fridge for 20 minutes or so, and it will firm up quite a bit.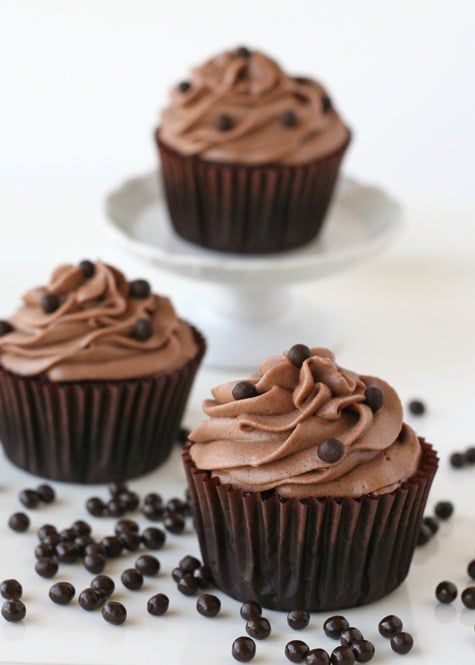 Props and details~
I used a Wilton 1M tip to frost the cupcakes.  If you need any help with frosting cupcakes, I have a full post (with a video) on How to Frost Cupcakes.
As a decorative (and delicious) topping, I added a few Valhrona Chocolate Pearls.  I found these at Whole Foods Market.
Happy Baking!