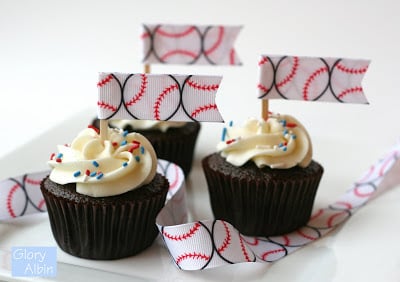 I hope you saw this coming… more ribbon cupcake toppers!
Our church pastor is a huge Chicago Cubs fan, and I've had in mind to make him something special for some time. With baseball season just getting going, I thought it was a perfect time to make him a special treat.  I made some simple ribbon toppers (made with some baseball ribbon I found at Michael's), and then I customized a few toppers using images from the team's website. (Ribbon toppers how-to HERE)  For the team logo, I just sized it down, and then used a 2 inch circle punch to make a topper.  I also found an image of a Cubs jersey,  loaded it into Photoshop and changed the name of the real player to my pastor's last name.  I think he got a kick out of that!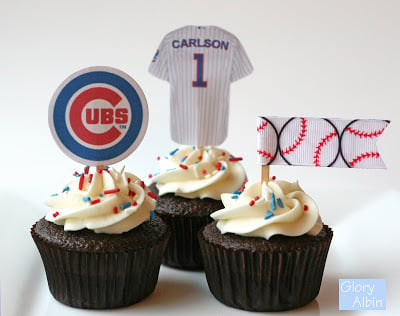 The cupcakes were delicious Chocolate (recipe HERE), with vanilla cream cheese frosting (recipe HERE).