Perfect Sugar Cookie Recipe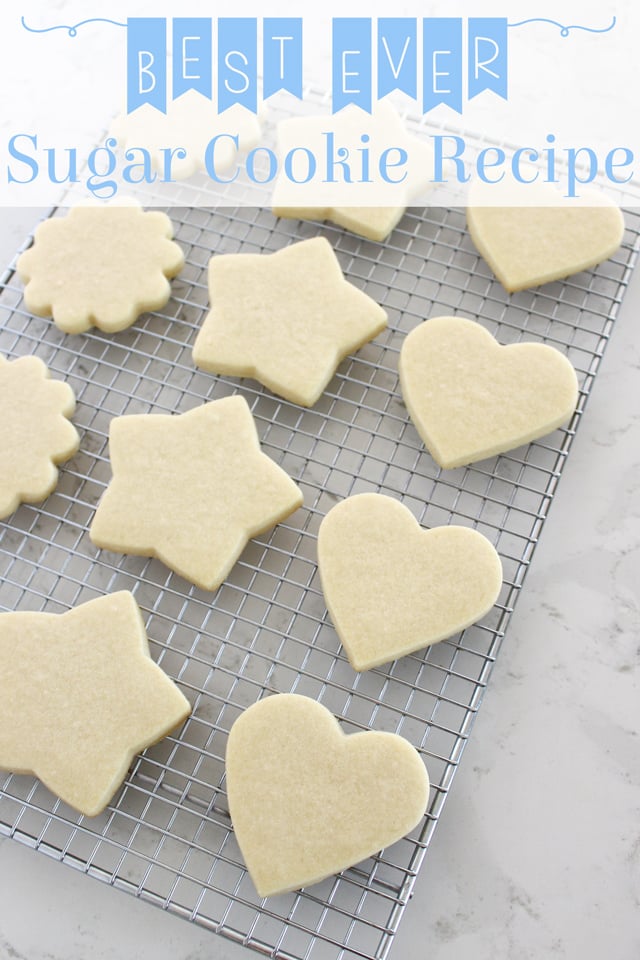 Truly the most PERFECT Sugar Cookie Recipe ever!
This is one recipe you'll want to be sure to save, treasure and use again and again!
This recipe produces sugar cookies that are soft and flavorful, easy to cut out, and the baked cookies keep their shape! Hooray!
This recipe was actually the second recipe I ever posted on my site… way back in 2010.
But since then I've posted hundreds of other delicious recipes and it's gotten a little buried.
As we head into a busy holiday baking season I thought it was the perfect time to show off this tried and true favorite!
This is the recipe I've used for most all of the pretty decorated cookies I've shared over the years and it's truly the best sugar cookie recipe ever!
In fact, I would love to know how many times in my life I've made this recipe… I'm guessing it's well over 1,000!
PIN IT NOW to save for later!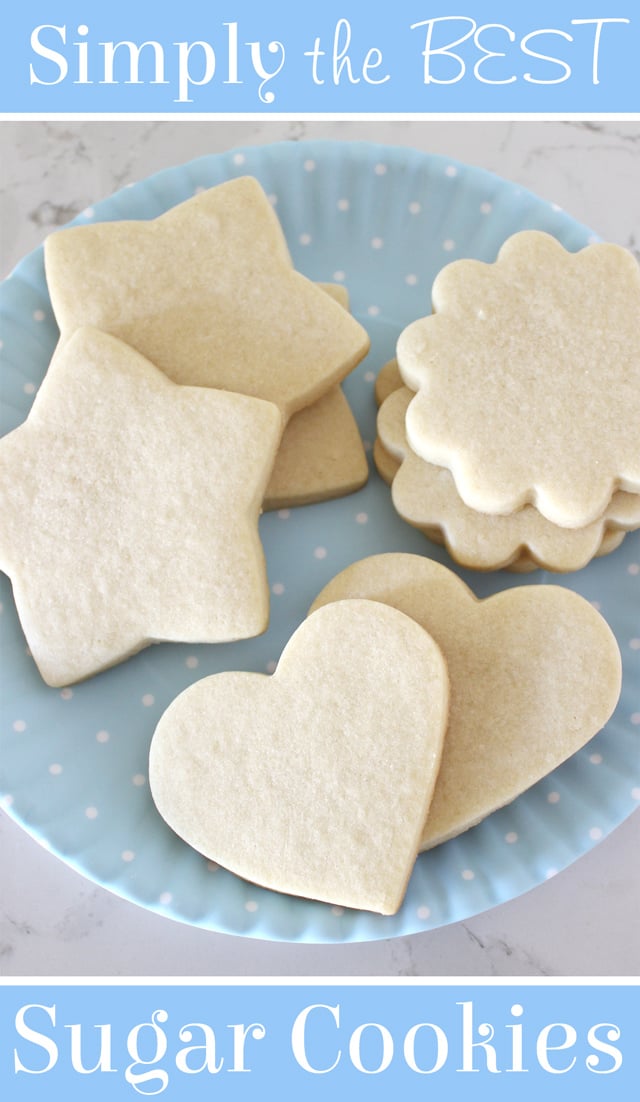 This Sugar Cookie Recipe is delicious as is, but is also a great base to play around with extra flavor!
Here are a few of my favorite variations…
Sprinkle Sugar Cookies (and a Christmas version)
I'll walk you through my process for making perfect cut-out cookies, and then there is a full printable recipe at the end of this post.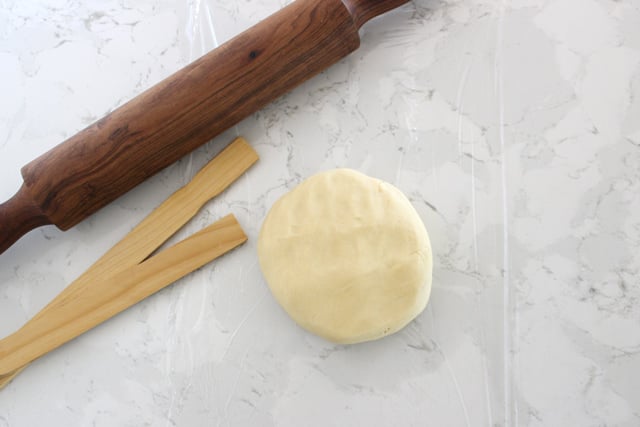 1. Prepare the dough as directed (in the recipe below). Lay out a large piece of plastic wrap onto a clean, smooth counter. If you have tile counters, you can do this on a large cutting board or marble slab. Grab about half of the finished dough from the bowl and knead by hand just a bit to create a nice smooth ball. Set the ball of dough on top of the plastic wrap, and press down to flatten a bit.
*An alternative to rolling the dough out on plastic wrap would be to lightly flour your work surface, and roll out the dough directly on the floured counter. I've done this many times successfully, but the updated process I'm showing in this post is simpler, neater and the finished cookies are generally smoother (because little bits of flour and extra pockets of air are not added during the rolling process). My original Sugar Cookie Recipe post shows the more traditional method if you prefer.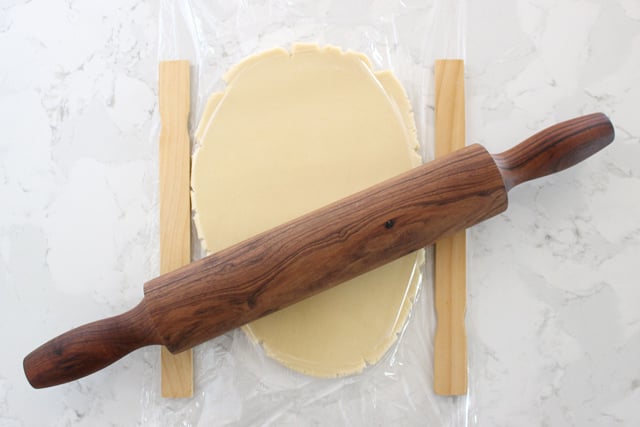 2. Lay a second piece of plastic wrap on top of the dough (straighten as much as possible). I use a homemade version of perfection strips to roll the dough into a perfectly even thickness. My sticks are simply two paint stir sticks (free from any hardware store) glued together, so I'm using a total of four stir sticks (one double-thick stick on each side of the dough). Place the sticks on either side of the dough (on top of both layers of plastic wrap) and begin to roll out the dough to the thickness allowed by the sticks. Move the sticks as needed, and vary the direction of your rolling as needed, until the dough is smooth, flat and one consistent thickness.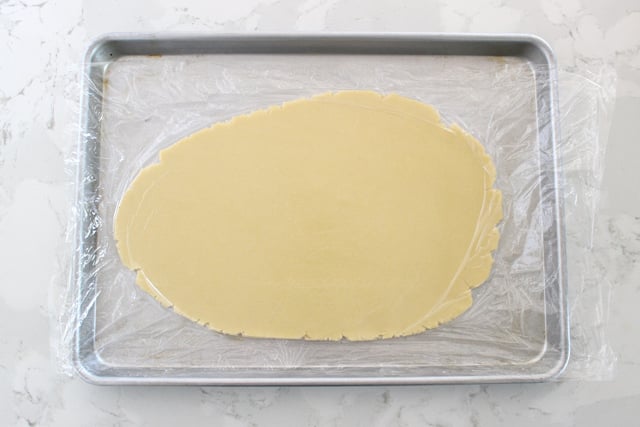 3. Pick up the slab of dough (enclosed between the two layers of plastic wrap) and move to a large baking sheet. Place the baking sheet in the freezer for 5 minutes (or fridge for 10-15 minutes). Chilling the dough makes it much easier to cut out. The chilled dough will not stick to the cookie cutters, and the cookies will keep their shape as you move them to the baking sheet.
*Do not leave the dough in the freezer too long or it will be too firm to work with. Although if you do leave the dough in the freezer too long, simply place the slab of dough at room temperature a bit (maybe 15 minutes) until it's softened just enough for a cookie cutter to cut the dough.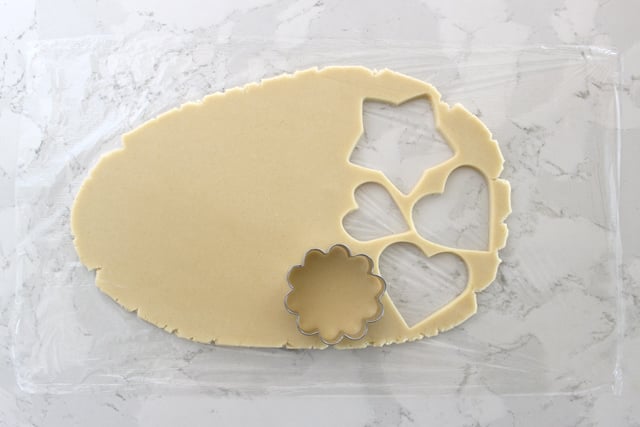 4. Cut out your desired shapes. Use the dough in an orderly way, working from one side to another, fitting in various shapes so you are creating as few "scraps" as possible. Once you've cutout as many shapes as you can on the slap of dough, roll the scraps into a ball, and roll out again just as you did before (starting back at step number one). You can re-use the same plastic wrap.
5. Place cutout cookies onto a baking sheet lined with parchment paper or a Silpat type liner. Place similar size cookies on a single baking sheet (do not bake large and small cookies on the same sheet). Allow cookies about 1″ of space between cookies. My preference at this point is to place then entire baking sheet of cut out cookies back in the freezer for about 5 minutes. This will ensure nice flat edges around your cookies, and they will hold their shape perfectly.
Bake cookies in a pre-heated oven (do not place in oven until it's reached the proper temperature). Bake on good quality baking sheets (heavy, with no non-stick coating) for the best results (the most even baking).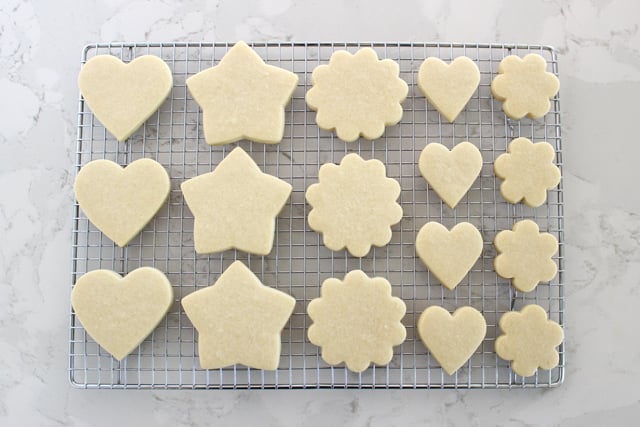 6. Allow cookies to cool for a minute or two on the baking sheet, then move to a wire cooling rack. My favorite spatula ever for moving the cookies without breaking them is this thin metal spatula. Allow cookies to cool fully before decorating.
*If you do not plan to decorate on the day they were baked, move cookies to a large tupperware type container, layer with parchment paper between layers of cookies. Cookies can be stored in an airtight container at room temperature up to a week.
*If you do not plan to decorate the cookies within a week, place entire container of cookies (sealed well, and with parchment paper between layers of cookies) in the freezer and freeze for up to a couple months. Allow frozen cookies to come to room temperature before decorating.
How to Make Perfect Sugar Cookies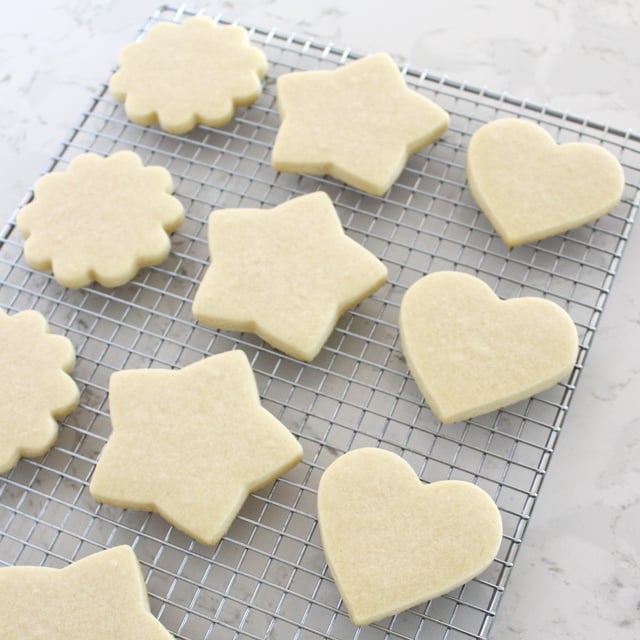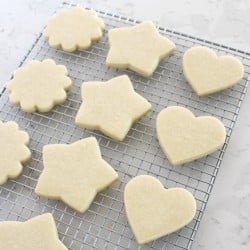 Perfect Sugar Cookies
Soft and flavorful, easy to cut out and keep their shape beautifully! This is the only sugar cookie recipe you'll ever need!
Ingredients
3

cups

all-purpose flour

1

teaspoon

baking powder

1/4

teaspoon

good quality salt

1

cup

Challenge unsalted butter

2 sticks, room temperature

1

cup

sugar

1

large egg

1

teaspoon

good quality vanilla extract

see flavor options in notes
Instructions
In a medium bowl, stir together the flour, baking powder and salt, and set aside.

In the bowl of an electric mixer, using the paddle attachment, cream together the butter and sugar until light and fluffy.  This should take 2-3 minutes.

Add the egg and vanilla and beat another minute or so.

Add the flour mixture slowly.  (Be careful not to add too much at a time or you will have a snowstorm of flour.)

Blend until all of the flour is incorporated.  The mixture will look crumbly at first but just keep blending until the dough begins to pull away from the sides of the bowl.

Remove about half of the dough from the bowl and knead by hand just a bit to form a smooth ball.  Roll out dough onto a lightly floured work surface, or onto a piece of plastic wrap (as described in detail in the blog post above).

Cut out cookies into desired shapes and place entire baking sheet of unbaked cookies into the freezer for 5 minutes.

Preheat oven to 350°F and bake cookies in preheated oven for 9-11 minutes, depending on the size and thickness of your cookies.

The cookies are baked when then are no longer shinny on top, but they will not show much of any change in color.

Cool on baking sheet just a minute or so, then carefully move to a wire cooling rack and allow to cool fully before decorating.
Notes
I HIGHLY recommend using a large stand mixer to mix up the dough, if at all possible. It is possible to mix up the recipe with a hand-held mixer, but it will take a lot more hand kneading to combine all of the flour.
Be sure to omit the additional salt if you are using salted butter in the recipe.
Flavoring options - Feel free to add your choice of fresh citrus zest (1-2 teaspoons), or add 1/2 to 1 teaspoon almond extract in addition to the vanilla extract listed.
If you prefer a more crisp cookie, simply bake an extra minute or two.
Baked cookies will remain fresh at least one week (stored in a Tupperware type container, or individually wrapped).
Baked cookies can be successfully frozen for a month or more. Layer baked cookies in a Tupperware type container with parchment paper between layers of cookies. Thaw cookies at room temperature before decorating. I do not recommend freezing the cookies after they've been decorated.
Nutrition
Calories:
160
kcal
Carbohydrates:
20
g
Protein:
2
g
Fat:
8
g
Saturated Fat:
5
g
Cholesterol:
27
mg
Sodium:
46
mg
Potassium:
22
mg
Fiber:
1
g
Sugar:
8
g
Vitamin A:
246
IU
Calcium:
15
mg
Iron:
1
mg
PIN IT NOW to save for later!

Once you have your perfect sugar cookie cut-outs, you can enjoy a couple warm out of the oven while you mix up an icing of your choice!
You can make this SIMPLE BUTTER FROSTING if you'd like something quick, easy and delicious!
Or if you'd like to do some more detailed decorating, mix up a batch of ROYAL ICING.
I think that once you try this recipe, you'll agree that it's simply the PERFECT sugar cookie recipe!
Happy baking!
Disclosure – Shopping links to specific supplies provided for your convenience. I may receive a small commission from purchases made using these links, at no additional cost to you.