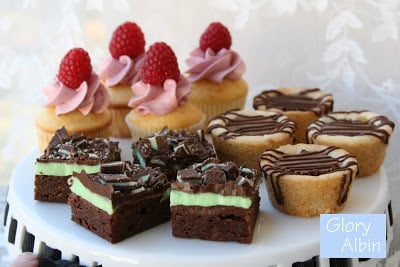 Some of you may be reading this blog because you know me in "real life" (Thank you for your support!), some of you may "know" me from
Flickr
(Thank you too!!), some of you may have found me from the link on
My life My loves
(Thanks Sharnel!), and there are those of you who have arrived here in other ways (I'm SO glad you're here!). I have so many fun things planned for this blog, most of which involve pretty things, and sweet things! Most of you who know me in "real life" or from Flickr are already pretty familiar with the sweet things I've been making (constantly!) over the past couple years. The vast majority of the things I bake are for friends and family. I bake for holidays, birthdays, pot lucks, just for fun, or to learn or practice a new technique. For those of you who may not be familiar with my Flickr page I thought you might enjoy a little overview of the things I love to make. To see all my Flickr photos you can click on the rotating photos in the right column of the blog, but today I'll just share a few of my favorites.
~Cookies~
With unlimited design options, cookies make beautiful gifts, favors or holiday treats. Although a beautifully decorated cookie can be a bit time consuming to produce, the results reward your hard work. Cookies also have the advantage over many baked goods that they can be made several days in advance, and are easy to transport.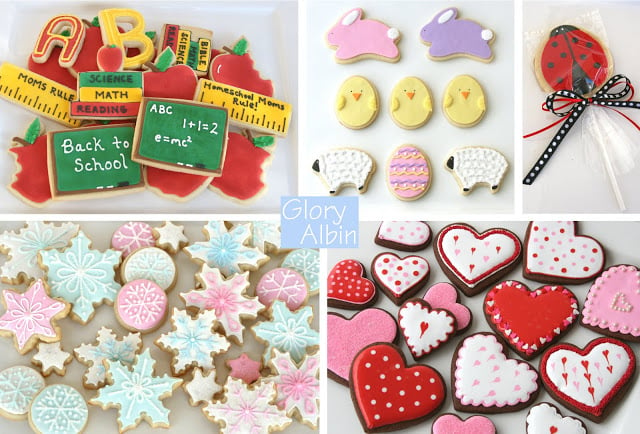 ~Cupcakes~
Cupcakes are one of my favorite things to bake (and eat!). Everyone loves cupcakes, and they are welcome gifts for most any occasion, or no occasion at all.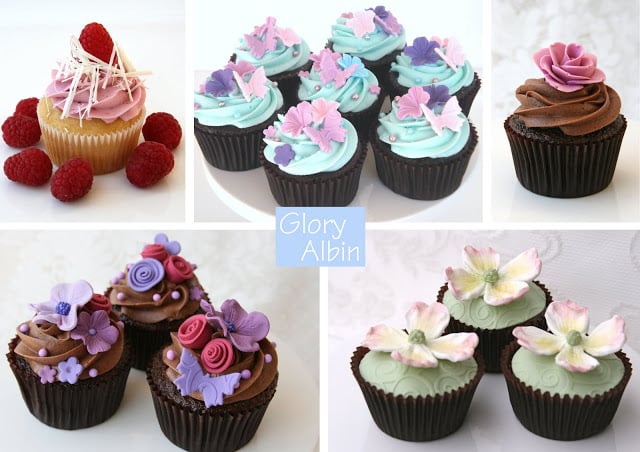 ~Cakes~
This is an area I'm still really growing in. It usually takes me about 2 weeks of stress and planning, and then 2 or 3 days of baking and decorating to produce a special cake. I don't have plans to devote many posts to special occasion cakes (like below), but I'm sure we will be making some delicious (and still beautiful) cakes that would be appropriate for a dinner party or casual birthday.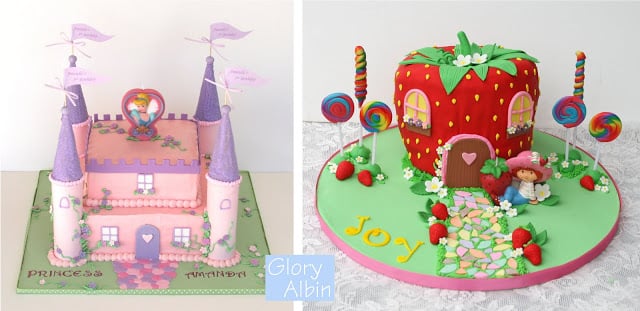 Now the purpose of this little "show and tell" today is not just for display. I hope and plan that in future blog posts I'll be sharing with you lots of recipes, tips and techniques as well as supply resources. So although today is mostly "show and tell", I'm hoping to peak your interest enough for you to dust off your mixer, and make plans to come back and bake with me.
For those of you who have no intention of using or owning a Kitchen Aid mixer, or ever spending a whole evening hunched over a table of cookies using toothpicks and tweezers to place sprinkles in the perfect position (those are the times my husband walks in the room and laughs at his "crazy" wife!), that's ok! I'd love for you to stick around and maybe just gather a few ideas, some simple (yet still impressive) recipes, or maybe some pretty party ideas.
So, however you got here, I'm really so thrilled to be on this new adventure with you. I'd love for you to become a follower of the blog, or leave a comment so I know you were here. Feel free to let me know the kinds of pretty things you'd love to see in future posts.