Bubbling Cauldron Treats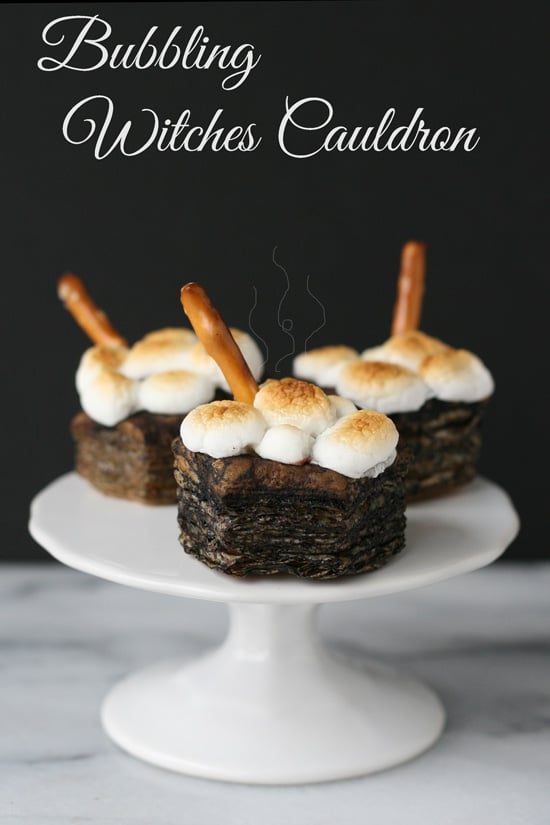 Simple ingredients come together to create these fun Bubbling Cauldron Treats, perfect for a Halloween party!
I was recently sent a box of Pepperidge Farm Puff Pastry Cups and given the challenge to create a Halloween themed treat.  Puff pastry is such a versitale ingredient because it can be used to make sweet or savory dishes.
When I saw the cute shape of these little pastries, I thought they would be perfect to turn into mini witches cauldrons.  I always have lots of ideas when it comes to creating desserts, but I'm still pleasantly surprised when an idea actually works!
These chocolate and marshmallow filled pastry shells make a fun and creative treat for Halloween!
Ready to make some?
You'll need…
One box of Pepperidge Farm Puff Pastry Cups
Chocolate Pudding
Mini marshmallows
Pretzel sticks
Black food coloring spray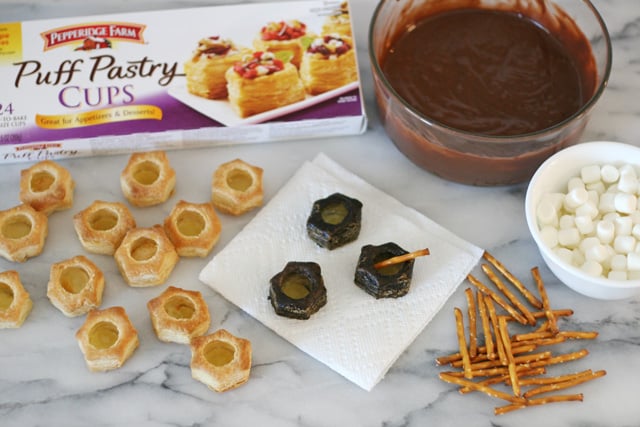 Directions ~
1.  Bake Puff Pastry Cups according to box directions.
2.  Prepare pudding (or use store bought prepared pudding).
3.  When the Puff Pastry Cups are baked and cooled, spray the cups with black spray food coloring (take the cups outside to spray).  Allow to dry (15 minutes or so).  Note, if you do not want to color the pastry, feel free to skip this step, and continue below.
4.  Fill the prepared (black) cups with chocolate pudding.  This may be easiest if you fill a small ziplock type bag with pudding, then snip off one corner and squeeze the pudding into the little cups. Fill to just below the edge of the pastry cup.
5.  Add a pretzel stick (I broke the sticks and used about 2/3 of a stick), then top the pudding with mini marshmallows.  I found it best to tear each mini marshmallow in half, and press them together in a little heap, over the pudding.
6.   Place the cauldrons on a baking sheet and broil in the oven for 30 seconds to 1 minute, or until the marshmallows are puffy and golden brown.  The marshmallows will shrink down a bit as they cool.
Serve immediately, or refrigerate up to 1 hour.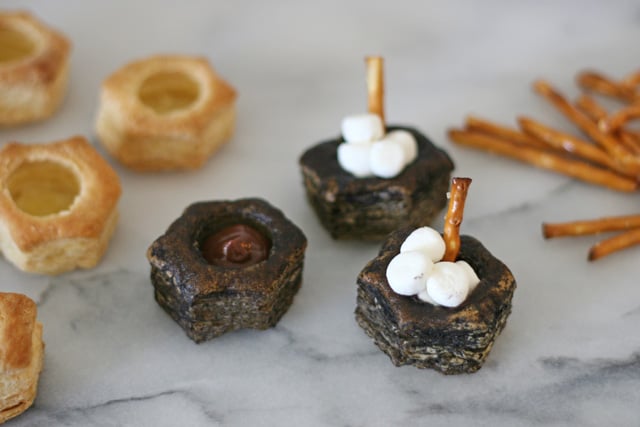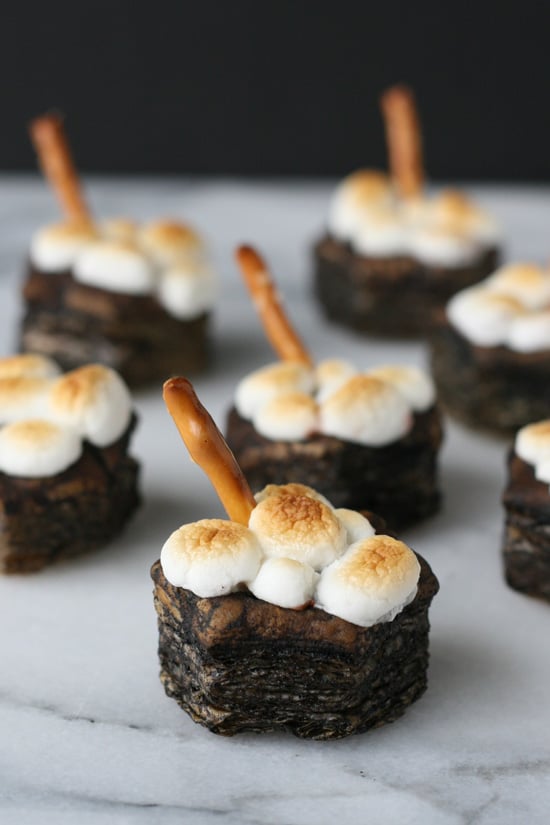 These fun little Bubbling Cauldron Treats would be perfect as a bite-sized Halloween party sweet!
Now before you run off to make these I have a few more fun things to mention…
Do you have a fun, unique and delicious idea for using Puff Pastry?
Share your own original idea for using Puff Pastry for a chance to win a trip to the Pepperidge Farm Headquarters (and I might just join you!).   I'll be collecting your ideas over the next few months (as I share my ideas too), and each month I'll share my "top picks" from your submissions.  Next spring, I will chose a winner for the grand prize trip from those highlighted "top picks".   Share your ideas in the comment section below.  I can't wait to read what you come up with!
Disclosure- I was compensated for my time with products and/or payment from Pepperidge Farm, as part of the "Puff is Spark" panel.  I only share products on this site that I use and love.  All images, text and opinions are my own.