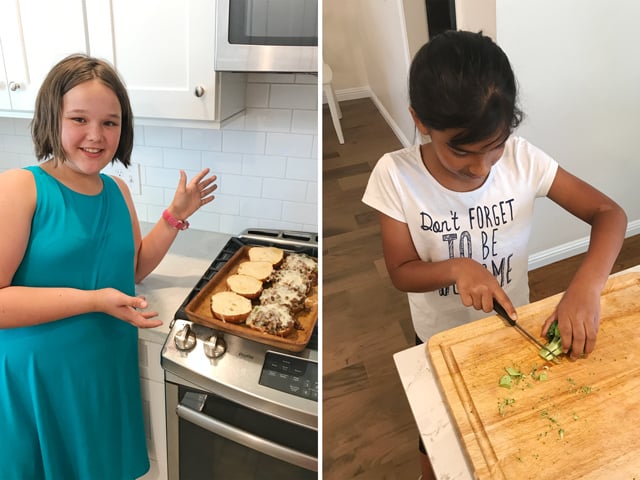 As we head into summer, I thought it would be the perfect time to share my favorite recipes and ideas on How to Teach Kids to Cook.
Teaching kids to cook is a bit of a passion of mine.  I believe that cooking is a really important life skill that every person should have at least a basic grasp of.
I don't expect that everyone will share quite the love I have for cooking and baking… but to me, basic cooking skills are the same as learning how to run a load of laundry, or balance a budget… they are essential to being a well rounded, successful adult.
My philosophy on teaching kids to cook is… If they can read (with some level of comprehension), they can cook.  It's as simple as that (for adults too).
If you are able to read, and are willing to submit yourself to following a recipe, you will have success with cooking… not 100% of the time, but with some practice you will have success most of the time.
In this post I'm going to share how I've taught my own kids (now ages 12 and 15) to cook, how I've taught cooking classes for children of my friends, and all the recipes and tips you need to teach the children in your life to cook.
PIN IT NOW to save for later!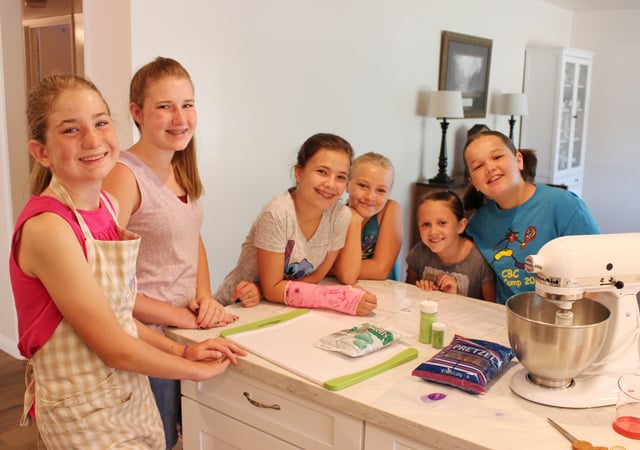 To have success, and an enjoyable experience for both you and the child (or children) you're working with… I do NOT suggest simply inviting kids in to "help" while you are making dinner that needs to be on the table in the next hour.
I suggest setting aside time that is specifically designed for teaching the children, and focused on the children (not focused on your plans, or the results).  Removing timelines and expectations will allow for a much more relaxed environment, and one your child(ren) will more likely enjoy.
The content in this post is geared for truly teaching kids to cook (eventually on their own), so most of this content is a good fit for kids ages 8+.
I'm talking about a good bit more than having a 4 year old sit on the counter and add the chocolate chips to the cookies.  While that is a great way to make fun memories in the kitchen, that is not the main focus of this blog post.
How to Teach Kids to Cook
1.  Practice safe kitchen procedures (I've added a handy list later in this post).
2.  Select the recipes you'd like to start with.  I have a nice list at the end of this post to get you started.
For older children, they will likely want to help you select recipes, as their skills grow.
3.  Prepare the work space.  Below is a photo of the counter peninsula in my kitchen (set up to make Pineapple Upside Down Cupcakes).
Consider the size of your kitchen when deciding how many children to work with at a time… if each child doesn't have room to work, or to see, they will be frustrated.
If you are doing a mini summer cooking camp (with neighborhood kids, or maybe grandchildren) and have a group of kids all at once, you may want to set up a second "work station" on your dinning table.  Add a outdoor type table cloth (the ones that are fuzzy/padded on the underside and easy to wipe off on top) to your table for easy clean up.
As children get older and are truly preparing meals on their own, certainly they can pull out their own dishes and measuring spoons, etc… but to get started, I'd suggest you have all the dishes, utensils, and cutting boards you need ready to go before the children are in the kitchen.  Once you have extra bodies in the kitchen, it's more difficult to open each cabinet and drawer needed to gather your supplies.
4.  Break up the recipe into steps.  I would suggest that you (the adult) read through the recipe ahead of time, then once you start working with the children, briefly give an overview of the steps ("We're going to prepare the batter, then add it to these pans, bake it and then wait for it to cool before cutting into it").  Then, have the child (or one of the children in the group) read just step one of the recipe.  Complete that step, then move on.
5.  Have the child/ren clean up as they work.  If you are truly teaching children how to cook, they need to also know how to keep their work area clean enough to be functional.  This doesn't mean stopping to do dishes before the recipe is complete, but children can help put away ingredients, and put dirty dishes over near the sink as they work.
6.  Follow all of the recipe steps, including cooling time.  This is a difficult one for kids sometimes (and adults too), but one sure way to have a recipe "fail" is to not allow proper cooling before removing it from the pan or fridge, or slicing or serving it (depending on the item).  If you are cooking with children that don't live with you, be prepared with another recipe, or an activity to fill up this time (assuming that if the kids live with you, they can just go play while things cool).  I have a few ideas for filling up that time further down in this post.
7.  Enjoy the food, and pour on the praise!  I feel like I don't need to remind you of this if you're working with kids… but obviously when they are learning anything new, lots of encouragement and praise will help them think of this activity fondly, and feel brave enough to try cooking again.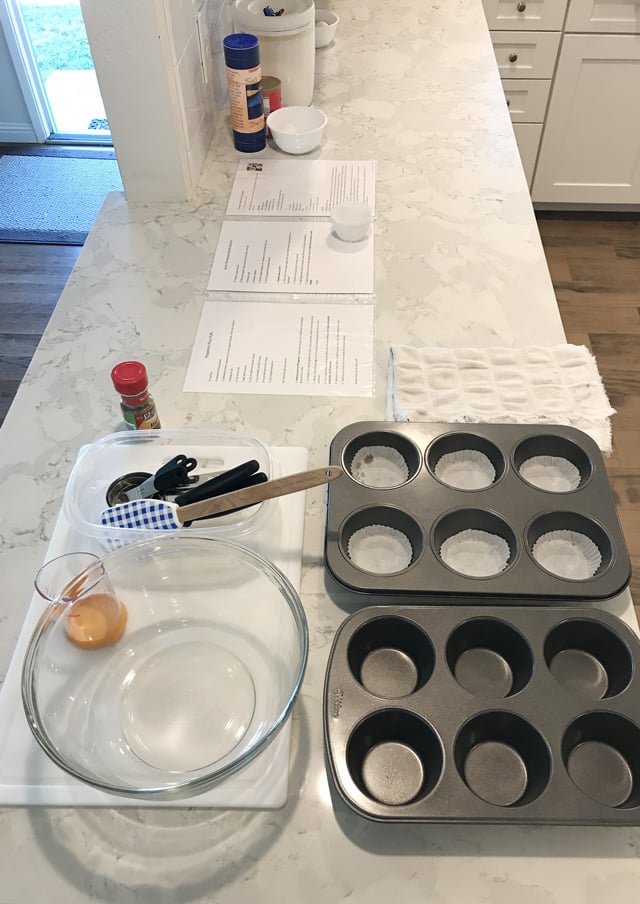 I have been working with my girls on growing their cooking skills since they were each about 8, now I'm reaping the rewards by having children (especially my 15 year old) who are perfectly capable of preparing a full meal for our family.
Every summer for the past several years I've had her prepare dinner for our family (by herself) once a week.  Below is my oldest (Grace) with a simple, but delicious Chicken Bacon Ranch French Bread Pizza.
As my girls are learning to cook we'll often have fresh fruit as an easy side dish, along with whatever main dish they've prepared.  My aim is not gourmet meals (at these ages), my aim is balanced, homemade meals that they will be able to make on their own when they leave home.
Knowing how to cook is a skill that has the ability to save them tons of money (versus eating out) throughout their lives.  Additionally, cooking from home is often much healthier than eating out, and you can customize the recipes to your preferences and needs.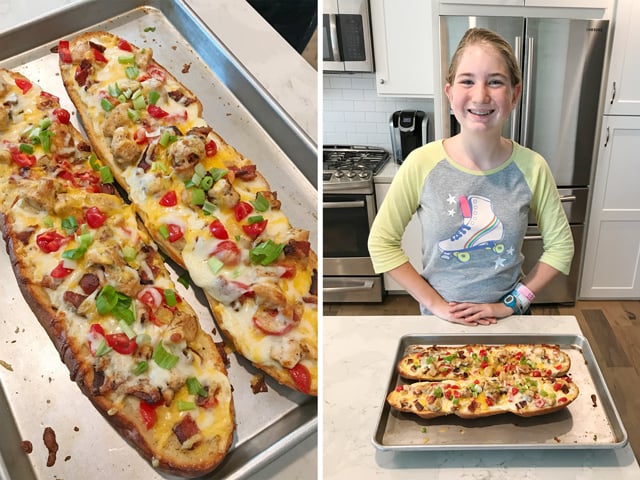 Personalized Recipe Binders
One activity I've had my girls (and other children) do when they first start cooking is to create a recipe binder that is their own.
I'll purchase colorful binders that have a clear slip cover (that allow for a paper to be added as a cover sheet), and then I'll buy lots of fun stickers (letter stickers to add their names, and cooking themed stickers).  I have sheets of white card stock paper for them to decorate (with their name, a drawing and stickers) and then it can be slipped in the front of the binder as a cover.
Additionally, I'll fill the binder with empty (to start) page protectors, so that as we work on recipes together, those recipes can be put in a page protector and added to their growing recipe collection.
If you are creating a mini cooking camp (for friends or neighbors, etc), this is a great activity to fill in time while a recipe is baking or cooling.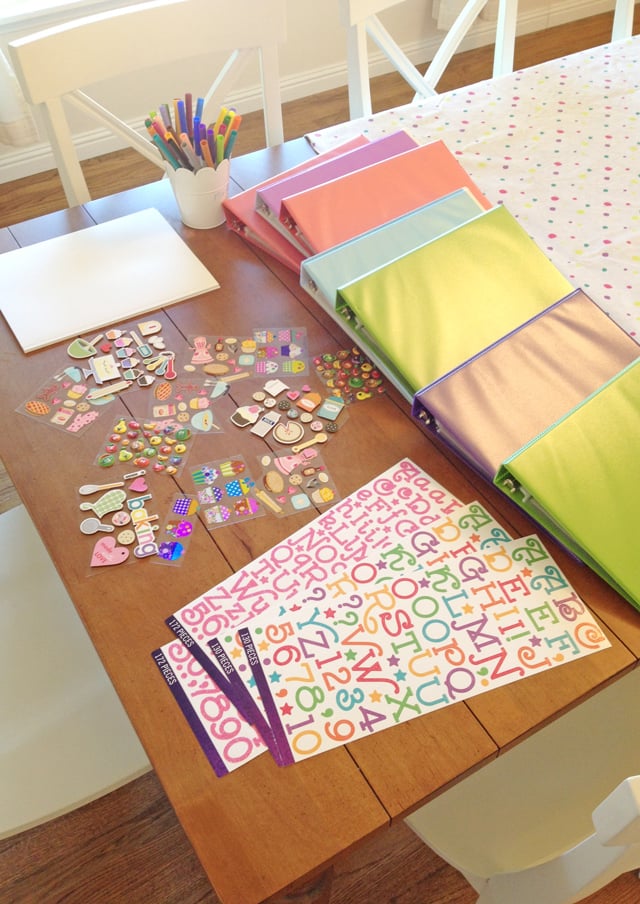 Marshmallow Art Activity
Another fun activity that can be great to fill in time while a recipe bakes or cools is marshmallow art!
What I mean by "marshmallow art) is simply to have a bunch of large marshmallows (look for square "s'mores" marshmallows for more drawing surface), along with a bunch of edible markers, and then print out some cute ideas from The Decorated Cookie (as shown below) and let the kids have fun!
The results will be beautiful… and delicious!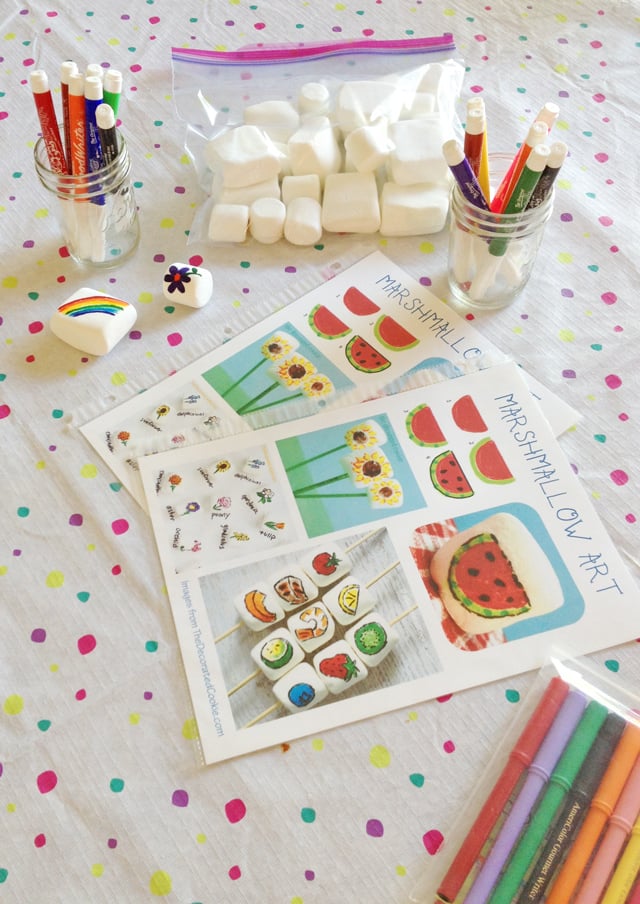 Teaching Kids Basic Safety and Sanitation
This might not sound like the most exciting topic, but it is super important, and if healthy and safe habits are formed early, then cooking will be much more successful all throughout their lives.
1.  Wash hands with soap and hot water before cooking.
2.  Avoid touching your mouth, nose, eyes or hair while cooking.  Re-wash hands if contact does occur.
3.  Dress for success. This means long hair should be pulled back, clothing should not be too loose (such as flowy sleeves or ruffled tops), and extra jewelry that may get in the way is removed.
4.  Be aware of your surroundings.  This is especially  important if more than one person is working in the kitchen.  Look around you before moving too quickly.
5.  Practice safe knife skills.  Number one, keep your eyes on the knife (and the food you're working with) the entire time you're cutting.  Most "accidents" occur when someone looks up (or gets distracted) while cutting.  Second, teach children to visualize the path of the knife, and be sure their fingers are never in that path.   For children, I generally prefer to have them work with small serrated knifes to start (such as a small steak knife).  The "teeth" on serrated knifes tend to grab onto the food surface just a bit more and is a little less likely to slip.
6.  Wash all produce thoroughly before use.
7.  Handle raw meat safely.  After handling or cutting raw meat, be sure your hands and all knifes, cutting boards and dishes that came in contact with raw meat are washed well (with soap and hot water) before another use.
Below is my oldest (Grace) dishing up a meal she made 100% on her own, and has become a family favorite, Creamy Salsa Chicken Stuffed Shells (from Bru Crew Life).  This recipe is also included in the complete list at the end of this post.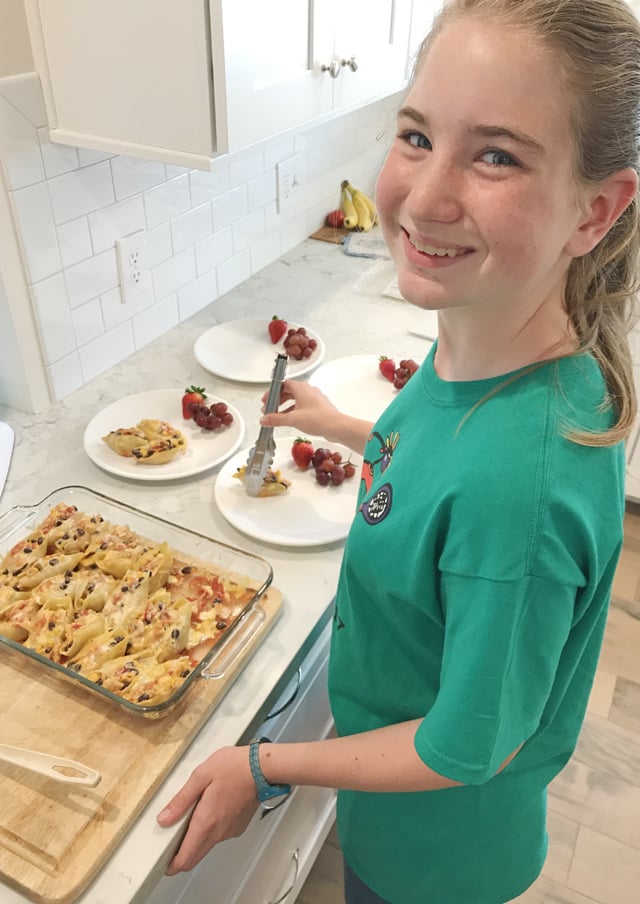 Cookie Decorating with Kids
If you are doing something like a week long "cooking camp" for neighbors or friends, cooking decorating can be a fun way to wrap up the week.
Certainly, this is a project that is more just for fun, and will require more prep from you (the adult).
I would suggest baking the the cookies ahead of time… they can be baked several days in advance, and then stored (layered between parchment paper) in a sealed container for 3-5 days. Here's my Perfect Sugar Cookie Recipe.
Also, prepare the royal icing (here's my Royal Icing Recipe) before the children arrive and bag it up (one thicker consistency for outlining and one thinner for flooding).  Label the bags in some way to make sure the thick and thin icing are identifiable.
A simpler option is to prepare some basic buttercream (here's my recipe for Easy Butter Frosting for Cookies) and just use small butter knifes to spread it on the cookies.  This will not yield the same detailed results of royal icing, but it's still lots of fun!
Here are a couple of my friend's kiddos (below) with their royal icing decorated cookies.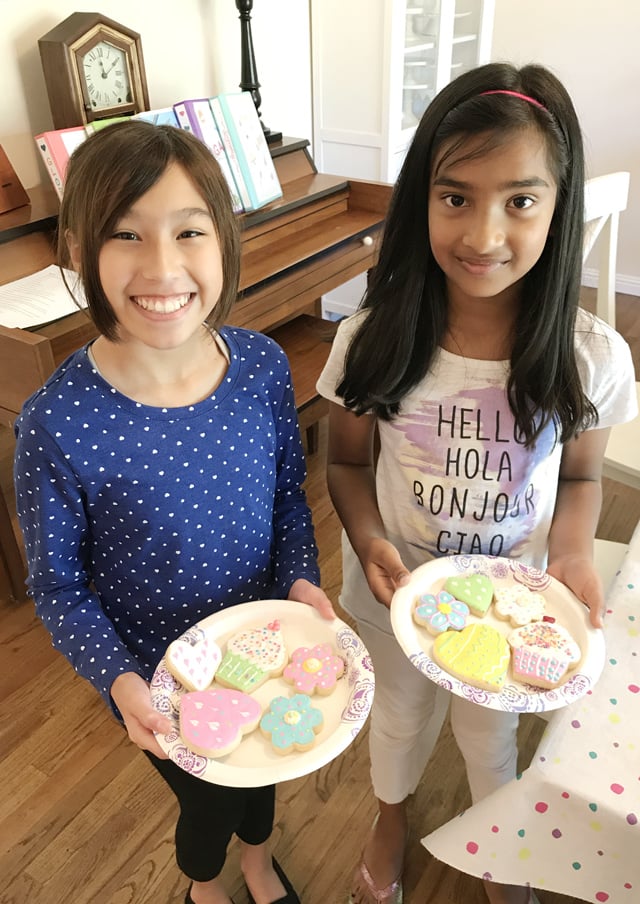 As much as I value teaching kids to cook simply because I believe kids (and adults) should have at least some basic knowledge of cooking… there is a bit of selfish motivation too!  It's pretty awesome when kids you've been feeding for years are now able to fully prepare a meal for you! =)
PIN IT NOW to save for later!

Here's a list of some of my favorite easy recipes to make with kids…
Snacks
Fresh Fruit Kebobs – Allow the kids to wash and cut fresh fruit, then mix and match to make fun kebobs.  If desired, cut a few full round slabs of watermelon (about 1/2-3/4 inch thick) so kids can use small cookie cutters (such as a star or heart) to cut the watermelon into shapes to add to the kebobs.
Marshmallow Art – Purchase assorted edible markers and large marshmallows (look for "s'mores" square marshmallows because they have lots of flat surface for drawing), then print some inspiration from The Decorated Cookie and let the kids have fun!
Homemade Granola Bars (from me/ Glorious Treats) – Just a few ingredients needed.  Fun and easy to make, and kids LOVE them!
Strawberry Yogurt Fruit Dip (from me/ Glorious Treats) – Perfect to allow practice cutting fruit, and great for encouraging kids to eat fresh fruit!
Monster Cookie Snack Mix – (from me/ Glorious Treats) – So yummy! Possibly better for slightly older kids, due to the hot, homemade caramel mixture that is poured over the mix.
S'mores Pops (from me/ Glorious Treats) – Super easy and delicious!
Sleeping Bag Snacks (from Hungry Happenings) – Just so cute!
Sweets
Lemon Blueberry Bread (from me/ Glorious Treats) – Perfect for learning to follow a full recipe.  Quite simple to make, and everyone LOVES this!
Pineapple Upside-Down Cupcakes (from me/ Glorious Treats)
Salted Caramel Apple Hand Pies (by Just a Taste)
Cowboy Cookies (from me/ Glorious Treats) – These have lots of delicious mix-ins so there are lots of fun ingredients to measure and pour.
Snickerdoodles (from Glorious Treats) – Kids seem to love the step of rolling the dough in the cinnamon/sugar mixture.
Peanut Butter Cookies (from Glorious Treats) – Easy, delicious, perfect!
Palm Tree Cupcakes (from Your Cup of Cake)
Meals/Savory dishes
Easy Chicken Stir Fry (from Mom on Timeout)
Salsa Chicken Stuffed Shells (from Bru Crew Life)
Pepperoni Pizza Puffs (from The Noble Pig)
Baked Chicken Taquitos (from Recipe Girl)
Taco Stuffed Peppers (from Wine and Glue)
Bacon Cheeseburger Sloppy Joes (from Dinner then Dessert)
Happy cooking!