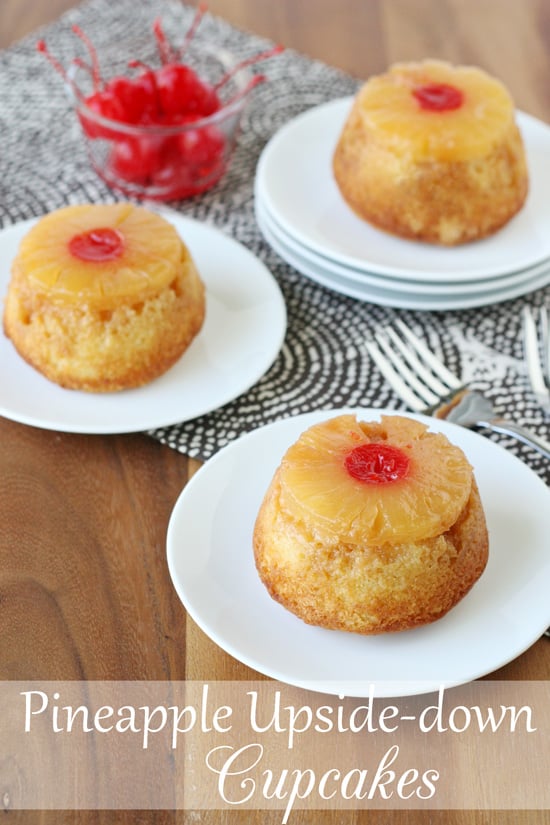 Here I am… me, Glory, posting on my own blog for once! Well, once out of the last couple months! I'm so thankful to Bethany, Lisa, Shelly, Darla, Julie and Kristan for creating beautiful posts for me while I've been crazy busy working on my book. Although the book will not be available until next year, then majority of my work is done, and I'm so excited to be back to my regular blog posting schedule!
I've wanted to share this recipe for Pineapple Upside-Down Cupcakes for quite a while! In fact, more than once I've made them with the intention of taking photos… but we kind of ate them all before I had a chance! =)
This cake is just so classic and delicious! Feel free to make a traditional Pineapple-Upside Down Cake with the recipe, or follow the instructions to create fun individual Pineapple Upside-Down Cakes.
As I'm sure you well know, I love individual desserts. Somehow a dessert seems extra special when each person get's their own individual, perfect piece. Or maybe I'm still stuck in childhood and want to make sure everyone gets a "fair" piece.

If desired, you could prepare this recipe using the pineapple and brown sugar glaze listed, but replace the cake recipe with a boxed mix yellow cake (prepare the cake batter as directed on the box).
These beautiful and delicious little cakes can be made up to two days in advance.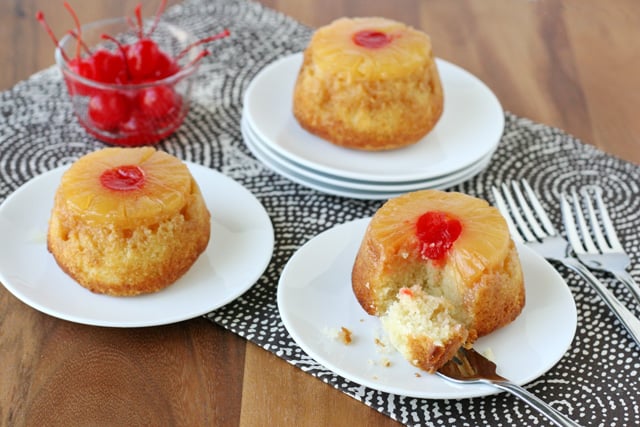 My mom would occasionally make pineapple upside down cake when I was growing up, so the sweet and moist cake always reminds me of my childhood. For some reason, pineapple upside down cake is one of those treats that I forget how much I like. I often go a long time without making it, but then each time I make it, I remember how much I love it!
When was the last time you enjoyed Pineapple Upside Down Cake?
Pineapple Upside-down Cupcakes Recipe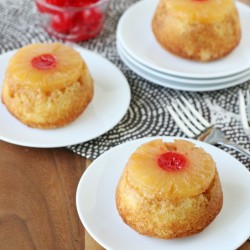 Pineapple Upside-down Cupcakes
Make this recipe using a jumbo cupcake pan for individual servings, or in a 9"x13" pan for a classic cake.
Ingredients
Brown Sugar Glaze
6

tablespoons

Challenge butter

2

tablespoons

light corn syrup

1

cup

packed brown sugar

12

canned pineapple slices

you'll need 2 cans

6

maraschino cherries

each cut in half
Cake
2 1/2

cups

flour

1

teaspoon

baking powder

1/2

teaspoon

baking soda

1/2

teaspoon

salt

3

eggs

2

cups

sugar

1

cup

oil

vegetable, canola, etc

2

teaspoon

vanilla extract

1

cup

sour cream

any fat content
Instructions
Prepare 2 JUMBO cupcake pans by greasing the molds, and then lining just the bottoms with paper liners. I used Jumbo cupcake liners, and cut them down so the liner just fills the bottom (and up the side just a bit). The liner will just help keep the pineapple and glaze in tact as you remove the cakes from the pan.

Prepare the pineapple slices by cutting out a notch of pineapple (as pictured above). This allows the pineapple to sit nicely in the bottom of the cupcake pan. Cut one pineapple slice and then place it in your pan to get an idea of the size piece you need to remove.

Prepare the brown sugar glaze by combining the butter, corn syrup and brown sugar in a small saucepan. Heat until the butter and sugar are melted, and the mixture is smooth. Set aside to cool.

Prepare the cake batter. In a large bowl add the flour, baking powder, baking soda and salt. Whisk to combine, then set aside.

In the bowl of an electric mixer, add eggs and beat 15 seconds. Add the sugar, and continue to beat until the mixture thickens and is a light in color.

While mixing on low speed, add the oil and vanilla and mix until well blended. Add sour cream, and mix to combine.

Slowly add the flour mixture and mix just until the flour is fully incorporated.

Assemble cakes for baking by adding 1-1/2 tablespoons of the brown sugar mixture to the bottom of each (lined) cupcake mold. Top glaze with a slice of pineapple and half of a maraschino cherry.

Pour (or scoop) the cake batter on top of each pineapple slice, filling each cupcake mold 2/3 - 3/4 full (do your best to evenly divide the batter between each cupcake).

Bake cupcakes in a preheated 350*F oven for about 25 minutes (or until a toothpick inserted in the center of a cake comes out clean, or with a few moist crumbs).

Allow cakes to cool about 5 minutes, then run a knife along the edges of each cake to loosen it from the pan. Flip over the entire pan, onto a baking sheet. Remove the paper liner, and serve.

Cakes can be served warm, or at room temperature.
Notes
If you only have one jumbo cupcake pan, simply bake one pan at a time, then repeat the assembly for the second batch.
If making this recipe as one large cake, lightly grease the pan, and line the bottom with parchment paper. Baking time is not listed because I have not made the recipe in a 9"x13" pan. I would estimate 45-50 minutes, but you will know the cake is done when the top is a deep golden brown, the center of the cake has a slight dome, and a toothpick inserted in the center comes out clean. After baking, cool at 15 minutes. Run a knife along the edges of the pan to loosen cake, and turn pan upside down over a baking sheet or platter. Allow the pan to remain (upside down) on the cake a minute, then carefully remove.
Nutrition
Calories:
612
kcal
Carbohydrates:
85
g
Protein:
5
g
Fat:
30
g
Saturated Fat:
8
g
Cholesterol:
66
mg
Sodium:
219
mg
Potassium:
165
mg
Fiber:
2
g
Sugar:
64
g
Vitamin A:
382
IU
Vitamin C:
6
mg
Calcium:
78
mg
Iron:
2
mg