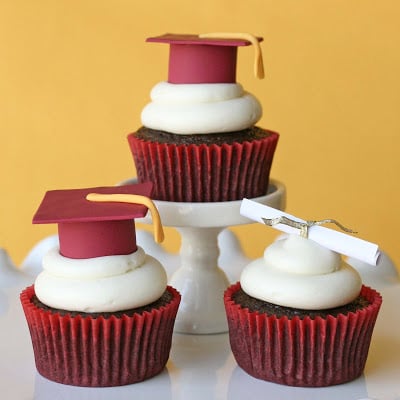 I have two exciting thing for you today… Graduation Cupcakes and a fun announcement!
Many of you, my lovely readers, have been requesting more cupcake decorating ideas, and I've been listening!  So if you know someone graduating pre-school, middle school, Jr. High, High School, or college, these are a great way to help them celebrate!
And… the fun announcement is that I have joined The TomKat Studio team as a regular contributor!  I'm sure most of you know The TomKat Studio as a great source for beautiful party inspiration and custom party printables.  I will be adding to that sweet combo with ideas for fun and beautiful cakes, cupcakes and desserts.  My fridge is stocked with butter and cream, and I can't wait to get started!  =)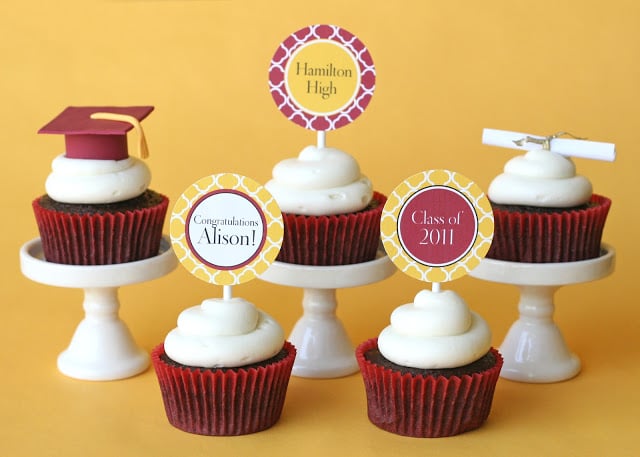 For this set of Graduation cupcakes, I made a few special fondant Graduation Hat Toppers (full instructions below), topped some cupcakes with printable toppers from The TomKat Studio, and dressed up a few cupcakes with simple paper "diplomas".  The diplomas were made by simple rolling a piece of white paper, and tying with a gold ribbon.
The cupcakes themselves are my favorite Chocolate Cupcakes with delicious Vanilla Cream Cheese Frosting.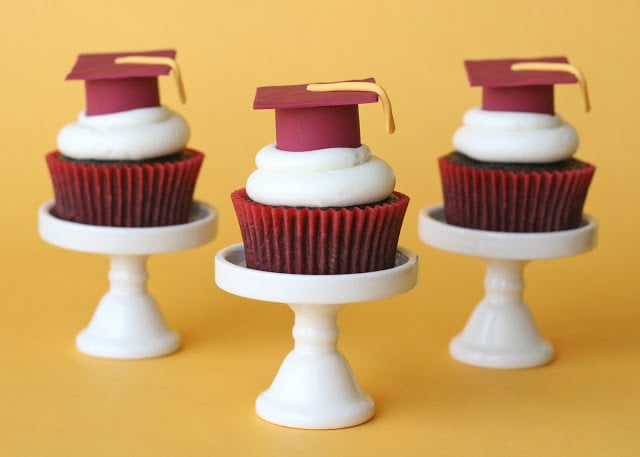 ~ How to make a fondant Graduation Cap ~
If you're not familiar with working with fondant, start with my Fondant 101 post.

1.  Color your fondant as desired (more detailed instructions HERE).
2.  Roll out the color of fondant you plan to use for the hat.

3. and 4.  Cut fondant into strips about 3/4 inches wide and 3 3/4 inches long.

5.  Roll up a strip of fondant to create a ring (overlapping slightly).  Use a teeny, tiny bit of water or corn syrup to help the ends stay together.  Set aside to dry.
6.  Cut a square (for the top of the hat) about 1 3/4 inches x 1 3/4 inches.

7.  Allow hat bases (the rings) and tops (squares) to dry for several hours or overnight.  They should be totally firm before moving to the next step.
8.  When the pieces have dried, use a tiny bit of "edible glue"- made with a few tablespoons of powdered sugar and a tiny bit of water (it should be the thickness of toothpaste) and apply with a (clean) paintbrush along the top edge of one ring.  Set the top of the hat (a fondant square) on top, and set aside to dry.

9.  Once the top of the hat has been secured to the base of the hat, make a tassel.  For the tassels, simply roll a tiny piece of fondant into a little "snake".  I used my finger to press down one end just a bit, then used a knife to create just a bit of texture to represent the individual strings at the end of a tassel.
10.  Add just a drop of your "edible glue" to the center of the hat, and attach the tassel.  Bend tassel over the side of the cap just a bit.  Set aside to dry (at least 1 hour).  Add toppers to cupcakes right before serving (up to a few hours before).   Fondant decorations added more than a few hours before serving will begin to get soft and lose their shape.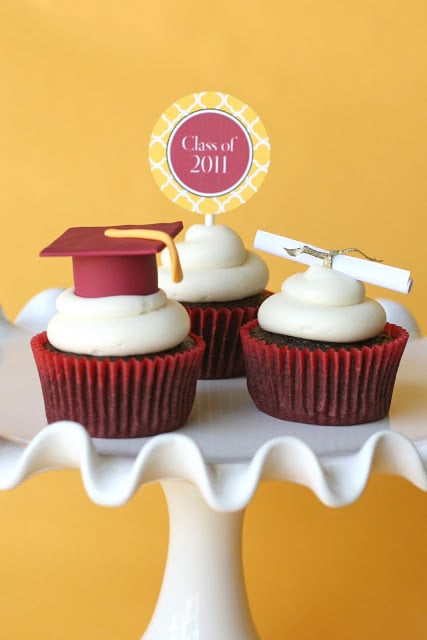 Congratulations graduates!