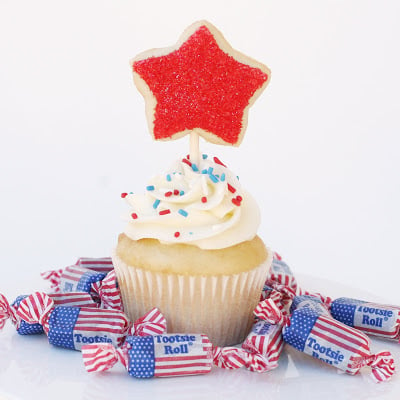 Last week I made a little batch of cupcakes and some cute 4th of July cookie toppers.  We don't have any big party plans for the 4th this year, but these would sure be perfect for those of you who do.
The cookie toppers can be made a few days ahead of time (up to a week) and then you can just add them to some simple cupcakes (either homemade or store bought).
HERE is my tutorial on making mini cookie cupcake toppers.
For these ones you'll need a small star shaped cookie cutter (if you don't have one I'd try looking at Michael's or Wal-mart).  And you'll need some 4 inch lollipop sticks (like these ), also available at most craft stores.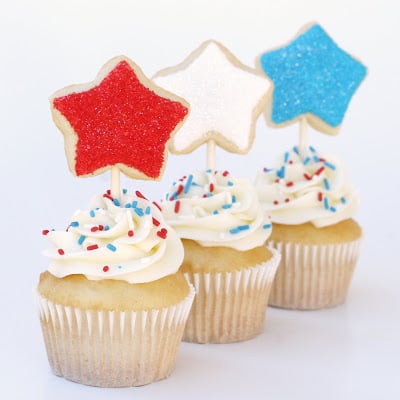 You could certainly get a lot more detailed with these than I did.  But I think even these simple ones add a pretty festive touch.
The cupcakes are a simple (box mix) vanilla cupcake (sorry if I just crushed your image of me!) topped with my favorite vanilla cream cheese frosting (in warm weather add very little cream or liquid to the frosting, or it will be too soft to hold any shape).  I frosted these with my favorite 1M (large open star) tip.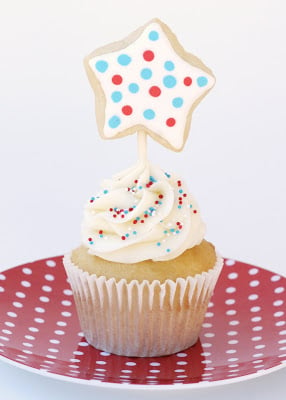 Happy Birthday my dear sweet U.S.A!!
For those of you outside the U.S., you could certainly alter this idea with the colors of your home country.