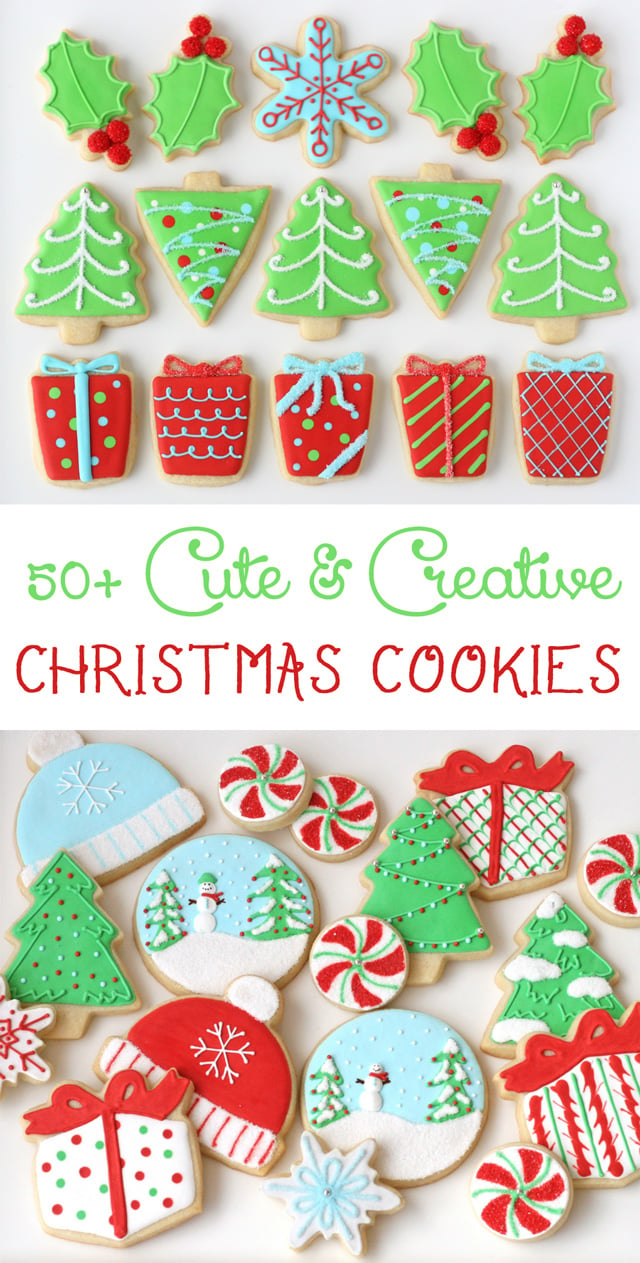 I know it's not quite December… but I love decorated Christmas cookies so much, I just couldn't help but start dreaming about them a bit early!
My hope is that this post will spark a few (or quite a few!) ideas for decorated Christmas cookies… from simple to show-stopping.
These cookies are some of my favorites from past years, as well as some that are new to the blog.  You'll find traditional ideas, pretty pastels, extra cutesy cookies and I think a little something for everyone!
Many of the images show will have a link directly below the image that will take you to a full post on that set, often including step-by-step tutorials.
For the cookies without a link below them, you can use the image here for inspiration, and by looking through a few of my other cookie tutorials (all filed under the "Cookie Decorating" tab at the top of the site) I think in most cases you'll be able to find all the information you need to give them a try.
Here are the recipes you'll need for any of these designs…
Chocolate Rolled Cookie Recipe
Royal Icing Recipe (and basic decorating tutorial)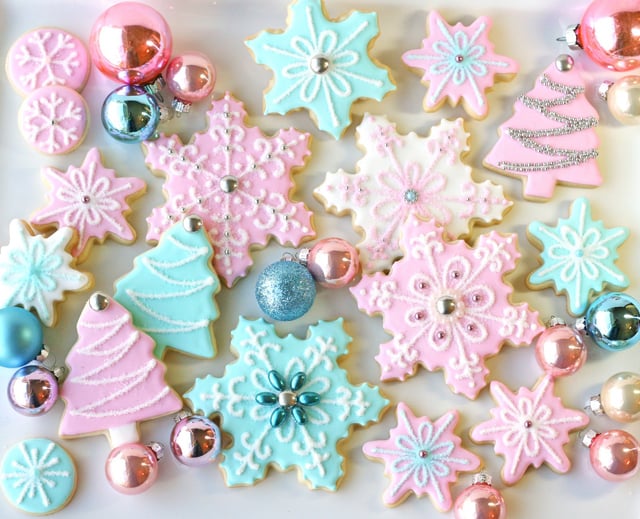 These Pastel Christmas Cookies are one of my favorite sets of all time (and the cookies that Martha Stewart herself said looked like they belong on the pages of Martha Stewart Living Magazine).  I don't have a step-by-step tutorial, but you might still enjoy the Vintage Pastel Christmas Party that I made these for.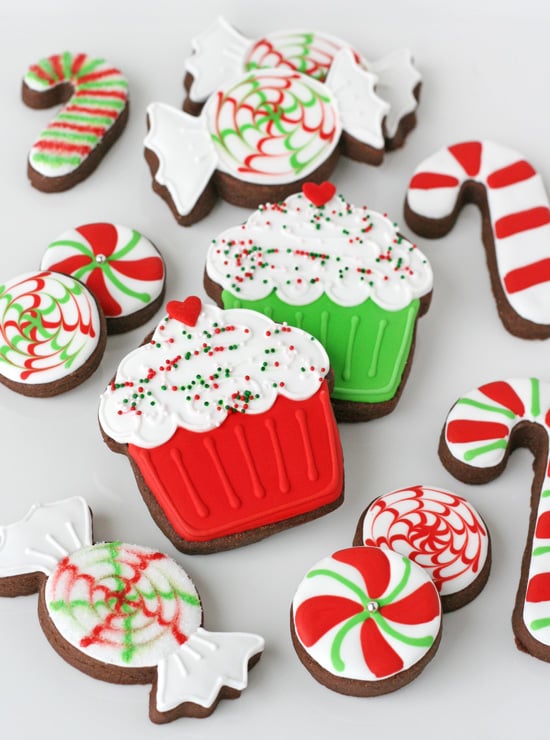 Peppermint Candy Christmas Cookies (with step by step decorating tutorial)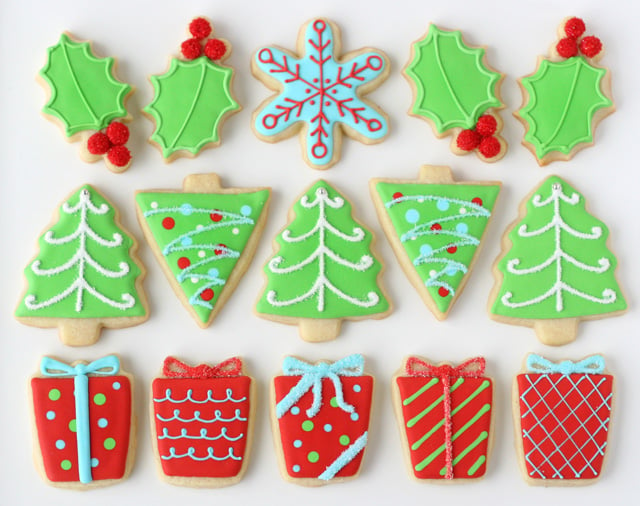 This set of classic Christmas cookies requires only 4 colors (red, green, white and blue) and yet it's one of my favorite sets!  It's just so perfectly festive!  A bit of sanding sugar added to the holly berries, the details on the trees and some of the package bows adds the finishing touch.
Penguin Cookies (with step by step tutorial)
These Penguin Cookies just make me smile!  I created this set as part of the treats I made for a Pink and Purple Penguin Party I hosted for my daughters and their friends.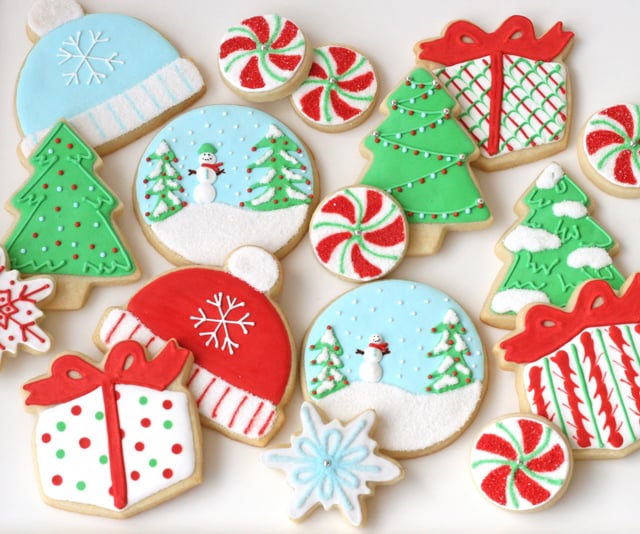 I made this set of decorated Christmas cookies a couple years before I started blogging and they are still one of my all time favorite sets!  I especially love the snowman scene cookies!
Snowmen Face Cookies (with full step by step tutorial)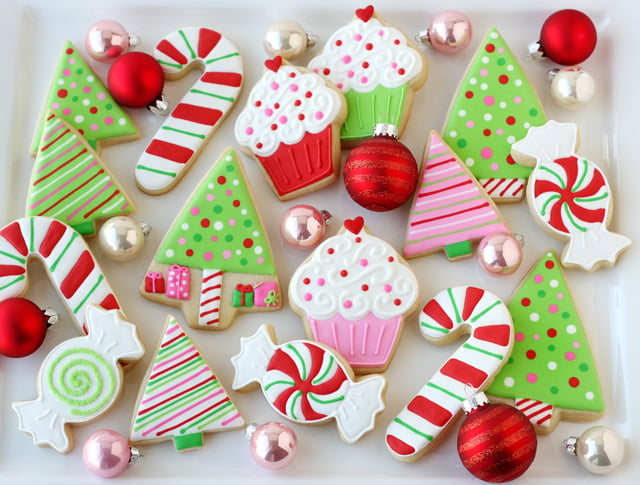 The addition of pink to a traditional Christmas color palate adds a bit of whimsy to this set. I have a decorating tutorial for the cupcake and the candy cane designs HERE.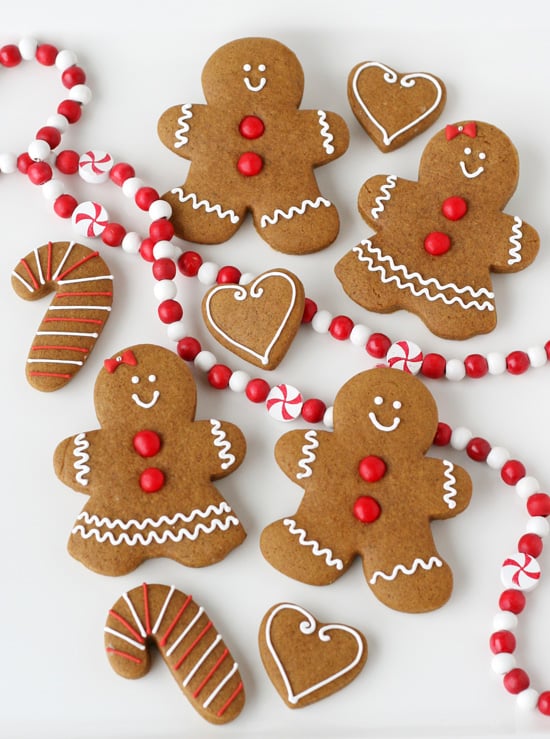 There is something so perfect about a traditional gingerbread boy or girl!  They'll always be one of my favorites to make, and eat!  These are so incredibly simply to decorate, just add the cinnamon candies before baking, then add a few details with white royal icing (recipes listed at the top of this blog post) after the cookies have baked and cooled.  I made these cookies to serve at a Gingerbread House Decorating Party.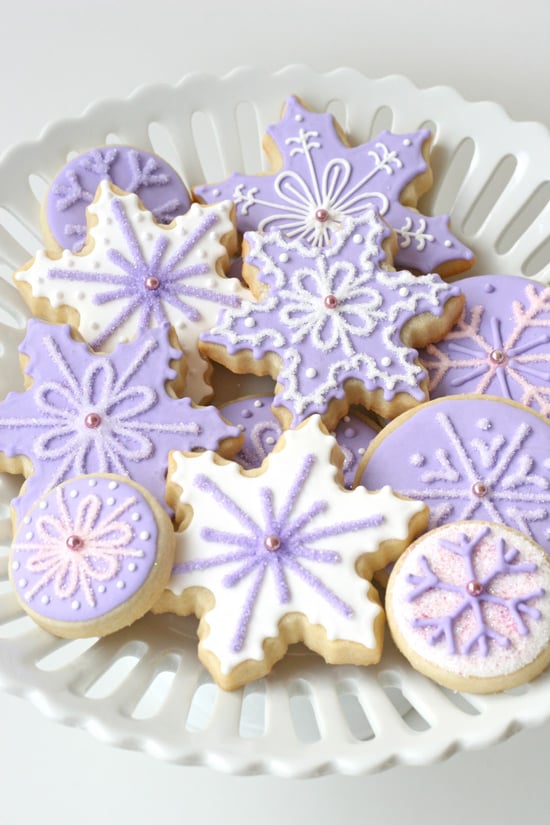 These snowflake cookies were a set I made for a friend whose favorite color is purple.  It's always fun to play with non-traditional colors.  I think snowflake cookies are one design that can look great in most any color!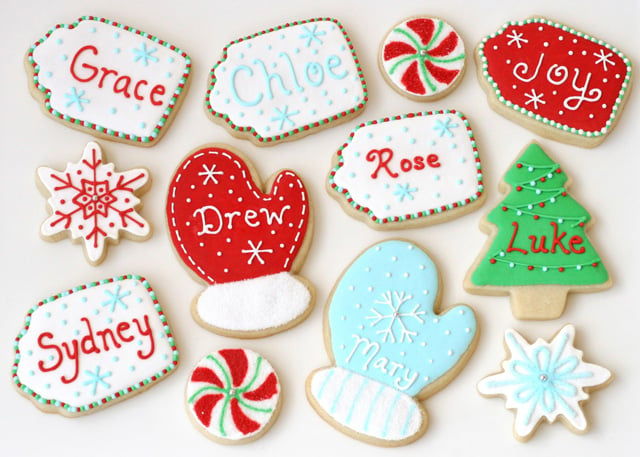 I think everyone loves a little gift with their name on it!  I packaged these cookies as little gift toppers for my nieces and nephews a couple years ago.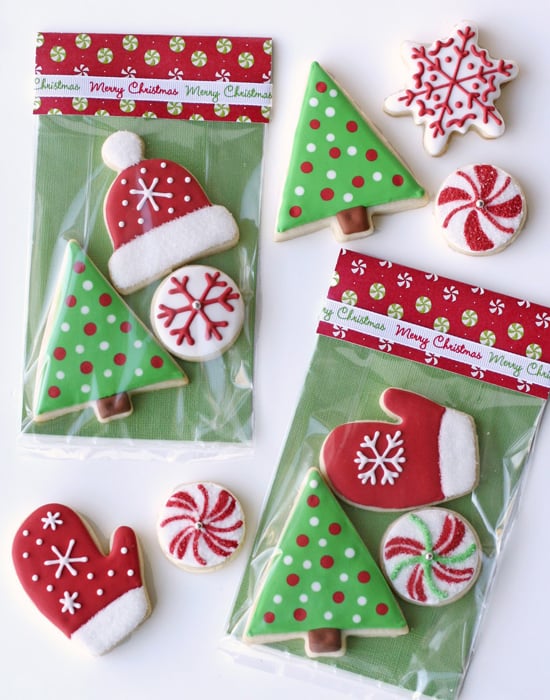 After you've put a lot of time and love into a set of decorated cookies, packaging them with care is the perfect finishing touch!  One of my favorite ways to package one large cookie, or a few little ones is shown above, and I have a full blog post on this Christmas Cookie Packaging.
I also have an additional blog post that shows several other Cute and Creative Cookie Packaging ideas.
Do you see cookie set that really speaks to you?  Which is your favorite?