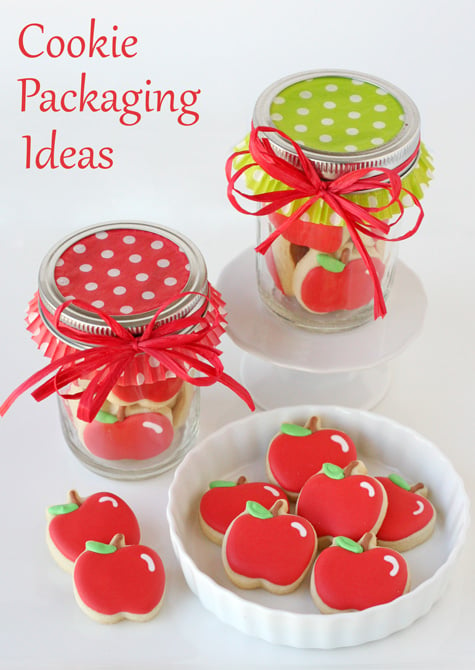 Cookie decorating is a hobby I thoroughly enjoy!   But the activity of baking and decorating cookies can be quite time intensive.  If I am going to spend several hours decorating special cookies, I think it's worth a little extra time and investment to package them in a way that really shows them off!  Some thoughtful packaging can turn a few small cookies into a really beautiful gift.
I often package cookies in cellophane bags, as I've shown HERE and HERE, but today I wanted to share a few other options.  I've included links to each of the different elements I've used, and I hope these ideas will spark a few of your own as well!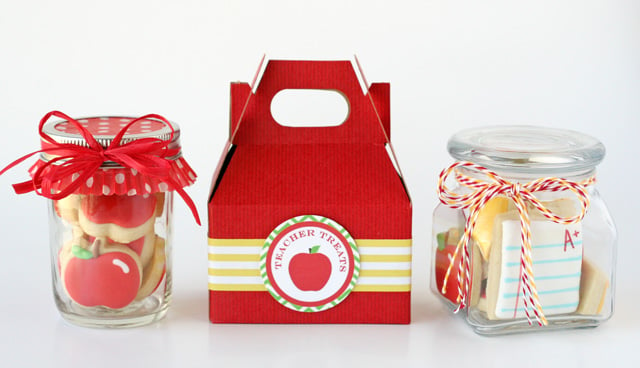 (Above, left)- Mini cookies in an 8 oz. mason jar (I usually buy the jars at Wal-Mart, but there are several on-line sources, such as Kerr,  The Jar Store, or Specialty Bottle).  I used a cupcake liner (flatten slightly with my fingers first) on top of the jar lid, then screwed on the jar ring.
(middle)- Mini cookies in small red gable boxes (similar available from Kara's Party Ideas), finished with paper ribbon from Paper Jacks, and a free printable label from Shindig Parties (as featured on Lil Luna).
(right)- Mini cookies in a small jar (from Wal-Mart), finished with bakers twine (from The Twinery).

(Above)- Cookies in cookie boxes from BRP Box Shop.  I was happy to be included as a "cookie expert" to help advise BRP in designing boxes just for cookies.  The end results are boxes that I think you'll find lots of uses for!  The box shown above is the 7″x 4 1/2 " size, perfect for a small gift.  Normally, I would put the cookies in small clear bags before arranging them in the box, but if the cookies are going to be enjoyed right away, then laying them directly in the box (on some crinkle paper) should be fine.
(Above, left & right)- Mini cookies in 8oz. mason jars (as described in an above photo).
(middle)- Mini cookies in a polka-dot favor box (from Shop Sweet Lulu).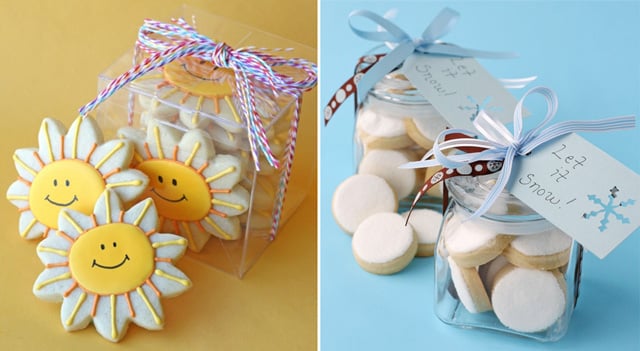 (Above)- These cookies are from previous post, Smiling Sunshine Cookies, in a box (from Garnish), and Easy Snowball Cookies, in a jar (from Wal-Mart).
A couple of my cookie friends have some beautiful packaging ideas too…
I love these boxed Christmas Cookies from Cookie Artisan (the first "cookier" I saw using flat/stationary type boxes- brilliant!)
And these Apple Cookies in a Jar from Sweet Sugar Belle are just so cute!
Happy Packaging!