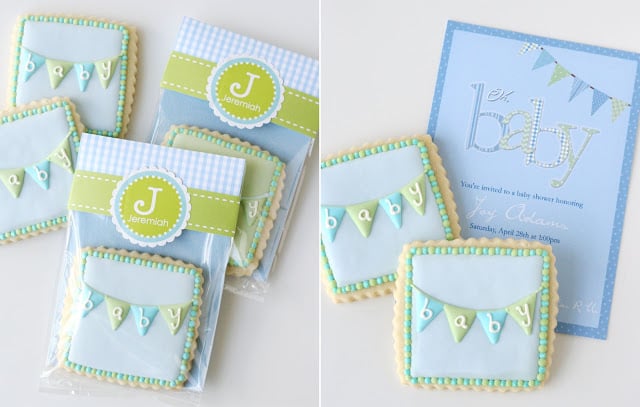 Earlier this week, I share the photos from the Vintage Bunting Baby Shower I recently hosted for my sister.  I made quite a few decorated sugar cookies for the shower… some to enjoy during the party and some for the guests to take home as a little treat.
The favor cookies were inspired by the shower invitation (shown above) from Swish Designs.  I packaged the cookies using custom labels and paper ribbon from Paper Jacks.
Below are the different sizes and styles of cookies I made for the party… two large centerpiece cookies as a special treat for my sister (the new mommy) to take home, mini circle cookies for guests to enjoy at the shower, and then 3″ square cookies that were packaged as favors.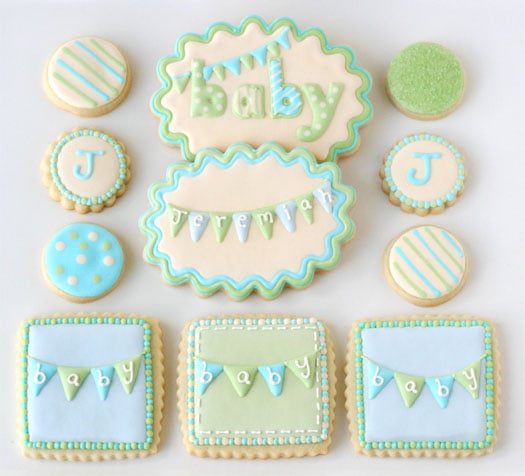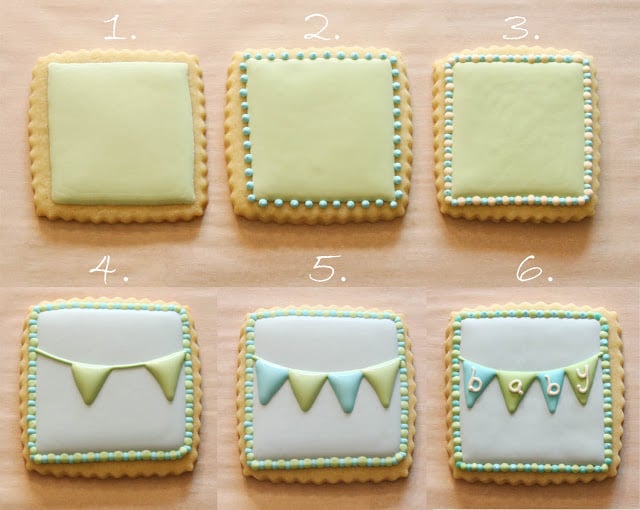 ~ How to make baby bunting cookies ~
Start with a batch of cookies made with my Sugar Cookie Recipe.
Prepare a batch of Royal Icing.
(Decorating directions as pictured above)
1.  Outline and flood the cookie, using a medium/flood consistency icing.
2.  When the base icing has set (1-2 hours), add dots of a contrasting color, piping consistency icing (I used a #1.5 tip).
3.  Allow the first set of dots to set up (about 1 hour), then add another color of dots in between the first set.
4.  When the base icing is dry (4-8 hours), use a medium (or piping) consistency icing to 'draw' the 'string' that the bunting flags hang from.  Outline then immediately fill the first color of 'flags'.  Use a medium consistency icing (just thin enough that it will settle into place, but not too thin).
5.  When the first color of flags has set (1 hour), add the second color of flags.
6.  Allow the bunting flags to dry fully (1-4 hours), then use a piping consistency icing to write the word of your choice (in this case "baby").  I used a #1 tip and ivory icing.
This general design could be altered for different themes or occasions.  The bunting could read "boy", "girl", "party" or a short name.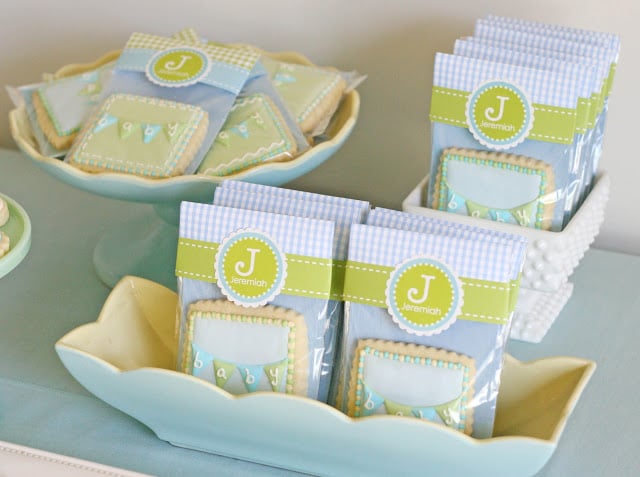 I love pretty packaging, and a bit of extra care when packaging a cookie or small treat can make it into much more than "just a cookie".  I packaged the cookies using the same general method I've shown here.   The beautiful "J" labels, as well as the paper "ribbon" accent was from Paper Jacks.
Happy Decorating & Packaging!