Don't these sunny cookies just make you smile?  =)
I recently made these happy cookies as gifts for my daughter's Vacation Bible School teachers.  As one of the teacher's myself, I know that VBS week is fun, but also exhausting!  I thought these smiling cookies might help get the week off to a nice start.
For these cute cookies all you need is…
A batch of dough using my Sugar Cookie Recipe.
And a batch of Royal Icing.
For this design I used a sunflower shaped cookie cutter.
I prepared just two bags of icing… one medium consistency yellow, and one outline (medium/stiff) consistency orange.  I used a #2 tip for the yellow and a PME #1.5 for the orange (closest substitute would be a #2).

~ How to decorate Smiling Sunshine cookies ~
1.  Draw a circle outline in orange.
2.  Fill in the orange circle with yellow.
3.  Add both yellow and orange lines around the circle.
4.  Allow the cookie to dry completely, (about 8 hours) then add the smile with a black edible marker (Please be patient and wait for the cookie to be fully dry, or the marker will poke holes in your icing)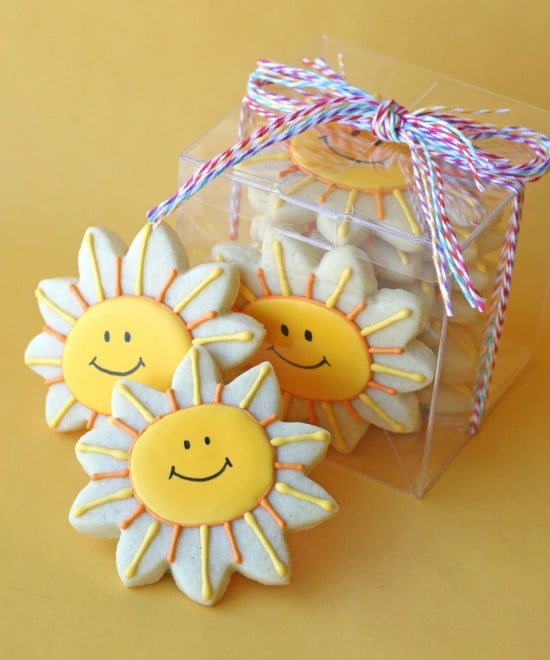 Package these fun cookies and share them with someone who needs a smile!
In keeping with the cheerful theme, I used a colorful assortment of twine from The Twinery around clear boxes (available from Garnish).
Happy Decorating and Packaging!