Christmas Marshmallow Pops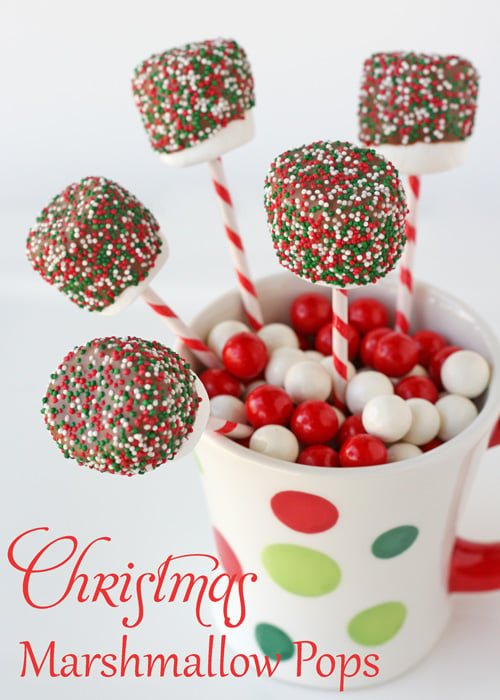 As we quickly approach Christmas, you may still be looking for a few quick treat ideas.  These simple marshmallow pops are easy to make and are perfect little treats, especially for kids.
You can serve the pops as a cute addition to a dessert table (as I did this year for our Gingerbread House Decorating Party), or wrap them up as little favors or gifts.
All you need…
One bag of large marshmallows
Chocolate
Sprinkles
Lollipop sticks
Small cellophane bags (if you want to wrap them up)
~ Directions ~
1.  Push a lollipop stick into each marshmallow.
2.  Melt some chocolate (I usually use Ghirardelli chocolate, or Merckens chocolate candy melts).  You will probably need 8-12 oz. of chocolate, depending on how many marshmallows you dip.
3.  Dip one marshmallow at a time into the chocolate.
4.  Allow excess chocolate to drip off, then sprinkle your choice of sprinkles onto the chocolate (hold marshmallow over a plate or bowl, to catch the excess sprinkles).
5.  Set the marshmallow pop (stick down) in a mug to allow the chocolate to set (you can put the mug of pops in the fridge or freezer for a few minutes)
6.  Once the chocolate is set, wrap each pop in a small cellophane bag, if desired.
A few notes on melting chocolate…
Melt the chocolate in the top of a double boiler, or in the microwave at 50% power.  If heating in the microwave, be sure to heat it for short intervals (about 30 seconds) at a time, stirring between intervals.  When the chocolate appears about 1/2 melted, remove from the microwave, and stir until fully melted.  Do not over heat the chocolate, it will burn and will not be usable.
If you plan to ship the marshmallows, or they will not be eaten for a few days, you may want to use a chocolate candy melt product, such as Merckens brand (available from several shops on-line, including Shop Bakers Nook).  Pure chocolate will begin "bloom" (develop white spots) after 3-4 days (if the chocolate has not been tempered), the chocolate candy melts usually do not have this problem.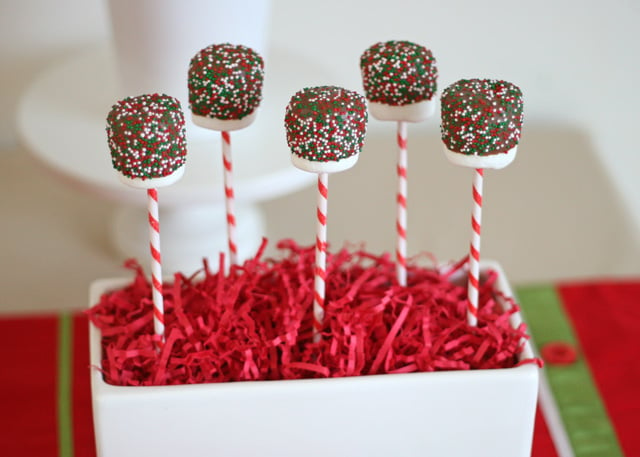 I used red striped lollipop/cake pop sticks I found this year at Cost Plus World Market.  As an alternative, you could use striped paper straws, or simply use white lollipop sticks, commonly available at any craft store.
To wrap up the marshmallow pops I used small (3″x4″) treat bags (available from most craft stores, such as Michael's and Hobby Lobby), and tied the bags with red bakers twine (from The Twinery).
I was happy to discover that 6 wrapped marshmallow pops fit perfectly in the small (7″x 4.5″) cookie boxes from BRP Box Shop.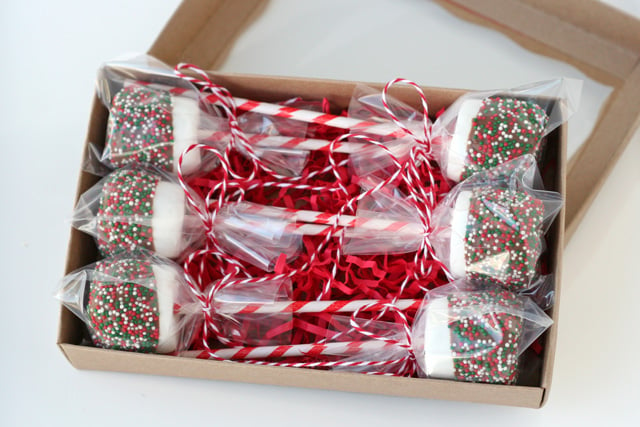 I packed up a couple boxes for friends, and finished them with some pretty labels (from Littlebeane Boutique).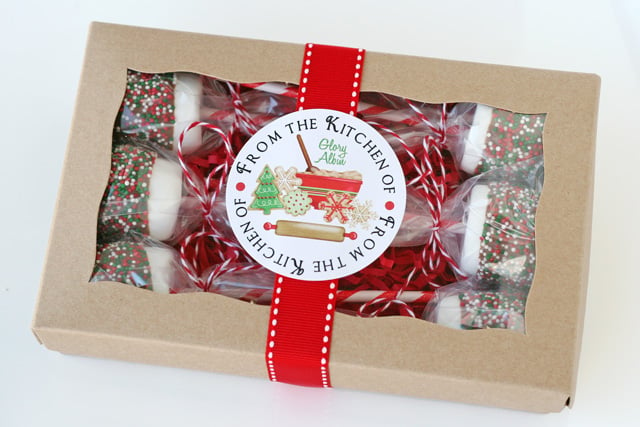 Happy treat making!