Dirt, Worms and Dinosaurs (yes, that's a dessert!)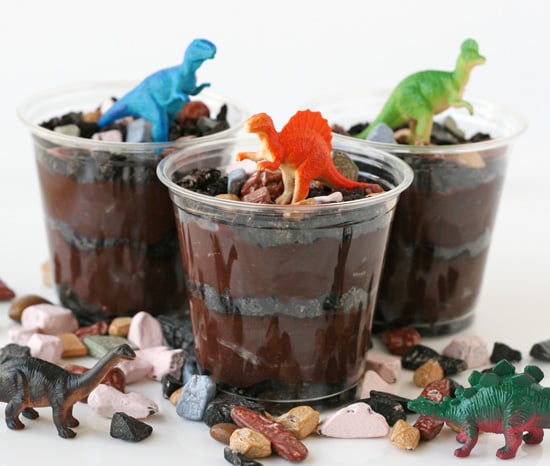 Not too many years ago when someone said they had an "internet friend", people might have pictured a hermit who posted a 20 year old photo of themself online in order to find someone to chat with.
Now… well, I hope things have changed because half of my friends are "internet friends!"
And not only do I have internet friends… so do my kids!  (don't freak out… keep reading)
My "internet friend" (and real life friend) Callye and I have spent many a late night chatting via video skype.  Often, as we're chatting, little people in her house (cute kids) run over to the computer and say "where's your girls".  More than once, Callye and my conversation has been (sweetly) interrupted with one of her cute kids, who want to chat with my kids (or vice versa).  So very quickly the skype conversation shifts from the world issues Callye and I were discussing (such as the pretty new cakes stands we just bought) to "I can roar like a dinosaur", and "look at my Hello Kitty shirt".  It's pretty fun to see our kids enjoy a technology that didn't even exist when I was 6!
This week, Callye's middle kiddo, Caleb, is turning 6.  As much as we would have loved to share in the birthday celebration in person… the states of Arizona and New Mexico are in our way!  But… since we are internet friends after all… we thought we could still celebrate over the computer!
Caleb loves dinosaurs, so I knew a treat in his honor needed to include dinos.
Here's a simple birthday treat from my girls to their friend Caleb…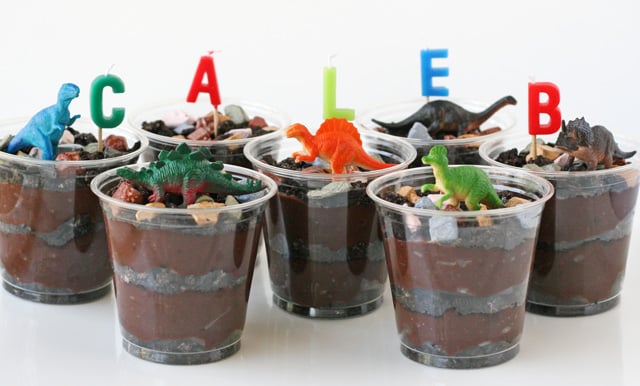 I prepared a long standing kid favorite "worms and dirt", added chocolate rocks and some toy dinosaurs.  Super simple, super yummy.
All you need to make these treats is….
Chocolate pudding
Oreo cookies, crushed (put Oreos in a large plastic bag, and whack them with a rolling pin)
Gummy worms (if desired)
Chocolate rocks (I bought these at my local grocery store)
Toy dinosaurs
Directions:
Prepare the chocolate pudding (as directed by the package).
Put a layer of crushed oreos in the bottom of your serving dishes.  Add a layer of pudding.
Add another layer of crushed oreos, lay a gummy worm in the "dirt" if desired.  Add more pudding.  Top with crushed oreos.
Add a few chocolate rocks, and a dinosaur toy.
(Note- Technically the dinosaur toys may or may not be food safe.  For good measure I rinsed them off in hot soapy water).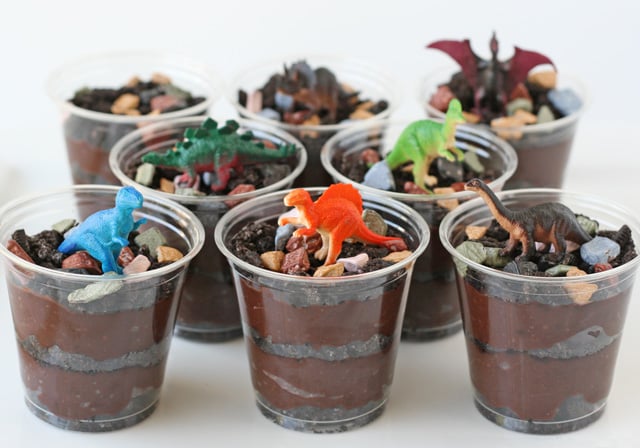 My girls and I were feeling a little sad that we were making a special dessert that Caleb would not really be able to eat… but then I remembered that his mommy is the most amazing cookie decorator around, so I knew he would have some very special treats of his own!
Check out the fun Dinosaur Cookies Caleb's mommy, also know as Sweet Sugar Belle, made.
And another "internet friend"  (and real friend) wanted to celebrate cross country with us, Lisa of the Bearfoot Baker made these special Dinosaur Cookies for Caleb.
Happy birthday sweet Caleb!