Banana Cake with Cream Cheese Frosting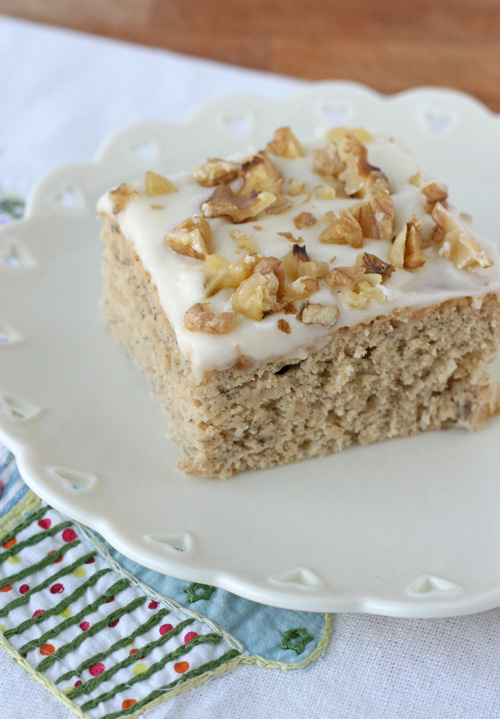 I struggled a bit with the title for this post.  I wanted to title it "Amazing Banana Cake…" or "Delicious Banana Cake…" or "Amazingly Delicious.."  In the end, I left the title simple and to the point, but let me add here… this banana cake is amazing, it's delicious, and it's quite easy to make!  Go now and put your bananas in a paper bag- so they'll ripen faster, and then you can make this cake!
I experimented with several recipes before settling on the ingredients and proportions listed below.  I was so happy when I tasted the first slice of this cake!  Then I "sampled" a couple more slices, just to make sure they were equally good!  This cake is sweet, fluffy, moist and flavorful.
To answer the question… "what's the difference between banana cake and banana bread?", this cake is similar in flavor to a wonderful banana bread, but lighter and fluffier.   And certainly, the addition of delicious cream cheese frosting makes this recipe sweeter, and more decadent than banana bread.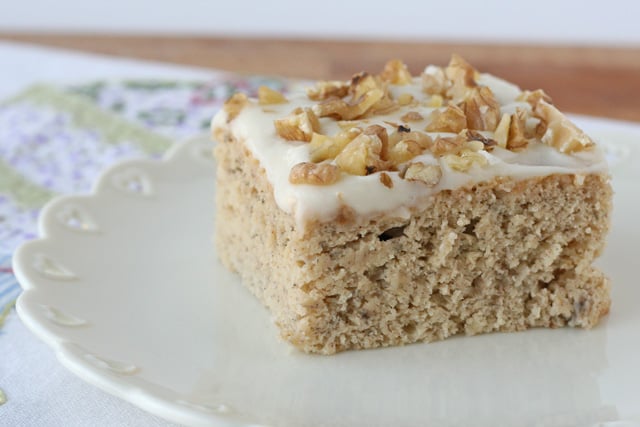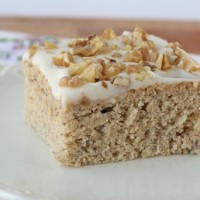 Banana Cake with Cream Cheese Frosting
Yield: 9 moderate sized slices
This cake is easy to prepare and is a delicious way to use over ripe bananas.
Ingredients:
Banana Cake
3/4 cup sugar
1/2 cup sour cream
2 eggs
3 tablespoons melted Challenge butter
2 mashed (over ripe) bananas (about 3/4 cup)
1 1/2 teaspoons vanilla extact
1 1/2 cups flour
1/2 teaspoon cinnamon
1/4 teaspoon salt
1/2 teaspoon baking soda
1 teaspoon baking powder
Cream Cheese Frosting
1/2 block (4 oz.) cream cheese
2 tablespoons butter, softened
2 cups powdered sugar
1 teaspoon vanilla
2 teaspoons milk or cream, if needed to thin frosting for easy spreading.
1/4 cup chopped, toasted walnuts (optional)
Directions:
Preheat oven to 375*F.
Grease an 8"x8" pan (with butter or non-stick cooking spray).
Prepare cake-
In a large bowl, whisk together sugar, sour cream, eggs, melted butter, mashed banana and vanilla. Whisk (can be done by hand, or with electic mixer) until fully combined.
Add flour, cinnamon, salt, baking soda and baking powder, and stir with whisk or spoon until fully combined and smooth.
Pour batter into prepared pan, and bake at 375*F for about 30 mintues (check after 25 minutes). Bake until a toothpick inserted in the center comes out clean, or with a few moist crumbs, but no wet batter.
Cool (in pan) on wire rack.
Make the frosting-
In the bowl of an electic mixer, or with an electic hand mixer, beat butter and cream cheese until smooth. Slowly add powdered sugar, then add vanilla. Add milk or cream, if needed to thin frosting for easy spreading.
Spread frosting onto cooled cake (make sure the cake is cool, or the frosting will melt).
Top cake with chopped, toasted nuts, if desired.
This recipe as is makes an 8"x8" cake. I'm sure you could use a 9"x9" pan if desired, but you will likely need to reduce the baking time a bit. If you'd like to make an 9"x13" cake, I'd recommend increasing the recipe by 1.5 or doubling the recipe. You will have to adjust the baking time accordingly. The cake is done when a toothpick inserted in the center comes out clean, or with a few moist crumbs, but no wet batter.
Recipes Source- Glorious Treats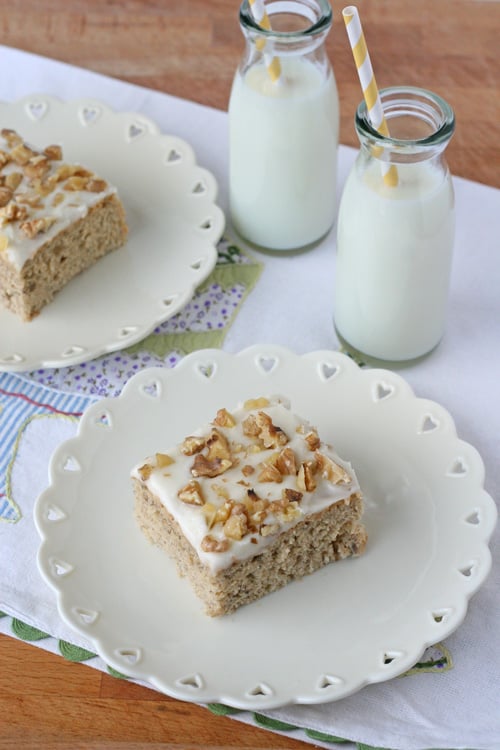 This cake comes together quite easily, and would be perfect to prepare and pop in the oven right before dinner, then it can bake and cool during dinner, and be frosted and enjoyed for dessert.  If you're lucky, there may be a piece or two left over to enjoy in the morning!
Happy baking!