S'mores Rice Krispies Treats {Recipe}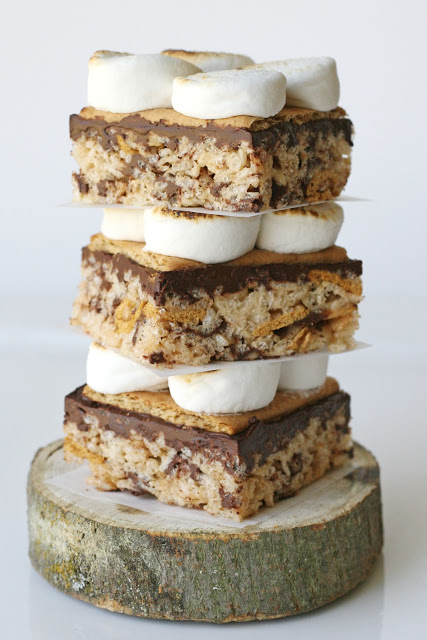 I'm back with this week's final instalment of "S'mores Week".  So far I've shown you…
Graham Cracker S'mores Cookies
and now… possibly my favorite of the bunch,
S'mores Rice Krispies Treats!!
As I was making these, my husband came in the kitchen and asked what I was making and I said "I don't know".  I just knew I wanted to make a really delicious, gourmet version of Rice Krispies treats that included all the flavors of s'mores.  I am SO happy with the final results and I think this is one of the most delicious things I've ever made!!  (And if you haven't noticed… I've made a few delicious things before!)  A good friend stopped by while I was photographing these and I gave her one, although she mentioned she wasn't a big fan of rice krispies treats.  Well, after a couple bites she said she was really sorry I had given her one… because they were SO good, now she was going to have to make some!  =)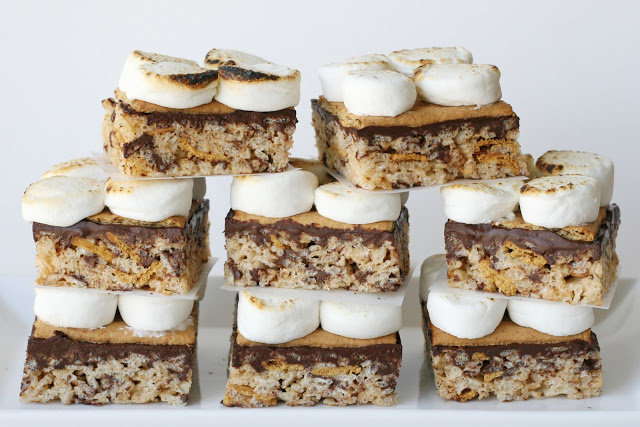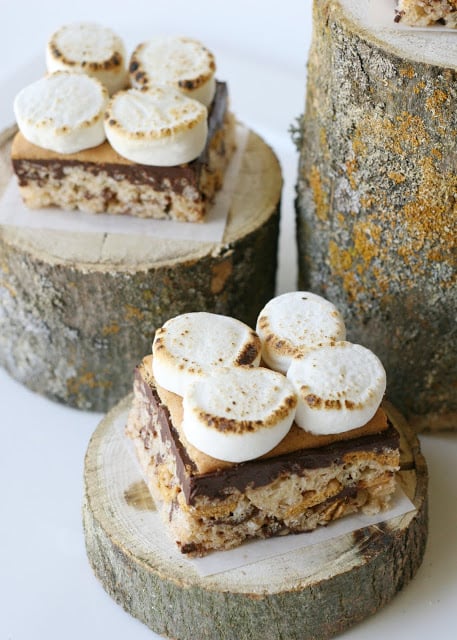 S'mores Rice Krispies Treats
(Recipe by Glorious Treats)
3 Tablespoons butter
4 cups mini marshmallows (or about 40 regular/large marshmallows)
5 cups Rice Krispies cereal
1 cup Golden Grahams cereal
1/2 cup mini chocolate chips
(Top layer)
4 oz semi-sweet chocolate (or about 1 cup chocolate chips)
10 full sized graham crackers, broken in half (slightly more or less, depending on the pan you use)
40 large marshmallows (approximately)
Directions-
Butter (or spray lightly with cooking spray) a 9″x13″ pan.
In a large microwave safe bowl, place 3 tablespoons of butter (cut into a few pieces), and 4 cups of marshmallows.  Microwave about 3 minutes (stirring after 2 minutes)  watch the microwave, cooking times may vary.  Cook in microwave until butter and marshmallows are melted.  Stir gently.
Add rice krispies and golden grahams cereal and stir to combine. (try using a plastic or silicone spatula sprayed with a bit of cooking spray).
Add mini chocolate chips, stir quickly, and immediately pour mixture into prepared 9″x13″ pan.  Press into pan (with spatula).
Melt semi-sweet chocolate (or chocolate chips) in a microwave (at 50% power), in 30 second intervals, stirring between intervals.  Heat until just melted.  Spread chocolate on top of rice kripies treats in pan.
While the chocolate is still warm, lay graham cracker squares on top, leaving a tiny bit of space between each cracker (as shown below).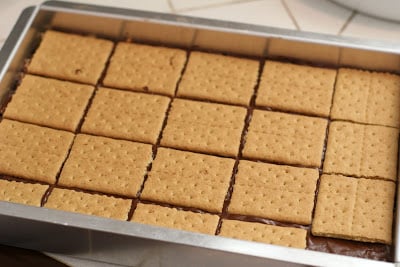 Put entire pan of "treats" in the fridge or freezer (or a cool location) until the chocolate has set (about 10-15 minutes).  Cut into squares with a sharp knife, using the lines between the graham crackers as a guide.  Place treats on a large baking sheet, separated slightly.
Cut large marshmallows in half, (just a couple at a time), and place cut side down onto graham crackers, (as shown below).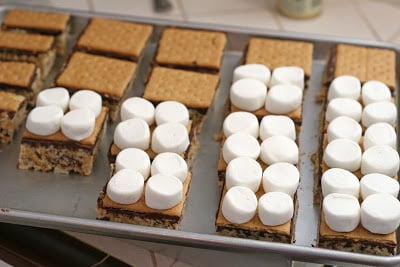 When all the graham crackers are topped with marshmallows (ignore my photo, I ran out of marshmallows), use a kitchen torch (or propane torch) to toast the marshmallow.  If you don't have a torch, this would be a fun reason to get one… OR, you can toast the marshmallows in the oven.  Preheat your oven to broil.  Place baking sheet of treats in the oven, leaving the oven door slightly ajar.  Broil about 30 seconds, watch them, they can burn quickly!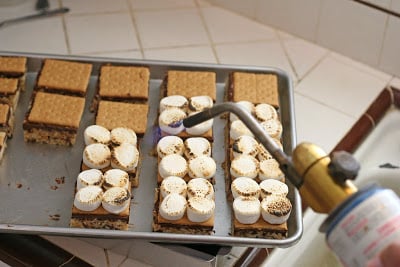 Allow to cool, then enjoy!
(Or package in an airtight container for up to two days… but seriously, just eat them now!)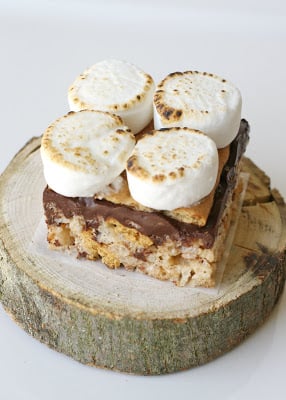 And thanks to my dad for not thinking I was (too) crazy when I asked him to cut me some logs to "take photos of"  =)
I'm adding these treats to Tidy Mom's I'm Lovin' It post.