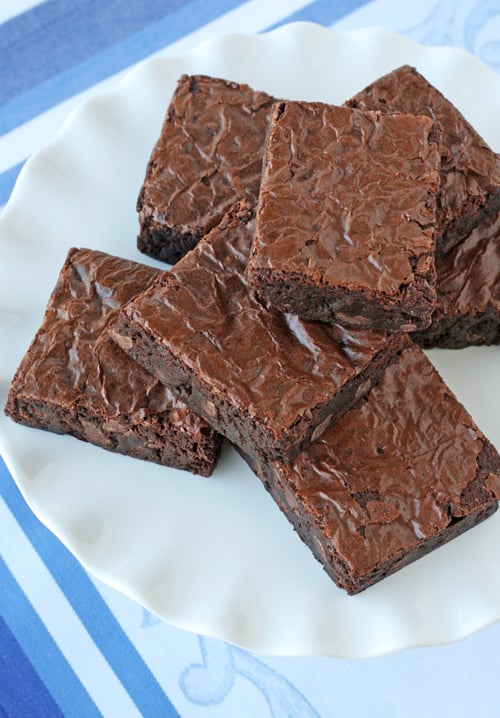 I guess I need to start with the title of this post, Perfect Homemade Brownies… yes, I know the word "perfect" is quite presumptuous. Certainly tastes and opinions will vary quite a bit from person to person…. so it would be impossible for everyone to agree on what is "perfect". I guess that's one of the luxuries of being the author of a blog… I can pick what is perfect to me! =)
I recently asked the question on my Glorious Treats Facebook page, "…what make a brownie perfect to you?" Although there was quite a range of descriptions (and I love how passionate you all are about brownies!), the vast majority included the word "fudgy" in your description. If you are one of those "fudgy" brownie lovers, these are for you! If you like "cakey" brownies, you may still want to give these a try… they may have just enough (flavor/texture) balance to win you over!
These brownies are rich, full of chocolate flavor, fudgy and moist (without being overly dense or oily). I would describe them as "better than a boxed mix" brownies. They have very similar qualities to a great boxed mix, but a deeper flavor.
I've made (and eaten) quite a few brownies in my life. They are one of my favorite desserts. I've been searching for a perfect homemade brownie recipe for a while, and I believe I've found it!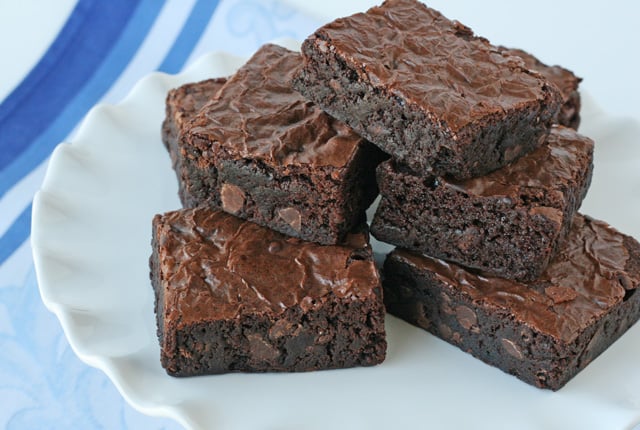 Enjoy these delicious brownies with a glass of milk, or scoop of vanilla ice cream. They are sure to be a family favorite!
More Brownie Desserts To Try
How to Make Homemade Brownies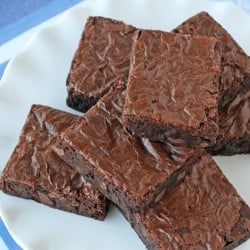 Perfect Homemade Brownies
Rich, moist and fudgy, without being overly dense.
Ingredients
4

eggs

1 1/4

cups

unsweetened cocoa powder

1

teaspoon

salt

1

teaspoon

baking powder

1

teaspoon

espresso powder

optional

1

tablespoon

vanilla extract

1

cup

unsalted butter

2 sticks

2 1/4

cups

sugar

1 1/2

cups

all purpose flour

1 1/2

cups

chocolate chips

semi sweet
Instructions
Preheat oven to 350*F and lightly grease a 9″x13″ pan. If desired, line bottom of pan with parchment paper.

In a large bowl, add 4 eggs, and beat with cocoa, salt, baking powder, espresso powder and vanilla. Stir until fully combined and smooth.

In a medium sized bowl, melt butter in the microwave (or melt in a small sauce pan on the stove). When melted, add sugar, and stir to combine.

Add warm butter/sugar mixture to the egg/cocoa mixture, stiring until smooth. Make sure the butter mixture is warm, but not too hot, or it will scramble your eggs.

Add the flour and chocolate chips to batter and stir until fully incorporated.

Spread batter into prepared pan, and smooth as needed.

Bake brownies about 30 minutes. Test for doneness by inserting a toothpick in the center of the brownies and making a little divit so you can see the center a bit. You should find moist crumbs, but no wet batter.

Cool pan on wire cooling rack.
Notes
For the best flavor, use the best quality cocoa powder you can. The original recipe calls for dutch cocoa, I used natural (not dutch) cocoa with great results, so I imagine you could use either.
The addition of the small amount of espresso powder will not impart any coffee flavor in the final brownies, it simply enhances the chocolate flavor.
If you'd like the chocolate chips to remain intact in the baked brownies, allow the batter to cool before adding chips.
Certainly, if you like nuts in your brownies, free free to add them at the same time as the chocolate chips.
Nutrition
Calories:
191
kcal
Carbohydrates:
28
g
Protein:
3
g
Fat:
9
g
Saturated Fat:
5
g
Cholesterol:
48
mg
Sodium:
127
mg
Potassium:
90
mg
Fiber:
2
g
Sugar:
19
g
Vitamin A:
276
IU
Calcium:
23
mg
Iron:
1
mg