Have you ever had a French Macaron?  Macarons are one of those treats that are memorable enough that you would KNOW if you've had them or not!  I enjoyed my first French Macarons a couple years ago, when a friend shared a batch she had made.  That was all it took to be hooked!  French Macarons have such a unique combination of textures (crisp, chewy and smooth) and come in such an endless array of flavors!
Not only are the flavor options endless with French Macarons, but so are the colors and shapes!  Mindy Cone (of Creative Juice) has just published the most beautiful and inspiring book FULL of creative ideas for Macarons!   Her book, Gourmet French Macarons
 is loaded with full page photos (taken by Mindy herself!) and all the instructions for creating the most adorable, beautiful and fun Macarons ever!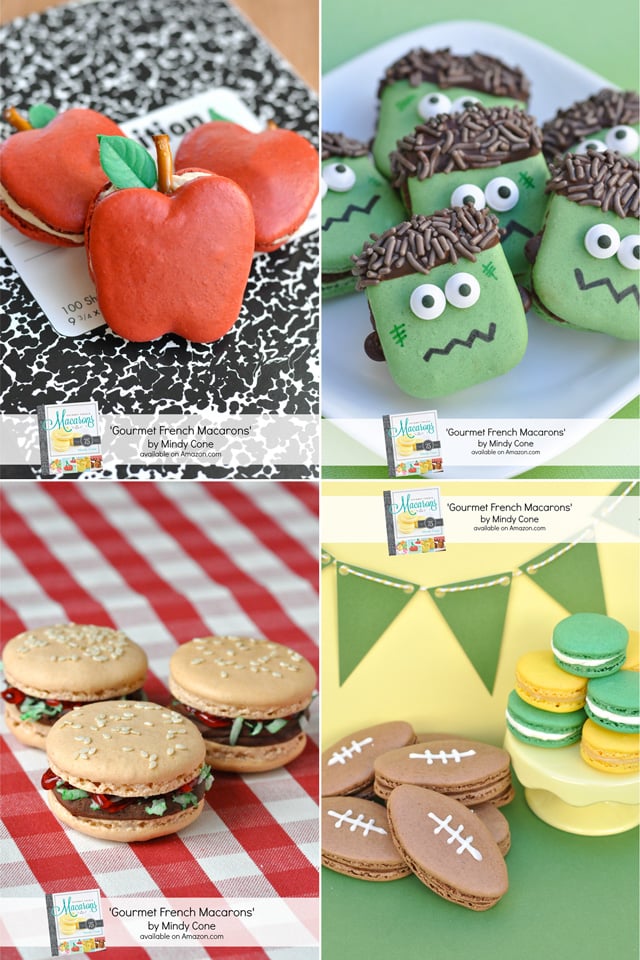 Aren't they amazing?
These are just a few of the over 75 creative ideas packed into Gourmet French Macarons!
And you don't have to worry about perfecting these fun shapes on your own… the book includes a CD with all the printable templates you'll need!
Feeling inspired already?  I know I am, after looking through this fun book!
Gourmet French Macarons
is available now on Amazon, but one lucky Glorious Treats reader is going to win a copy!
Would you like to win a copy of this beautiful book?
To enter…
Simply leave a comment below sharing if you've ever had a French Macaron (and if so, what's your favorite flavor)?
Details - One entry per person.  Giveaway ends Wednesday, October 9th, 9pm Pacific.  Open to U.S. residents only.  Winner will be chosen using Random.org.  Book for giveaway provided by Mindy Cone.
All images courtesy of Mindy Cone/ Creative Juice.
Keep up with Mindy and all of her pretty and creative projects on Creative Juice, Facebook and Twitter.
*********************************** Giveaway Closed ***********************************
Winning comment #18- Doreen