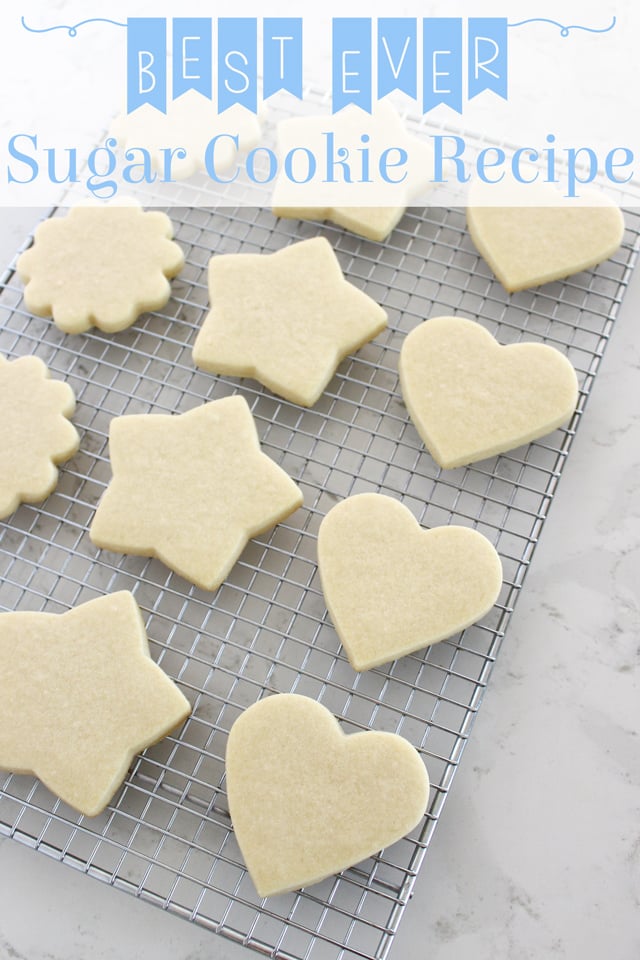 Truly the most PERFECT Sugar Cookie Recipe ever!
This is one recipe you'll want to be sure to save, treasure and use again and again!
This recipe produces sugar cookies that are soft and flavorful, easy to cut out, and the baked cookies keep their shape!  Hooray!
This recipe was actually the second recipe I ever posted on my site… way back in 2010.
But since then I've posted hundreds of other delicious recipes and it's gotten a little buried.
As we head into a busy holiday baking season I thought it was the perfect time to show off this tried and true favorite!
This is the recipe I've used for most all of the pretty decorated cookies I've shared over the years and it's truly the best sugar cookie recipe ever!
In fact, I would love to know how many times in my life I've made this recipe… I'm guessing it's well over 1,000!
PIN IT NOW to save for later!
This Sugar Cookie Recipe is delicious as is, but is also a great base to play around with extra flavor!
Here are a few of my favorite variations…
Sprinkle Sugar Cookies (and a Christmas version)
I'll walk you through my process for making perfect cut-out cookies, and then there is a full printable recipe at the end of this post.
1.  Prepare the dough as directed (in the recipe below).  Lay out a large piece of plastic wrap onto a clean, smooth counter.  If you have tile counters, you can do this on a large cutting board or marble slab.  Grab about half of the finished dough from the bowl and knead by hand just a bit to create a nice smooth ball.  Set the ball of dough on top of the plastic wrap, and press down to flatten a bit.
*An alternative to rolling the dough out on plastic wrap would be to lightly flour your work surface, and roll out the dough directly on the floured counter.  I've done this many times successfully, but the updated process I'm showing in this post is simpler, neater and the finished cookies are generally smoother (because little bits of flour and extra pockets of air are not added during the rolling process).   My original Sugar Cookie Recipe post shows the more traditional method if you prefer.