Whatchamacallit Rice Krispie Treats are so incredibly delicious and take just minutes to make! These delightful treats take the beloved rice krispie recipe to a whole new level with the addition of caramel, peanut butter and chocolate – all the flavors you would find in a Whatchamcallit candy bar!
Love rice krispie treats? Make sure to try these favorites: Perfect Rice Krispie Treats, Cookies and Cream Rice Krispies Treats and Almond Joy Krispie Treats!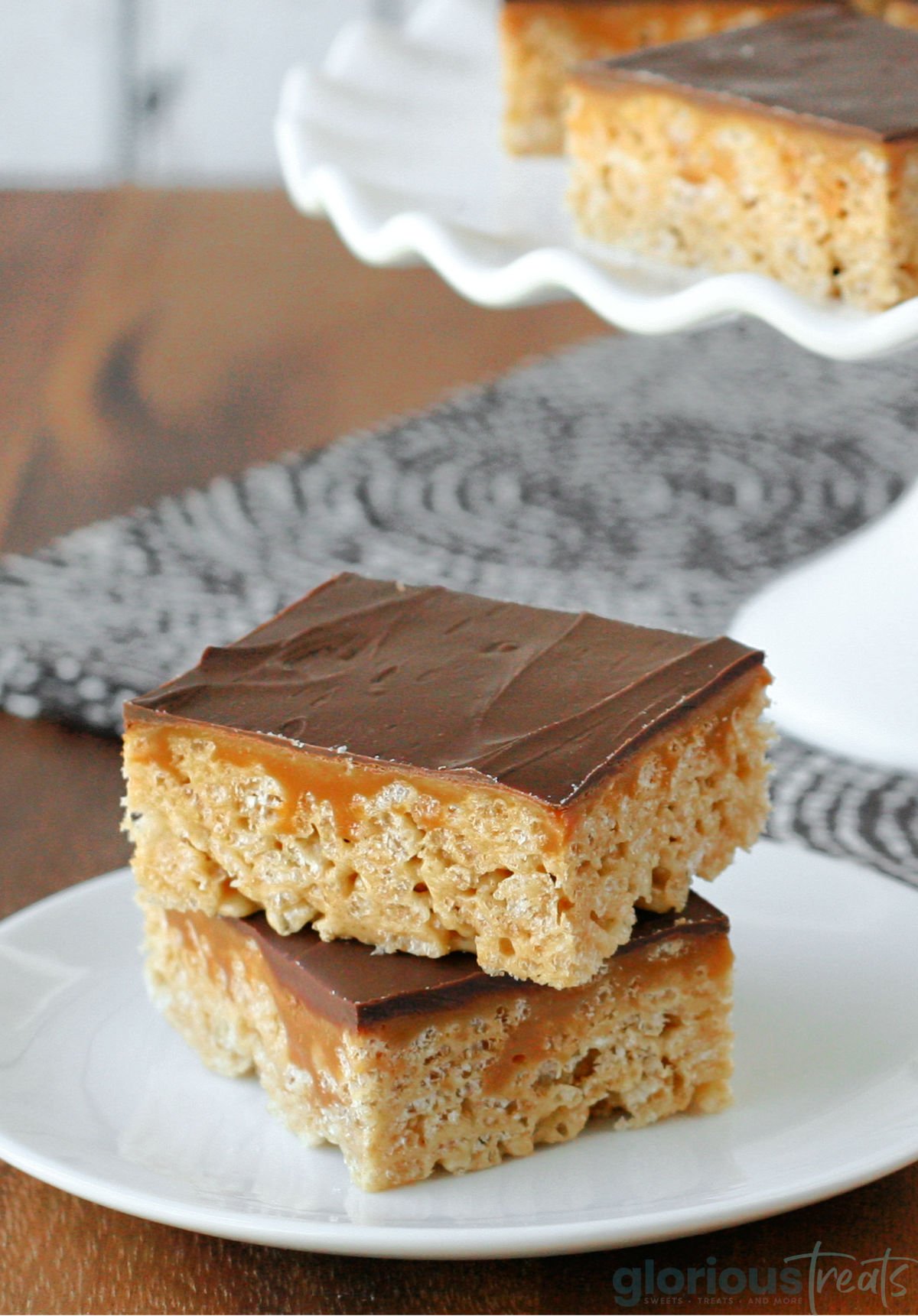 Rice Krispie Treats are one of those desserts I don't think I'll ever get tired of.  The original recipe is delicious on it's own, but I really love how many amazingly delicious variations there are to think up!  I've made lots of yummy and fun Rice Krispie Treat variations before, but this chocolate, caramel and peanut butter version is going to be added to my list of favorites!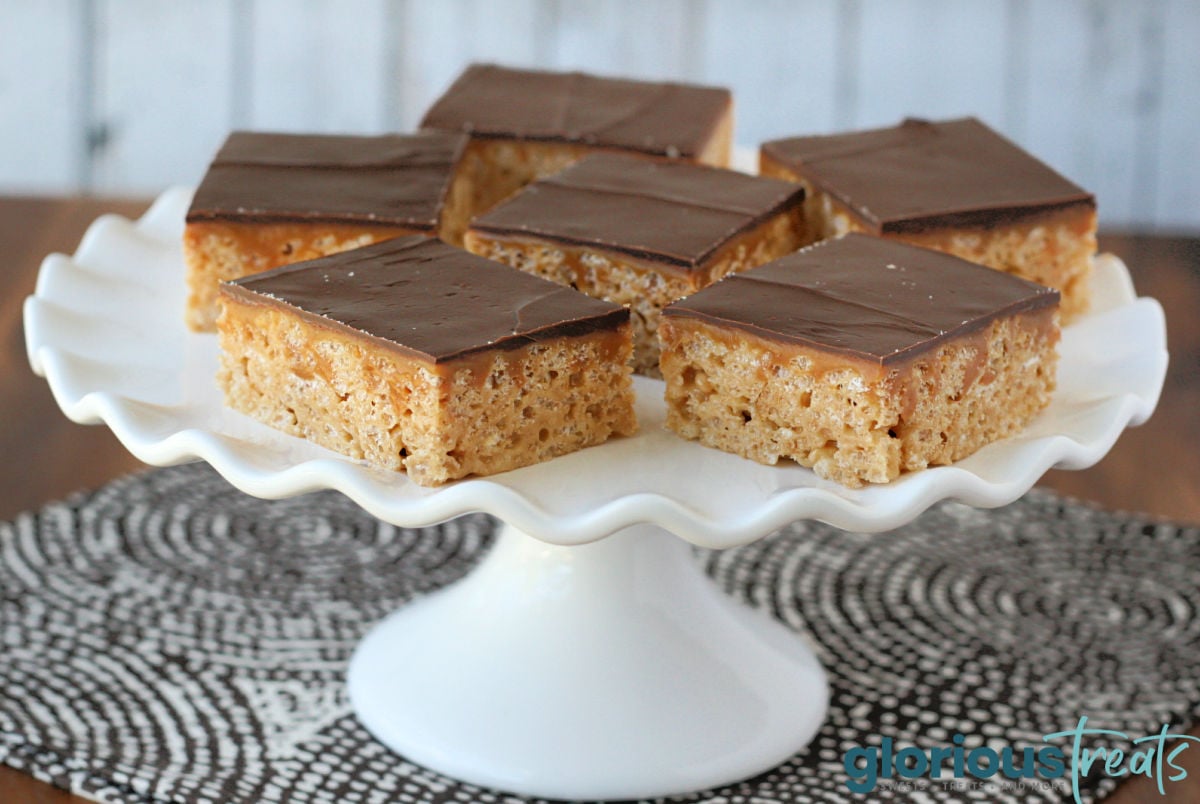 If you're curious about the name, these Whatchamacallit Krispie Treats were inspired by the Whatchamacallit candy bar. A Whatchamacallit candy bar is a "peanut flavored crisp with a layer of caramel, and covered in milk chocolate." These Whatchamacallit Krispie Treats have all the same flavors and textures of the delicious candy bar…. and you can make them at home anytime you want! In fact, I like this Krispie Treat version even better than the candy bar!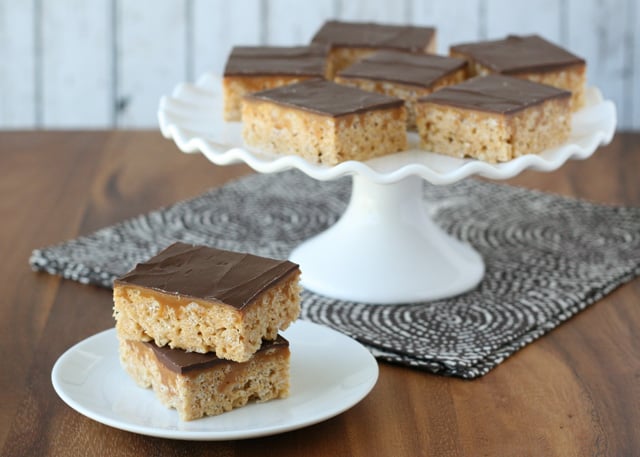 Chocolate, caramel and peanut butter in a crispy, chewy treat… you're going to want to make these soon!
More Rice Krispie Treats To Try
How to Make Chocolate Caramel Peanut Butter Krispie Treats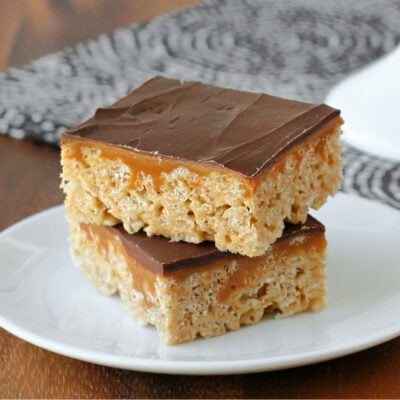 Chocolate Caramel Peanut Butter Krispie Treats (a.k.a. Whatchamacallit Krispie Treats)
Rich and delicious Rice Krispie Treats inspired by the Whatchamacallit candy bar.
Ingredients
Instructions
Prepare a 9″x13″ baking pan by spraying lightly with non-stick cooking spray, and set aside.

Get two very large bowls. Into one bowl, add the rice cereal, and set aside.

Into the other bowl, add mini marshmallows and butter. Microwave for 2-4 minutes, or until the marshmallows are very soft and puffy.

While the marshmallows melt, measure out the 1/3 cup peanut butter and set aside.

Carefully remove the bowl of marshmallows from the microwave and stir until the (now melted) butter is incorporated.

Working quickly, add 1/3 cup peanut butter to melted marshmallows and stir.

Pour the peanut butter/marshmallow mixture over the bowl of rice cereal and use a rubber spatula (sprayed with non-stick spray) to quickly stir and combine the ingredients.

As soon as the cereal has been coated with the mixture, pour/scoop the rice krispies mixture into the prepared pan.

Use the spatula to press the mixture into the pan and flatten and even out as needed. Set aside to cool.

While the treats cool, in a small saucepan add caramel bits and milk.

Heat over medium heat until melted, stirring as needed.

Pour melted caramel over rice krispie treats, as evenly as possible.

In a small bowl, add chocolate chips and melt at 50% power in the microwave until almost melted (in 30 second intervals). Stir until melted and smooth.

Pour chocolate over caramel layer, using an offset spatula to spread, as needed.

Allow to cool about 30 minutes before cutting.

Store treats covered and in a cool place (on the counter) up to two days.
Notes
If you can not find the caramel bits (usually sold near chocolate chips), feel free to use individually wrapped caramels (such as Brachs).
For the peanut butter, I used natural peanut butter (with no added sugar).
Nutrition
Calories:
211
kcal
Carbohydrates:
36
g
Protein:
3
g
Fat:
7
g
Saturated Fat:
3
g
Cholesterol:
2
mg
Sodium:
109
mg
Potassium:
119
mg
Fiber:
1
g
Sugar:
23
g
Vitamin A:
558
IU
Vitamin C:
5
mg
Calcium:
30
mg
Iron:
3
mg