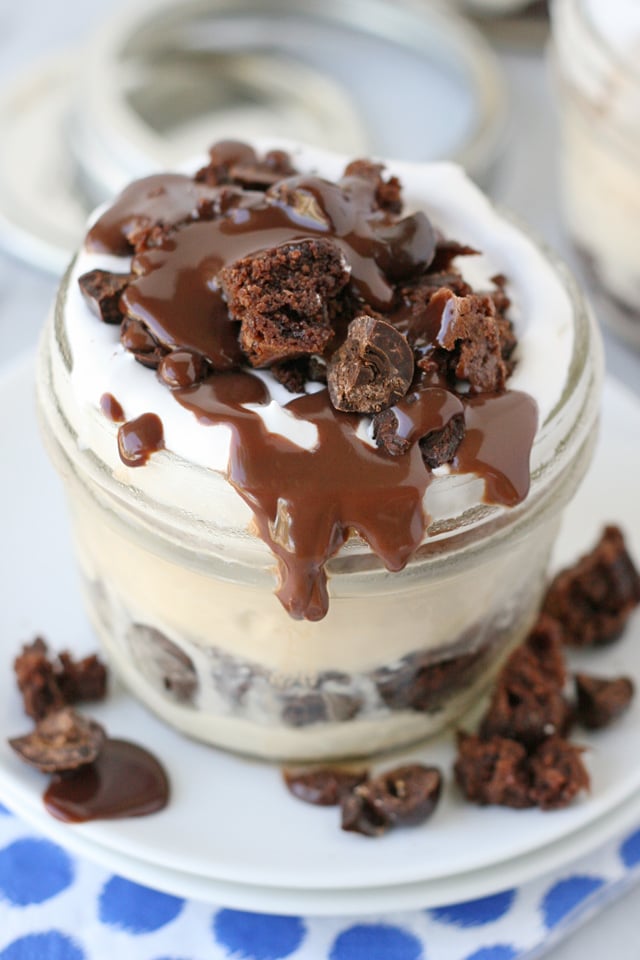 This Mocha Brownie Ice Cream Dessert just became my new obsession!
In fact, knowing that I still have a couple of these beauties in my freezer makes it very difficult to write this post without taking a snack break! =)
This simple, but incredible dessert includes a layer of brownie, then a layer of coffee ice cream, chocolate fudge sauce, whipped topping, then a little more brownie and some chocolate covered espresso beans for good measure!
If you love chocolate and coffee, this just might be your new favorite treat!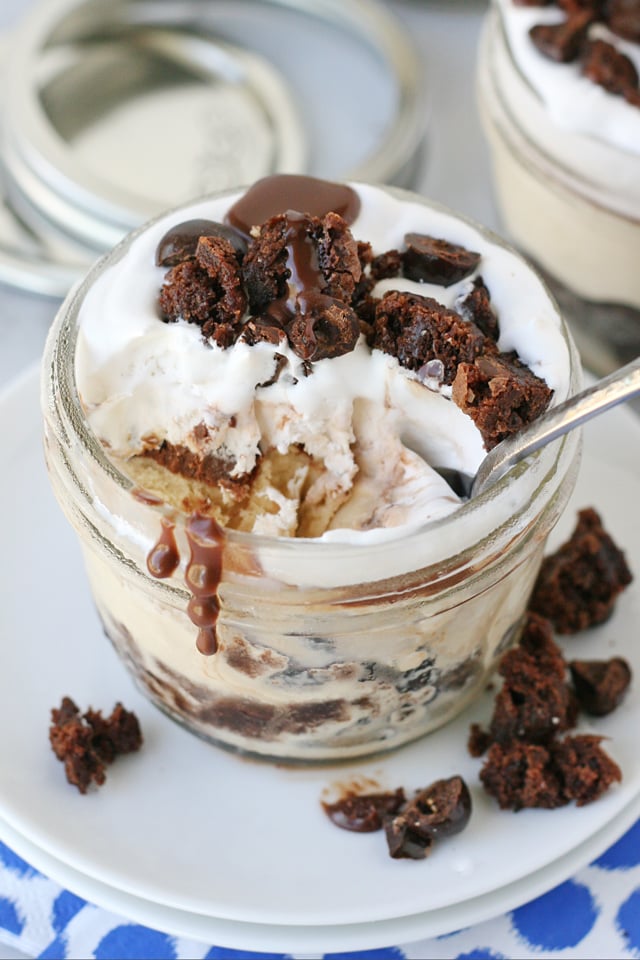 This recipe is based off of a yummy Mint Chip Brownie Ice Cream Dessert I posted a couple summers back. In fact, as you can see with the mint version, this recipe could be made in a 9″x 13″ (or 9″x 9″) pan if you find the jars too tedious for your purpose.
I love the presentation with the small jars, and I really like that they can be made ahead of time, kept in the freezer and then they're ready to serve with no cutting at the last minute.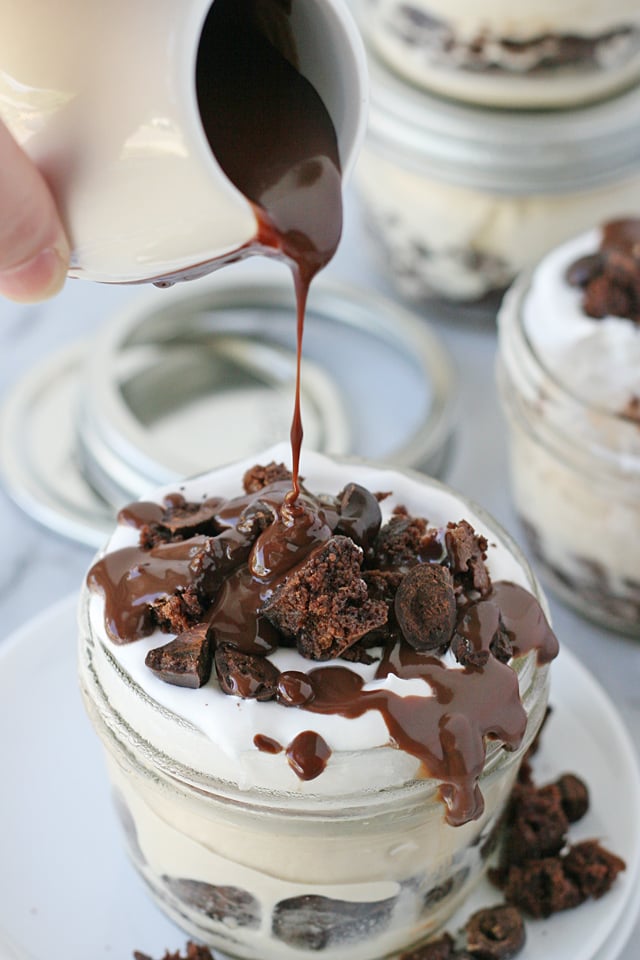 The combination of flavors and textures in this Mocha Brownie Ice Cream Dessert make it so special!
You'll notice there are lots of extra little "notes" on the recipe below.
It's truly a very simple recipe… a layer of brownie, a layer of ice cream, a layer of chocolate sauce, a layer of whipped topping… but there are lots of options from there.
You can make this dessert as shown (in small jars) or in most any size baking pan (as long as you adjust the ingredient amounts accordingly).
Also, the total freeze time will vary based on how warm the ingredients are when you assemble the dessert, how cold your freezer is, and the size of the dessert (the small jars will firm up faster than a large pan of dessert).
As always, using quality ingredients will produce the best results. I've listed the brands I used in the recipe below.
Mocha Brownie Ice Cream Dessert Recipe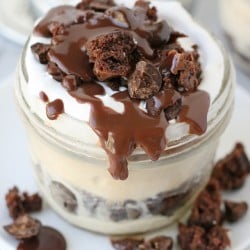 Mocha Brownie Ice Cream Dessert
A layer of brownie, topped with coffee ice cream, fudge sauce and whipped topping... this is a simply amazing frozen treat!
Ingredients
1

box

brownie mix

designed for a 9" x 9" pan, plus ingredients required as directed (I used Ghirardelli brand)

1

pint

coffee ice cream

or more, see notes - I used Tillamook Stumptown Coffee Ice Cream

3/4

cup

semi sweet chocolate chips

2/3

cup

heavy whipping cream

whipped topping

such as cool whip or tru whip

chocolate covered espresso beans

optional garnish
Instructions
Line a 9" x 9" baking pan with parchment paper, leaving some parchment hanging over two sides, so you can easily remove the brownies after baking.

Prepare a box of brownies as directed on the box (with appropriate ingredients).

Bake in the prepared 9" x 9" pan, according to the box directions, then allow to cool fully.

Once the brownies are cool, use the extra parchment to pull the brownies up from the pan, and move to a large cutting board.

Use a circle cookie cutter to cut circle brownie pieces the appropriate size to fit inside the bottom of your jars.  I used 8oz. wide mouth jars and a 2 1/8 inch cookie cutter.  Add brownie layer to jars.

Pull the ice cream and whipped topping from the freezer and allow to soften at room temperature for 10-20 minutes, just until the ice cream is soft enough to spread.  Add a layer of ice cream on top of the brownie layer in each jar, then immediately move to freezer.  If the whipped topping is now soft enough to spread, simply set in the fridge for the time being.

While the ice cream sets up, heat the heavy whipping cream  in a bowl in the microwave just until hot, but not boiling.  Remove from microwave, add chocolate chips and allow to sit for a minute.  Stir to combine the chocolate and cream.  Set aside and allow to cool to room temperature.

When the chocolate sauce has cooled to room temperature and the ice cream layer of the desserts has firmed up, spoon a layer of chocolate sauce on top of the ice cream.  Move back to the freezer.  I made 5 jars of dessert (filled as pictured) and had some sauce leftover.  Reserve some sauce for topping the desserts just before serving.

Once the chocolate sauce has firmed up (about 10 minutes), add a layer of soft (but cool) whipped topping.  Cover jars with lids, and move back to the freezer.  Freeze desserts for at least 3 hours, or up to 5 days.

Cut up remaining bits of brownie that were left over after cutting out the circles.  Store in an airtight container.  When you are ready to serve the desserts, remove lids and add some brownie bites, a few chocolate covered espresso beans if desired, and a drizzle of the remaining chocolate sauce (warmed slightly).
Notes
Servings - The 9" x 9" pan of brownies will produce enough brownie for 9 jars, but you'll need more ice cream. I made 6 jars of dessert (as pictured) using 1 pint of ice cream.
To prepare dessert in a 9" x 9" pan - Follow directions above (skip the cutting out brownie circles). You may need more than one pint of ice cream (I'd suggest 1 1/2 pints). The chocolate sauce and whipped topping listed above should be adequate.
To prepare dessert in a 9" x 13" pan (instead of a 9" x 9" or individual jars) - Feel free to use the directions from my Mint Chip Brownie Ice Cream Squares recipe, replacing the mint ice cream with coffee ice cream.
Ingredient options -
I used Tillamook Stumptown Coffee Ice Cream and it was totally incredible, but feel free to use any high quality brand of your choice.
I used Tru-Whip whipped topping, but feel free to use Cool Whip, or homemade whipped cream if you choose. Homemade whipped cream will freeze a bit firmer than whipped topping.
Notes on prep time -
The total time it takes for the desserts to fully freeze (once assembled) will vary based on how warm you allowed the ice cream to get before adding to the jars, and how cold your freezer is. Please plan for plenty of time (several hours or overnight) before serving the desserts.
Nutrition
Calories:
570
kcal
Carbohydrates:
73
g
Protein:
7
g
Fat:
28
g
Saturated Fat:
14
g
Cholesterol:
54
mg
Sodium:
243
mg
Potassium:
228
mg
Fiber:
2
g
Sugar:
50
g
Vitamin A:
549
IU
Vitamin C:
1
mg
Calcium:
99
mg
Iron:
3
mg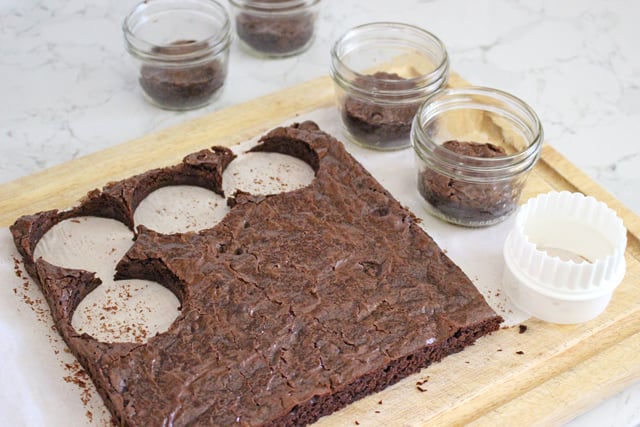 I love desserts like this that can be assembled ahead of time and are ready to serve with little or no last minute prep!
Stock your freezer with these tasty treats and you'll have an amazing dessert you can pull out for last minute guests… or just a late night snack!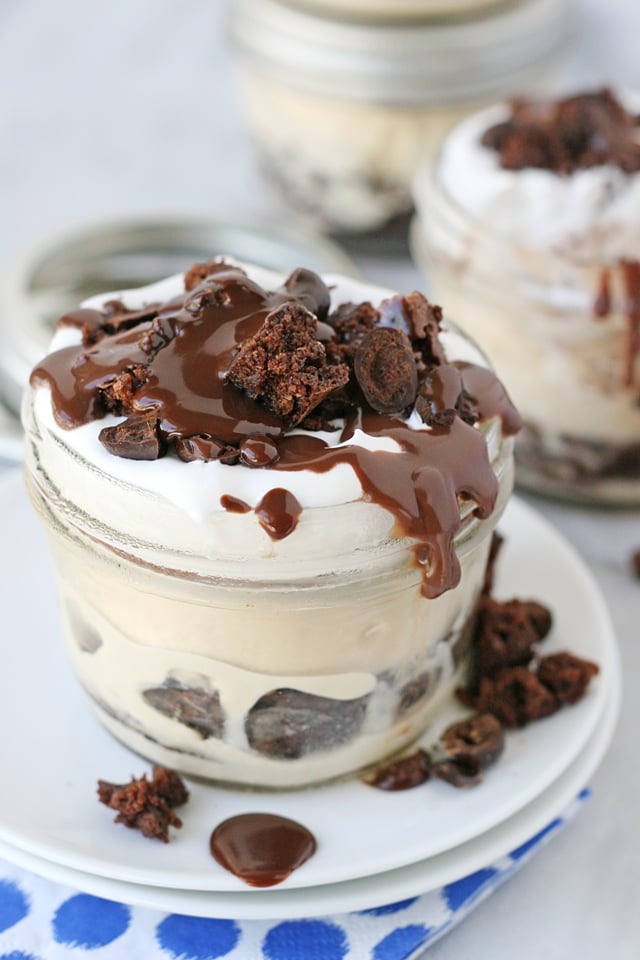 Additional supplies you may need for this recipe…
Magic Line Metal Baking Pan (this is my "secret" to nice square brownies and bars)
Chocolate Covered Espresso Beans
Affiliate shopping links provided for your convenience.