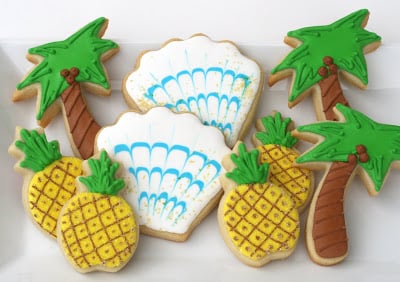 This past weekend I helped a friend set up a luau party to celebrate her 30th birthday.
(Above are some of the cookies I made for the party.  How-to's HERE)
The party had all the classic elements of a fun luau…
Hawaiian music, flower leis, bright colored hanging lanterns, shells, tiki torches, and of course lots of yummy food.
(Below is the gorgeous birthday girl, Sarah and her beau)
The menu included
chips and salsa, taquitos and fresh guacamole,
Hawaian dinner rolls, fresh fruit salad, Asian cabbage salad, rice pilaf,
tequila lime chicken wings, teriyaki chicken,
decorated sugar cookies, and chocolate kahlua cake.
All of the food was made by the mother of the birthday girl, Sally (a retired caterer and restaurant owner), with the exception of the sugar cookies, which were made by me.
To add some height and color to the food table, I made flower arrangements using tropical looking leaves I cut from a friend's yard (thanks Shelly), in addition to orange snapdragons, orange and hot pink gerbera daisies, and pink oriental lilies.  I added some pretty shells in the bottom of the vases and also used some of the tropical greenery along the table, under the food dishes.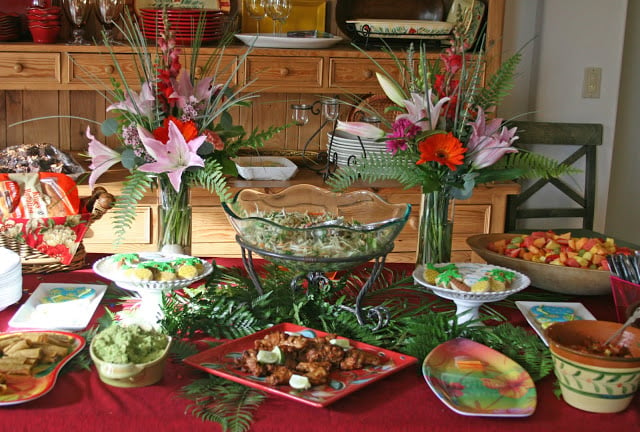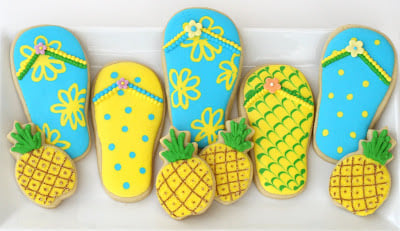 Here is another photo of some of the cookies I made.
(I've posted the decorating how-to's for these luau cookies HERE )
And what's a luau without some fun drinks, and straws with umbrellas of course!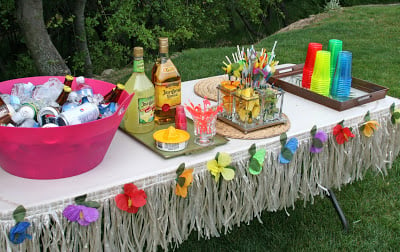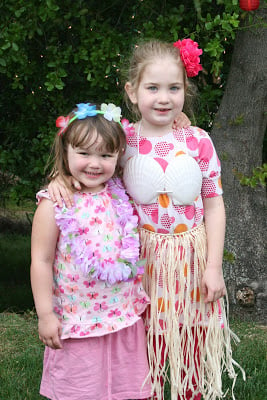 Everyone had a great night, including my two little luau princesses  =)Aloha!