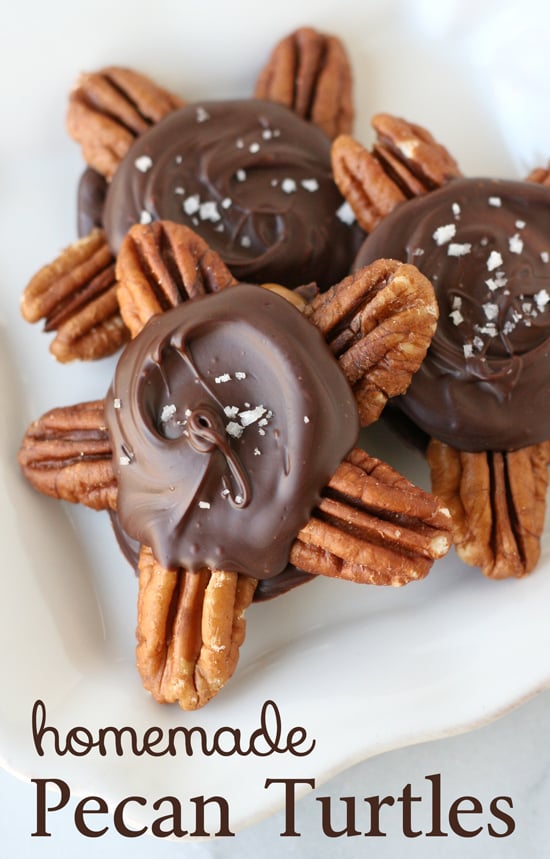 Chocolate, caramel, pecans… each delicious on their own, but even better together!
These Homemade Pecan Turtles are surprisingly easy to make are so perfect to share around the holidays! Just be sure to keep a few for yourself! =)
This recipe takes a bit of a shortcut by starting with store bought caramels… but that can be our little secret!
The finished turtles are a perfect combination of textures and flavors… crunchy, chewy, sweet… and bit of sea salt rounds everything out.
Your friends and family will love these cute and delicious little treats!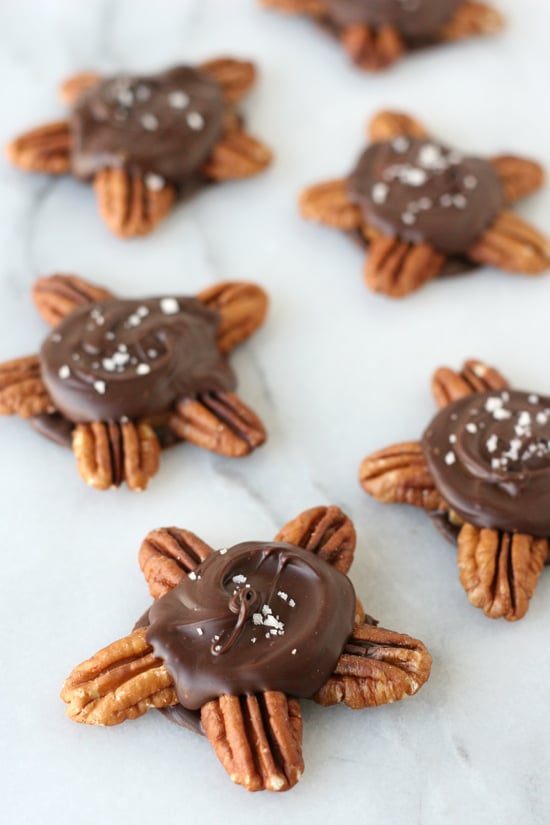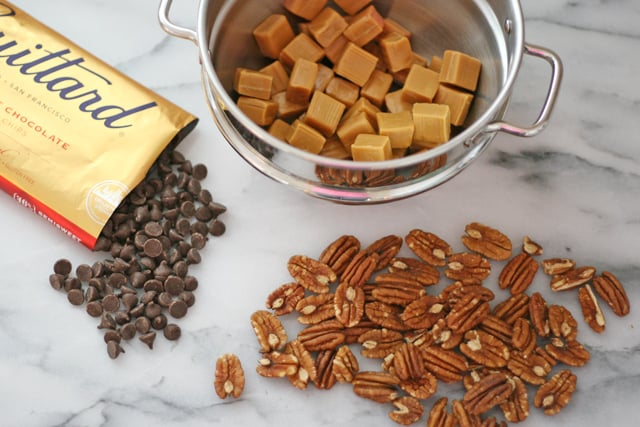 Let's get started!
Gather your ingredients (listed in the recipe below).
Spoon a small amount of chocolate onto a parchment paper lined, or Silpat lined baking sheet (pictured below).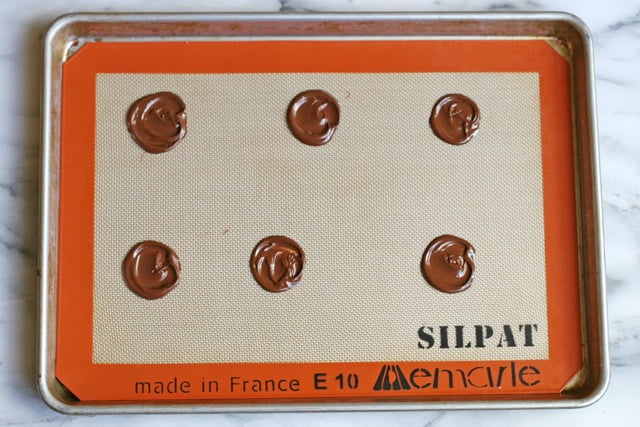 Arrange pecan halves like a flower, or to create the head and four legs of a turtle.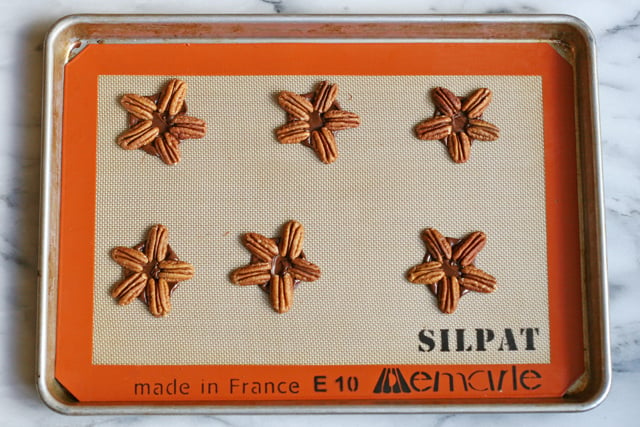 Spoon caramel into the center of the pecans.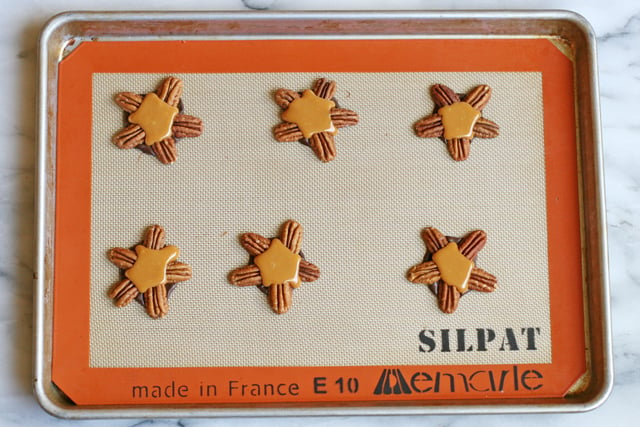 Add chocolate on top, spreading with the back of a spoon as needed. Add a modest sprinkling of sea salt.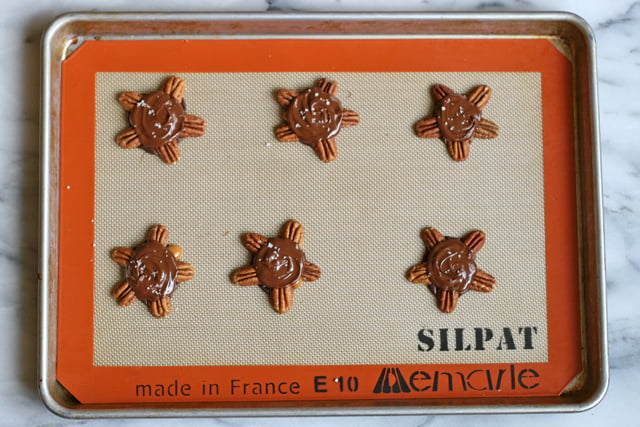 For the most professional results, and for the longest shelf life, I recommend tempering the chocolate. I've been intimidated for years by the idea of tempering chocolate, because it is quite a precise process. I've made these pecan turtles many times in years past, but this is the first time I attempted to properly temper the chocolate. The extra time was well worth it, and I loved the shiny, professional quality of the finished turtles. If you're going to try tempering chocolate I highly recommend a precise thermometer, such as a Thermapen. Additionally, I found the tutorials by David Lebovitz and Handle the Heat very helpful.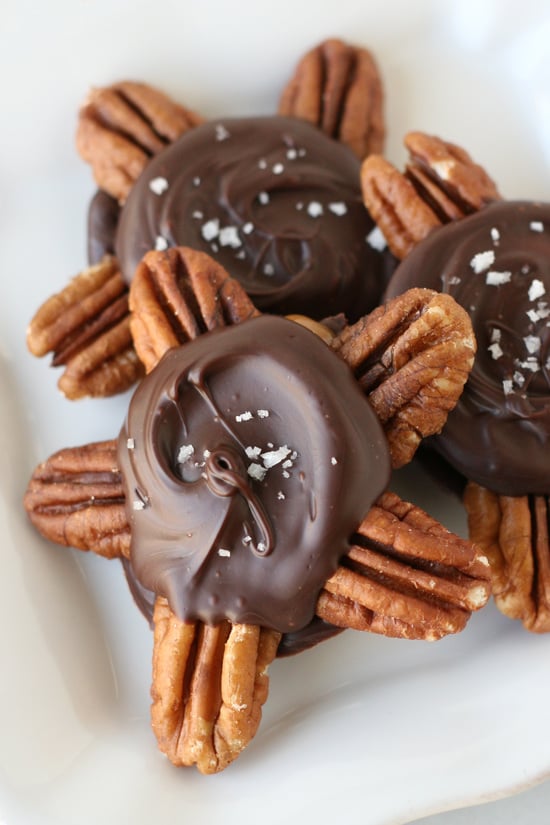 Enjoy!
How to Make Pecan Turtles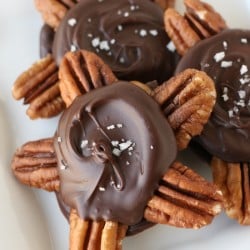 Pecan Turtles
Starting with pre-made caramels helps these delicious Pecan Turtles come together quickly!
Ingredients
2

cups

pecan halves

11

oz

bag of wrapped caramels

2

tablespoons

heavy cream

milk or water may be used

1

teaspoon

vanilla

12

oz

semi-sweet chocolate chips

1 bag

sea salt

Fleur de sel or similar if available
Instructions
Spread the pecans in a single layer on a baking sheet and bake at 375*F about 5 minutes, until warm and fragrant. Cool and set aside.

Unwrap caramels and place caramels, cream and vanilla in the top of a double boiler and heat until the caramels have melted (this will take a while). Stir as needed.

While the caramel melts, heat the chocolate chips in another double boiler, or in the microwave at 50% power in 30 second intervals. Stir between intervals and stop cooking when the chips have almost melted, but not fully. Be careful not to over heat the chocolate, it can easily burn. Stir chips until smooth and fully melted.

Line a baking sheet with parchment paper or a Silpat liner. Spoon a small amount of chocolate onto the baking sheet, using the back of the spoon to smooth it into a small circle (about 2" diameter). After you've made 3-4 circles, arrange 5 pecan halves on to of chocolate, creating the "turtle" head and four legs (as pictured), or a flower. Continue making circles of chocolate, then adding pecans until the baking sheet is full (I usually fit 6-10 on a baking sheet). Set entire baking sheet in the fridge for a few minutes, until the chocolate has set up a bit.

Once the chocolate has set, (remove from fridge) and add about a teaspoon or two of melted caramel onto the center of the pecans (as pictured). The caramel should be just melted enough that it will fall off a spoon, but not so liquid that it just rolls right off the pecans into a puddle. If the caramel is too thin, remove from heat and allow to cool just a bit. Once caramel has been added to each turtle, place baking sheet back into the fridge for a few minutes.

When the caramel has set up just a bit, spoon a bit of chocolate on top, covering as much of the caramel as possible. If desired, add a bit of fleur de sel sea salt on top.

Place turtles back in the fridge for just a few minutes to set up.

When fully cool and set, remove from baking sheet and store in an airtight container at room temperature. See notes below about shelf life.
Notes
The ingredient measurements listed in the recipe above are just what I used, but really could vary according to how many turtles you want to make. Basically you need nuts, chocolate, caramels and a bit of cream.
Chose good quality caramels, stay away from generic brands for this project. I usually use Brach's or Kraft. I have not tried the unwrapped caramel bits for this project, but I imagine they would work perfectly well.
If you do not temper the chocolate, the finished turtles should be enjoyed within 2-3 days or the chocolate will begin to discolor. If you temper the chocolate before use, the turtles will remain beautiful for much longer (I've never kept them more than a week, but I would imagine they could be kept longer).
Nutrition
Calories:
155
kcal
Carbohydrates:
15
g
Protein:
2
g
Fat:
10
g
Saturated Fat:
3
g
Cholesterol:
3
mg
Sodium:
27
mg
Potassium:
114
mg
Fiber:
2
g
Sugar:
11
g
Vitamin A:
28
IU
Vitamin C:
1
mg
Calcium:
27
mg
Iron:
1
mg